Kazakhstan, Fertilizer and Belarus's Political Crisis
Publication: Eurasia Daily Monitor Volume: 19 Issue: 2
By: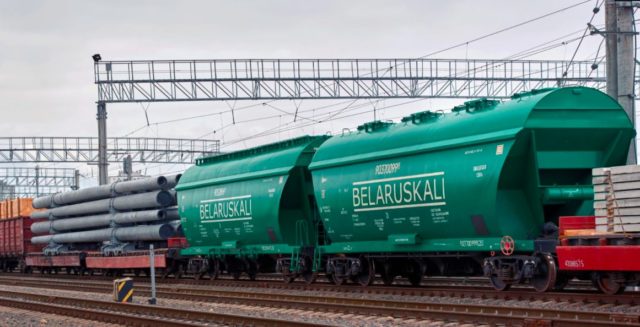 Since the start of 2022, two unexpected "black swan" events have indirectly altered last year's calculus regarding the expected evolution of the Belarusian political crisis. First, Belarus joined the Russia-led Collective Security Treaty Organization's (CSTO) intervention in Kazakhstan on January 5, 2022. Second, Belarusian potassium exports to Western fertilizer producers are coming to a halt under current sanctions. Taken together, these developments make the potential uncoupling of Belarus from Russia an even more distant prospect and likely freeze any impending change at the helm of power in Minsk.
Writing on his Facebook page about the political turmoil in Kazakhstan, Alexander Baunov, the editor-in-chief of Carnegie.ru, noted, "The [Kazakhstani government's] suppression of unrest is increasingly taking the form of an apical coup and a harsh release of the incumbent president from the guardianship of the previous one." Such an outcome, he added, would not be to Russian President Vladimir Putin's liking, because "he could not help but [mentally] try on a scheme with a successor working under the tutelage of the former president and under the supervision of the people from his team" (Facebook.com/alexander.baunov, January 8, 2022). In other words, Putin may have wanted to emulate the Kazakhstani power transition model, in which the country's first president, Nursultan Nazarbayev, chose Kassym-Jomart Tokayev as his successor but expected to be able to still control the incumbent head of state from behind the scenes.
But if the course of events that overtook Kazakhstan in recent weeks were not to Putin's liking, Belarusian President Alyaksandr Lukashenka surely concurred. After all, the planned pattern for a transition of power in Minsk, implanted in the project of the new constitution, was, by all indications, modeled after Nazarbayev's. Accordingly, Lukashenka would step down as president but become the chairperson of the All-Belarusian People's Assembly, which was expected to gain constitutional status that it has hitherto lacked despite having been regularly convened since 1996. As Vadim Gigin, a major pro-Lukashenka ideologue, put it, when the crisis in Kazakhstan looked to be winding down, one should not hurry with transitions. And although some commentators suggest it is still not a forgone conclusion that the initially planned quasi-change in power in Minsk will not take place, its probability has markedly declined (Ex-press.by, January 12, 2022).
On January 15, while meeting with the Belarusian military contingent returning from Kazakhstan, Lukashenka declared, "Bragging aside, I will say this: this whole operation, down to the details, was developed by the two presidents—those of Russia and Belarus—within just an hour. A few hours later," he continued, "the first planes flew to Kazakhstan. Everything was done quickly and decisively, without hesitation" (Belta, January 15, 2022).
The Belarusian peacekeeping company of an estimated 100–200 people that was sent to Kazakhstan is normally stationed on the territory of the 103rd Vitebsk Airborne Brigade. Belarusian soldiers arrived in Kazakhstan on Friday, January 7. Ironically, and as a sign of the changed geopolitical scenery, until 2020, the service members of this company regularly attended joint exercises with North Atlantic Treaty Organization (NATO) units. In March 2020, such exercises were held in Belarus with the participation of 28 soldiers from the British Marine Battalion. In Lebanon, representatives of the same Belarusian company worked together with the Italian military. Some members of the company also attended training centers in Germany, Poland, Hungary, Turkey, Switzerland and other countries. In Kazakhstan, they were tasked with guarding a military airport (Svaboda.org, January 10, 2022).
Not only the events occurring well to the east of Belarus but also those to the west have had a noticeable impact on the country's geopolitical situation—this time unquestionably favoring Russia. On January 10, the president of the Norwegian fertilizer-producer Yara, Swain Torre Holster, announced that the firm would suspend the purchase of Belarusian potassium (potash) from April 1.  He noted that the supply of Belarusian potassium has become impossible due to European and United States sanctions against Belarus (Sputnik.by, January 10, 2022). Predictably, that opens the door to Russian players in this space; i.e., Belarusian potassium producer Belaruskali's Russian competitors will certainly come to the "rescue," either as a supplier to European consumers or by forcibly buying out the financially struggling Belarusian firm.
Two days later, Lithuania announced the termination of the contract allowing for the transportation of Belarusian potash exports via Lithuanian railways. The contract with Belaruskali will expire on February 1, Lithuanian Transport Minister Marius Skuodis said on January 12, during a meeting of the cabinet. The gathered officials also confirmed that the agreement between Lithuanian Railways (LR) and Belaruskali is contrary to the interests of Lithuanian national security. LR signed an agreement with the state-owned Belarusian potash producer in the spring of 2018, which expires at the end of 2023. Under its term, up to 11 million tons of Belarusian fertilizer components are transported annually through the port of Klaipeda. Rail transit of potash fertilizers through Lithuania continues to this day, despite US sanctions against Belaruskali imposed on December 8, 2021. This is because before the sanctions came into force, Belarus transferred LR an advance for several months ahead. Now, Lithuanian Prime Minister Ingrida Šimonite is promising to find a solution, and LR is looking for ways to return the 10-million-euro ($11.35 million) advance paid by Belaruskali (Deutsche Welle—Russian service, January 12, 2022).
This development is fraught with several repercussions. Belarus is expected to appeal the decision in European courts, with a high probability of resolution in its favor, amounting to huge compensational and reputational damage to Lithuania. The Lithuanian side effectively decided to take the moral high ground at the expense of material loss—i.e., the same calculation that blew up its relations with China over Taiwan late last year. Belarusian and Russian commentary on this issue has been largely sarcastic. Though a Telegram message by Russian national-patriotic pundit Alexander Nosovich (T.me/nosovichchannel, January 12, 2022) is admittedly more caustic than that of the liberal Belarusian Westernizer Artyom Shraibman (T.me/shraibman, January 12, 2022).
Several local observers, especially Pavel Matsukevich (New Belarus, October 8, 2021) and Siarhei Bogdan (Svaboda.org, July 22, 2021), repeatedly made the point last year that no other aspect of Western sanctions on Belarus is as damaging to the latter's independence as reorienting its transit routes toward Russia. But in the potash case, not just reorientation is at stake but a potential for Russia's Uralkali to ultimately take over its Belarusian competitor. In such a way, one side's moral high ground is another's road to hell.