Russian-Led Mission in Kazakhstan Unveils New Peacekeeping Model (Part One)
Publication: Eurasia Daily Monitor Volume: 19 Issue: 2
By: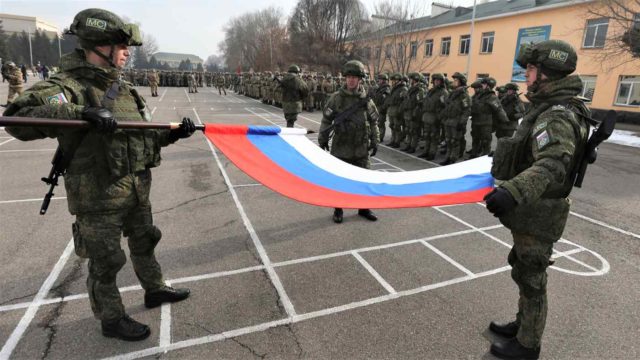 From January 6 through January 19, Russia and its allies in the Collective Security Treaty Organization (CSTO) conducted a successful stabilization mission in Kazakhstan, at the latter country's urgent request. The organization's member states (Russia, Belarus, Armenia, Kazakhstan, Kyrgyzstan, Tajikistan) may, under their treaty, undertake collective peacekeeping operations on CSTO members' territories.
Collective in name but largely Russian in practice, this was the CSTO's first real-world mission. Under the "peacekeeping" label, it assisted Kazakhstan's authorities to quell mass-scale social protests that degenerated into deadly violence and seemed about to turn insurrectionary (in the proper sense of that word). The disorders that started on January 2 had, by January 5, engulfed several provinces and major cities, culminating in the largest city, Almaty.
The "collective peacekeeping troops" contributed decisively to stabilizing the situation through their presence, without conflicting with the local population (see below). Russia responded instantly to Kazakhstan's appeal, swiftly deployed the troops by means of an air bridge, reliably protected Kazakhstan's vital installations and assets from possible attacks, and promptly evacuated the troops from the country—thus breaking, for once, Russia's dismal habit of turning peacekeeping into de facto occupation.
Moscow seemed initially reluctant to take action on the ground in Kazakhstan. On January 5, Kremlin spokesperson Dmitry Peskov stated, "These protests are an internal matter of Kazakhstan, and we are convinced that our friends in that country can solve this problem by themselves" (RIA Novosti, January 5, 2022). But with the situation rapidly deteriorating that same day, Kazakhstani President Kassym-Jomart Tokayev took personal responsibility for calling on immediate external assistance, the source of which realistically could only be Russia. On January 5, Tokayev announced on live television that organized violent groups, including terrorists trained abroad, were attacking governmental and administrative buildings, airports, military sites, and transportation infrastructure in Almaty and other parts of Kazakhstan, confronting the country with an armed external aggression. The president decreed a state of emergency throughout the Central Asian republic, ordered Kazakhstan's security services and military to launch an anti-terrorism operation, and requested the Collective Security Treaty Organization's member states to assist this operation in Kazakhstan (Gov.kz, January 5, 6, 2022).
Tokayev telephoned his Russian counterpart, President Vladimir Putin, to request immediate security assistance. This took the form of a CSTO rapid-deployment mission labeled as peacekeeping. Once Putin had made that decision, the other member states' presidents agreed, in one round of telephone calls during the night of January 5–6, to join this mission (BelTA, January 6, 2022). The procedure was rushed and informal, there being no session of the CSTO's Collective Security Council (the CSTO CSC is the top decision-making body at the presidential level) and no framework documents prepared (these were drafted, approved and circulated during the course of the operation).
At 1:20 AM Moscow time, on January 6, Russia's presidential website posted a single-sentence paragraph signed by Armenian Prime Minister Nikol Pashinian, the current holder of the CSTO CSC's rotating chairmanship: "Responding to President Tokayev's appeal, in view of the threat, originating in part from abroad, to Kazakhstan's national security and sovereignty, the CSTO's CSC has, in accordance with article 4 of the Collective Security Treaty, decided to send CSTO peacekeeping troops for a limited period of time, with the purpose of stabilizing and normalizing the situation in that country" (Kremlin.ru, January 6, 2022).
Within four hours of Tokayev's live broadcast from Kazakhstan (see above), the first Russian troops boarded their planes heading for that country.
The CSTO member states aggregated 2,500 troops for this mission. Russia contributed the bulk with some 1,850 troops drawn from airborne, air assault, and spetsnaz (special forces) units. Belarus contributed an estimated 100–200 air-assault troops, Armenia 100 army soldiers, Kyrgyzstan 150 personnel described as special-force troops, and Tajikistan 200 troops described as trained peacekeepers. Each national contingent brought its own vehicles on the mission, totaling some 250 units, including armored personnel carriers, airborne fighting vehicles and armored trucks. Reconnaissance unmanned aerial vehicles (UAV) were also in the mission's inventory. Some additional troops were put on standby in their home bases for possible deployment but were not used (RIA Novosti, January 6; TASS; January 19). Colonel General Andrei Serdyukov, the head of Russia's Airborne Forces (Vozdushno Desantnye Voyska—VDV), was this mission's commander.
The participation of Belarusian troops is unprecedented. President Alyaksandr Lukashenka had, until now, held to the principle that Belarusian troops do not participate in missions (other than trainings and exercises) beyond the country's borders. This principle helped Lukashenka avoid potential entanglement in Russian military activities in third countries. Western economic sanctions on Belarus, meanwhile, have seriously reduced Lukashenka's margin of maneuver vis-à-vis Russia.
Officially, the CSTO is said to include a Peacekeeping Force component of 3,600 troops within the organization's structure. Those troops are based in the six member states, subordinated to the respective national armed forces exclusively, and convene from time to time together for joint peacekeeping exercises (Odkb-csto.org, accessed January 19, 2022). Given the fact that the Russian troops deployed to Kazakhstan on this mission are described as battle-hardened, and that the Tajikistani contingent alone has been identified as trained for peacekeeping, it seems that the CSTO largely bypassed its designated Peacekeeping Force for the mission to Kazakhstan, notwithstanding this mission's "peacekeeping" label.
As the only CSTO member state with strategic airlift capacity, Russia organized an air bridge to Kazakhstan for this collective mission. More than 80 planes of Russia's military-transport aviation airlifted Russia's own contingent and four non-Russian contingents with their equipment. They used the Zhitygen military airfield in the Almaty province for the inbound and outbound flights because the riots had gutted the Almaty international airport.
The Kazakhstani Ground Forces' military academy in Almaty hosted the CSTO mission's operational staff.  The staff liaised with Defense Minister Sergei Shoigu and other officials in Moscow. The Russian contingent landed in Kazakhstan on January 6 and the four non-Russian contingents (on Russian airlift) on January 7.
The troops fanned out in the Almaty province and farther afield to protect vitally important sites from attack, sabotage or takeover. The sites included airports, governmental buildings, arsenals, electrical and thermal power plants, water reservoirs and pumping stations, bread factories, television towers, as well as telecommunication centers.
The rules of engagement, as could be discerned from Russian official media, cast this mission in a non-combat role. Crowd control or other face-to-face situations with the local population were to be avoided. The use of lethal force was authorized only if the protected site came under attack (TASS, RIA Novosti, January 6, 2022).
According to Shoigu, reporting to President Vladimir Putin, CSTO troops relieved some 1,600 personnel of Kazakhstan's security services who had been protecting those vital sites. That personnel was redeployed to augment the security forces involved in quelling the disorders (TASS, January 13).
The mission could be wrapped up successfully sooner than expected. Timeframes initially taken into consideration were "a few days, few weeks, or few months," depending on the situation on the ground and the Kazakhstani government's ability to regain control and confidence.
Putin insisted that the mission would not overstay its welcome. When the CSTO's Collective Security Council (the six leaders) held a video-conference to assess it, Putin said that "it is for a limited duration, such as President Tokayev will deem practicable, after which the whole contingent will, of course, depart from Kazakhstan" (Kremlin.ru, January 10, 2022).
Only two days later, attending a working session of the operational staff in Almaty (see above), Tokayev expressed gratitude for the mission's efforts and proposed that the evacuation begin on January 13, to be completed within ten days (TASS, January 12). The Kazakhstani president telephoned with thanks to Putin and the other four state heads the following day (Kremlin.ru, TASS, January 13). Also on January 12, the CSTO troops began the handover of sites and buildings to Kazakhstan's authorities. Medals were ceremonially awarded in General Serdyukov's presence.
The Belarusian, Armenian, Kyrgyzstani and Tajikistani contingents departed from Kazakhstan on January 14; and on January 19, the Russian contingent completed its evacuation (Interfax, January 19).
This mission can be assessed as a Russian success. The receiving country, Kazakhstan, benefited from it substantially. Kazakhstan's head of state invited this mission, with the Russian-led CSTO acting in full legality. Russia demonstrated speed of decision and speed of execution in launching and conducting the mission. It went swiftly in and swiftly out. It did not succumb to the temptations of mission creep. The CSTO member states apparently joined the mission willingly. The mission was successful in a bloodless way.  All this can be recognized as being a far cry from Russia's earlier—and still ongoing—misuse of peacekeeping.