Kazakhstan's Presidential Election and the Challenges Ahead (Part Two)
Publication: Eurasia Daily Monitor Volume: 12 Issue: 88
By: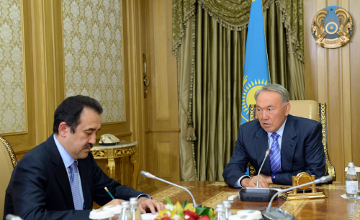 The re-election of President Nursultan Nazarbayev (see EDM, April 30, May 8) has renewed and bolstered the presidential institution's popular mandate to tackle the urgent challenges confronting Kazakhstan.
Some of these challenges are recurrent, but for the most part they are novel. Authorities in Kazakhstan have been unaccustomed to dealing with extreme difficulties in foreign policy, external economic relations, the domestic leadership transition, institutional reforms, and the spillover of global economic crises into the country.
It is a testimony to Kazakhstan's openness to the world that this country's leadership constantly evaluates how global political and economic processes impact on Kazakhstan, and how to adapt the country to a more effective participation in those processes.
In his oath-taking speech on April 28, the re-elected Nazarbayev listed the main negative trends impacting on Central Asia generally and on Kazakhstan in particular as: a) Disorders of the international state system, with new types of conflicts conducted by states and non-state actors and violent extremist ideologies; b) Global economic turbulence, economic sanctions, and divisions among trade blocs; and c) Growing dysfunctions in the established international security institutions and international economic institutions (Kazinform, April 29).
As a post-Soviet country with a sizeable Russian minority population, Kazakhstan proactively cultivates harmony in inter-ethnic relations, but must worry about the implications of Russia's unprovoked assault on Ukraine and the expansionist "Russian World" doctrine. At the same time, as a Muslim-majority country and secular state, Kazakhstan guards against any inroads of radical political Islam and jihadism from outside Kazakhstan into the country.
The "multi-vector" policy is Kazakhstan's creative adaptation of the age-old practice of small and medium powers to balance between great powers. In Kazakhstan's case, the 20 years' old triangular balance between Russia, China and the United States needs reinforcement of the latter leg. While Russia and China pursue coherent strategies toward Kazakhstan and the wider region (see below), the United States is often seen as bent on disengagement or, at best, groping to define a strategy.
Viewing the region through the prism of conflicts in Afghanistan or with Iran could not substitute for a US strategy, and is obsolete in operational terms in any case. The US's "New Silk Road" initiative, launched in 2013 ("U.S. Relations With Central Asia After 2014 And The New Silk Road," The Jamestown Foundation, October 25, 2013) without a corresponding investment backup, has remained a vision, rather than becoming a strategy.
It is China who demonstrates long-range planning and investment prowess in Kazakhstan. On May 7, 2015, in Astana, the visiting Chinese president Xi Jinping offered to connect Kazakhstan with China's current Silk Road iteration. Nazarbayev and Xi agreed to align China's "Silk Road Economic Belt Initiative" with Kazakhstan's "Bright Path" state-backed stimulus program. The common intention is to build a system of cargo routes between China and Europe via Kazakhstan. Currently, China's total investment in Kazakhstan totals some $26 billion (much of it represented by oil and gas transit pipelines), Kazakhstan being China's top investment destination in Eurasia. Additionally, in March of this year, the two governments signed preliminary agreements on industrial capacity development worth some $23 billion during Kazakhstani Prime Minister Karim Masimov's visit to Beijing (Xinhua, May 7).
Russia sees Kazakhstan, by definition, as part of a Russia-led Eurasian economic and security system (Eurasian Economic Union, Collective Security Treaty Organization). In that sense, Moscow's view of Kazakhstan's independence and sovereignty is a restrictive view, contingent on Kazakhstan remaining a member in good standing of those organizations.
In an oft-quoted remark, Russian President Vladimir Putin has credited Nazarbayev with having "created a state on a territory where no state had existed previously." Some observers have interpreted Putin's remark as an insinuation that Kazakhstan is an artificial state susceptible to partition, by analogy with Putin's earlier comments about Ukraine.
This reading is almost certainly mistaken or unduly alarmist in the case of Kazakhstan, however. Overall the Kremlin's message is that states willing to join the Russia-led Eurasia Union can count on preserving their territorial integrity (or even conquests, in Armenia's case) with Russia's support, while those choosing a Western orientation could lose their territorial integrity at Russia's or its allies' hands (Moldova, Azerbaijan). In Kazakhstan's case, the state leadership has successfully avoided a split in society along ethnic and regional lines over the country's strategic orientation.