Kerch Strait Now a Flashpoint for Russian and Ukrainian Forces
Publication: Eurasia Daily Monitor Volume: 15 Issue: 70
By: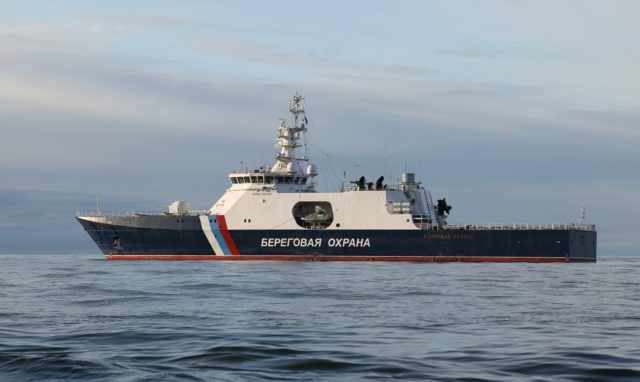 The next major battle between Russian aggressors and Ukrainian defenders may take place not in Donbas but on the waters of the Sea of Azov and the Kerch Strait, a development that could prove even more dangerous to regional stability than earlier Russian acts of aggression. The situation has been deteriorating since March 26, when Ukraine seized a Russian ship that had violated its territorial waters and threatened further retaliation on other waterways, (see EDM, April 12, May 1). But over the last few days, conditions there have deteriorated sharply, with each country warning that it will use military force to defend its ships. In such a tense environment, an attack on even a merchant vessel could easily become perceived by the other side as an act of war.
According to Ukrainian officials, Russian naval and Federal Security Service (FSB) vessels have been stopping and searching ships passing through the Kerch Strait since the beginning of April. Russian sources have disputed the scope of that effort but now acknowledge they are introducing such procedures for all non-military vessels passing through the narrow waterway (Nezavisimaya Gazeta, May 3). The Russians say they are doing so as a further response to what Moscow calls Ukraine's "act of piracy" in March, when Ukrainian border patrols stopped a Russian ship, arrested its crew and detained the ship in a Ukrainian harbor. Ukraine is not backing down from that action: a Ukrainian appeals court today (May 8) rejected efforts by the captain of that ship to be released (Vpk-news.ru, May 8). Meanwhile, some Russian officials are even suggesting that Ukraine should be "grateful" that the Russian Navy—and Moscow is using military vessels to conduct these searches—has not cut off all Ukrainian shipping into and out of the Sea of Azov via the Kerch Strait (Vestnik Kavkaza, May 4).
In response, Ukrainian Admiral (ret.) Ihor Kabanenko suggested that Kyiv should use its Navy to convoy civilian vessels travelling to or from Berdyansk or Mariupol (Mariupil) through the Kerch Strait. If Russian naval vessels were to try to interfere and inspect such shipping, he continued, that would constitute "a clear act of aggression" against which Ukrainian forces would have every right to respond and to call for the assistance of all countries committed to free passage on the seas (Svpressa.ru, May 6; Nezavisimaya Gazeta, May 5).
Kyiv has not yet acted on Kabanenko's proposal, but it will be under growing pressure domestically to do so, given that Russian commentators are warning Moscow will be intensifying its monitoring of all ships going to and from Ukrainian ports via the Kerch Strait (Stoletie.ru, Qha.com.ua, May 4). One reason for that perhaps is that the Kremlin has announced that Russian President Vladimir Putin will come to the opening of the Kerch Strait Bridge, between the Russian Federation and Russian-occupied Crimea, under which all vessels going into or out of the Sea of Azov must pass. The bridge has been under construction for years and the initial phase is nearing completion (see EDM, May 25, 2016; September 6, 2017; February 22, 2018). Putin's visit is scheduled for next week (May 15), and Russian FSB and naval officers are certain to be on high alert to show themselves committed to the president's security.
Sources in the Russian Navy insist they, unlike the Ukrainians, are simply obeying the law and will continue to do so, but they pointed out with obvious relish that the Ukrainian Coast Guard and Navy are not in a position to challenge Russian forces, whatever Kyiv chooses to do. Such antagonistic language is likely to further enflame the situation and make it more difficult for the two sides to back down in any way (Politonline.ru, May 3). And some Russian writers are now even suggesting imposing a blockade of the two Ukrainian ports on the Sea of Azov. Such an action would certainly badly harm the economy of that region hard, but Kyiv could compensate by shifting imports and exports away from those ports to Odesa in the west (Agitpro.su, May 3). Nevertheless, if Russia did try to blockade Ukraine's Azov coast—a step that would be in clear violation of international law and the 2003 agreement on shared use of the Azov Sea between Moscow and Kyiv—it could hurt southeastern Ukraine enough to encourage a new Russian ground attack against this region.
Kyiv has complained to Moscow about these latest Russian actions and threats in the sea; but so far it has not attracted a level of international support comparable to what it enjoys with regard to Russian forces on the ground (RIA Novosti, May 3). Such international support will be required both to prevent the Russians from stepping up naval/maritime pressure on Ukraine and to keep the Ukrainians from feeling even more isolated and thus deciding that they have no choice but to introduce the use of convoys to protect merchant shipping to their ports. If either or both of those things were to occur, the Kerch Strait almost certainly will become a new and dangerous flashpoint in the war.