KREMLIN STRATEGY TARGETS WESTERN ENERGY ASSETS IN RUSSIA, WESTERN SUPPLY SOURCES IN THIRD COUNTRIES
Publication: Eurasia Daily Monitor Volume: 4 Issue: 16
By: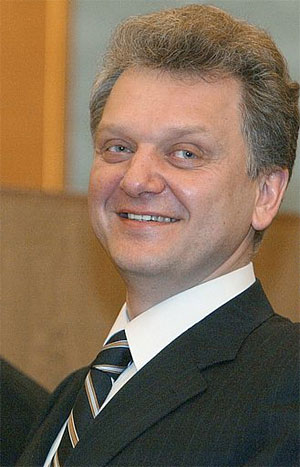 On January 21 in Sochi, Russian President Vladimir Putin assured a skeptical Angela Merkel — visiting in a triple capacity as German Chancellor, holder of the European Union presidency, and incoming G-8 chair — about Russia's purported reliability as an energy partner to the West. The relevant actions, however, unfolded not in Sochi, but rather in Siberia and in Algiers, continuing Moscow's three-pronged offensive against Western energy interests. The three tracks are: forced takeovers of Western investment projects in Russia, aggressive inroads into the West's traditional supply sources in third countries, and acquisition of infrastructure within the West itself.
The forced-takeover pattern, inaugurated in the case of Yukos and continued in a somewhat different form with Royal Dutch Shell last month, is set to continue at an accelerated rate.
On January 19, Nature Inspectorate Deputy Chief Oleg Mitvol warned the BP-TNK joint venture that it faces environmental and legal investigations possibly as early as March at its giant Kovytka gas project. Russian government agencies had warned BP-TNK already in September that it might face billions of dollars worth of fines or license revocation for alleged environmental violations at Kovytka, even as the project reached the initial production stage. Mitvol's latest warning, moreover, cites financial inspectors' claims that the project is lagging behind the 9 billion cubic meters annual production target, thereby also falling short in its purported obligations to Russia's state budget.
Putin had personally blessed this BP-TNK project in 2003 — a move that these and other investors in Russia deemed as amounting to a political guarantee. In recent months, however, Gazprom has openly indicated its intention to take over a majority stake in this project with the Kremlin's help. Mitvol is the same official whom the Kremlin had unleashed against Shell in the final months of 2006, forcing the Shell-led consortium in December to hand over a 50% stake in its Sakhalin-2 project to Gazprom.
On January 22, Russian Audit Chamber head Sergei Stepashin announced that his agency evaluated "damages to our country" in that project at $5 billion. Stepashin's figure seems neatly to coincide with the difference between the $7.5 billion paid by Gazprom for that 50% stake and the $12 billion estimated market value of that stake. Stepashin claims credit for his agency in "significantly influencing that decision" through its audit, as part of what he now terms a "massive attack" together with the Nature Inspectorate and the Prosecutor General's Office (RIA-Novosti, January 22).
Stepashin also announced on January 22 that the Audit Chamber has "uncovered significant environmental violations" by the French-Norwegian consortium at the Kharyaga giant oil field in western Siberia. Echoing the case against BP-TNK, Stepashin also claims that the consortium is lagging behind the production schedule and short-changing the state and local budgets. Total of France and Norsk Hydro of Norway are developing the Kharyaga field under a production sharing agreement signed in 1995 for a 29-year period. The two companies hold stakes of 50% and 40%, respectively, with the local Nenetsk Oil Company holding 10%.
In unison with the Kremlin's general argument, Stepashin openly claims that the Kharyaga and other production-sharing agreements were signed at a time when Russia's economic and political situation was unfavorable and that it is therefore time to change those contracts. Western companies seem resigned to accept this Russian view of the sanctity of contracts, apparently hoping to limit the impending losses and continue operations on the new terms.
On January 16, Putin chaired a government session that decided to divide up Russia's oil and gas deposits on the continental shelf evenly among the state-controlled Rosneft and Gazprom. The move implies an accelerating concentration of Russia's oil and gas sector directly into Kremlin hands as well as reducing Western companies to minority roles at best in any offshore projects from now on (Vedomosti, January 21).
Russia's Industry and Energy Minister Viktor Khristenko, accompanied by top executives from Gazprom, Rosneft, and Lukoil, visited Algeria on January 19-22. They discussed new oil and gas field development projects by the Russian companies in Algeria, specifically the 245-South fields, under a production-sharing agreement signed by Rosneft's subsidiary StroyTransGaz with Algeria's state company Sonatrach. Gazprom, lacking the technology for production of liquefied natural gas (LNG), is inviting Sonatrach, which has assimilated the relevant French technology, to participate in the construction of a LNG plant in the Leningrad oblast.
Moreover, Gazprom seeks to enlist Sonatrach, first, in joint marketing of gas in Europe; and, second, in what it terms "coordination of their positions in the Forum of Gas-Exporting Countries" (Interfax, January 22), hinting at the potential formation of a Russian-Algerian or perhaps wider cartel. Algeria holds an estimated 10% share of the European Union's overall gas market. Russia and Algeria could hold 40% between them if the bilateral "coordination" becomes a fact.
Meanwhile, Gazprom holds some hope to replace the ConocoPhillips and Anadarco companies in Algeria, in the event that the nationalization process currently underway in that country adversely affects those two U.S. companies.
(Interfax, Itar-Tass, RIA-Novosti, January 19-22; see EDM, December 13, 15, 2006)