Lavrov's Leaks: Moscow Embarrasses Berlin and Paris in Negotiations Over Ukraine (Part One)
Publication: Eurasia Daily Monitor Volume: 18 Issue: 177
By: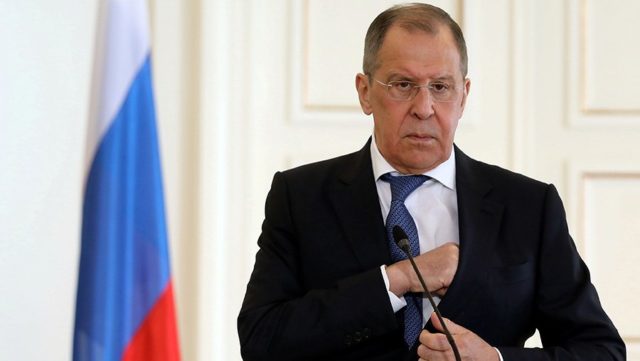 Russian diplomacy is testing its rogue-state practices on its Western diplomatic counterparts, and finds them malleable. On November 17, Russian Foreign Minister Sergei Lavrov unilaterally publicized the confidential messages recently exchanged between himself and his German and French counterparts, Heiko Maas and Jean-Yves Le Drian, regarding a possible relaunch of negotiations in the "Normandy" framework (Russia, Germany, France, Ukraine). The relaunch has failed because Moscow set conditions unacceptable in varying degrees to the other participants (totally to Kyiv, partially to Berlin and Paris).
This is the second recent instance of Moscow unilaterally publicizing secret diplomatic correspondence between itself, Berlin and Paris. In March, the Kremlin's top envoy on the protracted conflicts, Dmitry Kozak, made public the "Normandy" parties' respective drafts of the "Key Clusters for Carrying out the Minsk Agreements" (see EDM, March 30).
In both cases, Moscow resorted to the unauthorized publication by way of underscoring its strict-constructionist adherence to the Minsk "agreements," its rejection of proposals to revise or reinterpret those documents, and (implicitly) its basis for threatening to coerce Ukraine into compliance with Moscow's terms.
Kyiv has, from day one to date, sought to resist and revise the fatal Minsk "agreements"; Berlin and Paris have taken a long time to arrive at their current position, which is a hope to somehow finesse those "agreements"; while Moscow clings to these documents' letter. Berlin and Paris have taken Kozak's and Lavrov's affronts silently. This could indicate lingering hopes for a solution that would give Russia one half of the pie instead of the whole pie that Russia wants.
What may be called "Lavrov's Leaks" consist of Maas's and Le Drian's joint messages to him on November 4 and 5, as well as Lavrov's messages to both of them on October 29 and November 6 and 17, all posted on November 17 by Russia's Ministry of Foreign Affairs (Mid.ru, November 17). President Vladimir Putin signaled his support for this action by taking the unusual step of attending that ministry's senior officials' meeting (Kollegium) the following day and reinforcing Lavrov's arguments (TASS, November 18).
The purpose of this exchange of messages was to prepare a quadripartite meeting of the Normandy countries' foreign ministers. Whether Ukraine's Foreign Minister Dmytro Kuleba participated in this epistolary exchange—or allowed the German and French ministers to represent him vis-à-vis Lavrov—is not publicly known. Whether Maas's and Le Drian's proposals to Lavrov were cleared with Kyiv is not known either but seems unlikely, because they are far out of line with Ukraine's official positions and national interests. Kuleba had campaigned for this ministerial meeting to be held and be followed by a presidential-level Normandy summit, in line with Ukrainian President Volodymyr Zelenskyy's wishes. Moscow, however, set a prohibitive price tag on its consent to these meetings.
In his first leaked message (October 29), Lavrov demanded that the proposed meeting's concluding document must be agreed upon before holding the meeting and that it must contain joint Russian-German-French recommendations to Kyiv and Donetsk-Luhansk as "parties to the conflict." Lavrov submitted his own draft of those joint recommendations, namely:
The responsibility for implementing the Minsk "agreements" devolves exclusively to Ukraine and the "de facto existing bodies of power in certain areas of the Donetsk and Luhansk regions (ORDLO)." These parties are to agree among themselves in the Contact Group on an Action Plan for resolving their conflict in line with the "Minsk agreements, which form the only basis without an alternative."
As part of the Action Plan, Kyiv and Donetsk-Luhansk must discuss in the Contact Group "all the legal aspects of ORDLO's future special regime (status) […] and in the shortest time bring all the necessary legal acts into effect, including amendments to Ukraine's constitution." The Steinmeier Formula—which lowers the criteria for assessing the quality of local "elections" in ORDLO (see EDM, September 24, 25, 26, October 3, 10, 2019)—must be included in these legal acts.
Moscow, according to Lavrov, seeks the soonest completion of work on the "Key Clusters" as the Normandy group's recommendations to Kyiv and ORDLO for their Action Plan. (This is Lavrov's nod to Kozak, the Clusters' Russian author, who outranks Lavrov in real power and influence.)
On the military level, Ukraine must fully observe the July 22, 2020, agreement between Kyiv and ORDLO on "additional measures to strengthen the ceasefire." The Ukrainian Armed Forces must return to the mechanism established by that agreement, namely a Joint Committee for Control and Coordination formed by the Ukrainian and the ORDLO military, interacting directly. That agreement established de facto equality between the Ukrainian military and Russia's proxy forces, including joint determination of ceasefire violations and violators, implicitly legitimizing the Donetsk-Luhansk forces (see EDM, August 6, 2020). Ukraine subsequently disavowed that agreement.
To open the way toward a summit of the Normandy heads of state and governments, an agreement is necessary "between the highest bodies of state power of Ukraine and the de facto existing bodies of power in the ORDLO" regarding their Action Plan to implement the Minsk "agreements." That would fulfill the relevant recommendations of the last Normandy summit (held in December 2019 in Paris). On those conditions, the next Normandy summit could be prepared, with a view to discussing the political and security requirements for staging local "elections" in ORDLO.