Ukraine's Troubles, Putin's 'Red Lines' and Biden's Warnings
Publication: Eurasia Daily Monitor Volume: 18 Issue: 177
By: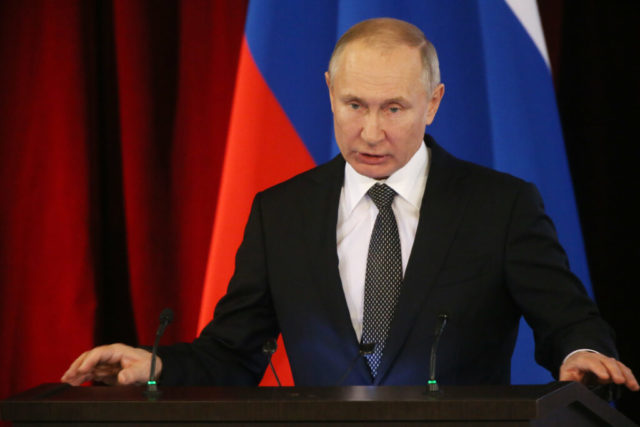 Crisis is brewing yet again in the intrinsically antagonistic relations between Russia and Ukraine, and President Vladimir Putin seeks to harvest richer political dividends from it than he did half a year ago. The apparent buildup of Russian forces near the Ukrainian border follows much the same pattern; Moscow's denials of easily detectable parks of military hardware are as categorical as before; and domestic public concerns are similarly focused on the course of the COVID-19 pandemic. One notable difference is the upping by Putin and his courtiers of the aggressiveness of their discourse, which combines predictions of Ukraine's imminent collapse with threats to confront the North Atlantic Treaty Organization's (NATO) possible interference. By themselves, harsh words generally yield few tangible results, however; while many Moscow mainstream experts argue that Russia has no plausible rationale for launching a war (Valdaiclub.com, November 25; Nezavisimaya Gazeta, November 22). What, then, underpins the expectations of higher rewards?
One new feature of the re-escalated crisis is the tight situation in the European energy market, with high demand on natural gas driving prices to record highs (RIA Novosti, November 27). Instead of exploiting the high demand to earn extra profits, Gazprom has carefully exacerbated this shortage of supply by delivering only on its minimal commitments and keeping the storages half-empty (RBC, November 24). One "reward" for de-escalating tensions earlier this year was the United States eschewing adopting some new sanctions against the Nord Stream Two gas pipeline; but presently, additional sanctions are being enforced, while Germany has postponed certification of this controversial infrastructure (Kommersant, November 16). This time, Moscow seemingly wants more than just a removal of all obstacles for the long-anticipated opening of this direct energy "corridor" to Germany. The undeclared but clearly implied aim is to ensure consent from key European consumers and the US for the complete closure of gas transit through Ukraine. And the small exercise of putting Moldova under heavy pressure regarding payments for its gas bills was a signal of this geo-economic assault (Izvestia, November 25).
Another significant difference from the previous peak in tensions is the inauguration of a new government in Germany and the departure of Angela Merkel, who is seen in Moscow as a tough and experienced leader (Novaya Gazeta, November 26). The Kremlin is not particularly worried about the strong opinions regarding Russia's behavior expressed by Annalena Baerbock, the incoming minister of foreign affairs, and expects key guidelines to be set by the new chancellor, Olaf Scholz, who cannot qualify as a peer to Putin on the international stage (RIA Novosti, November 26). Foreign Minister Sergei Lavrov sternly advises the new German government to keep pretending that the unimplementable Minsk agreement from 2015 remains the only framework for managing the smoldering conflict in Ukraine's Donbas (Rossiyskaya Gazeta, November 22). Moscow has no intention whatsoever of delivering on its commitments to this deal, but the anticipation in the Kremlin is that in the absence of Merkel, it will be up to French President Emmanuel Macron to lead on responding to a new tough challenge. But the latter, the Russian thinking goes, will presumably opt for an easy way out with a Russia-appeasing compromise (Nezavisimaya Gazeta, November 17).
Yet another new development is the unprecedented migrant standoff on the Polish-Belarusian border, which is still unresolved, even after Merkel's two phone calls to ostracized autocrat President Alyaksandr Lukashenka (Rosbalt, November 19; see EDM, November 15). It is unclear how much Putin was involved in the planning and execution of this "hybrid attack," which weaponized the aspirations for a better life of thousands of people, primarily from Iraqi Kurdistan, and subjected them to bitter suffering (see EDM, November 11). Yet the European Union has managed to take a firm stance (Nezavisimaya Gazeta, November 24). In truth, the scale of the problem is relatively manageable, but Nikolai Patrushev, the secretary of Russia's Security Council and Putin's loyal lieutenant, has issued a grave prediction that an eruption of a crisis in Ukraine might produce a massively more powerful wave of migration, which the EU would not be ready for (RBC, November 24; Argumenty i Fakty, November 23). Lukashenka's regime, meanwhile, shows some readiness to contribute to Russia's pressure on Ukraine (Nezavisimaya Gazeta, November 24).
With these additional impacts working in his favor, Putin feels empowered to maintain the pressure and warn the West that his "red lines" must be taken under proper consideration (Ezhednevny Zhurnal, November 25). He appears particularly irked with the US naval exercises in the Black Sea: the destroyer USS Arleigh Burke (DDG 51) has entered this theater, which Moscow seeks to control from its central position on occupied "fortress" Crimea (Interfax, November 26). Small-scale as they are, such Western deployments add an element of uncertainty to Russian regional plans. In contrast, the top brass in Moscow are more confident about land operations, for which the heavy armor is pre-positioned, and the only issue is to provide some basic training to new recruits conscripted in the autumn draft (The Insider, November 24).
The Kremlin may aim only at manipulating the threat of invasion to score political points; still, a combat-ready grouping of forces might rush into hot action instead of sitting idle in cold winter camps, and the constant exchange of fire in the Donbass war zone provides triggers aplenty (Riddle, November 26). Seeking to check the escalation, US President Joseph Biden announced his intention to call both Putin and Ukraine's President Volodymyr Zelenskyy, who remains defiant under heavy pressure (RIA Novosti, November 26). This conversation might give Putin a moment of satisfaction, but it falls short of his clearly expressed wish for a second summit with Biden (Kommersant, November 21).
At the Geneva summit last June, Biden made clear he expected Russia's behavior to become "stable and predictable"; and for some months, Moscow, indeed, moderated its escapades, before concluding—as the new military buildup shows—that self-restraint does not pay. Control over Ukraine remains central to Russia's desire to be able to assert "Great Power" status. But as the Ukrainian state struggles to overcome its own multitude of domestic problems by consolidating its European identity, Putin's denials of its right to independent existence are disproved. The Kremlin is correct to assume that its attempt to draw a "red line" across Ukraine's course toward Europe is not respected by the West, but military threats cannot ensure such respect. Biden's diplomacy may bring another pause in confrontation, yet Putin cannot abandon his pivotal geopolitical project and can only keep it going by upping the stakes and lowering predictability.