Lukashenka Addresses Nation, Criticizes Both West and Russia
Publication: Eurasia Daily Monitor Volume: 15 Issue: 67
By: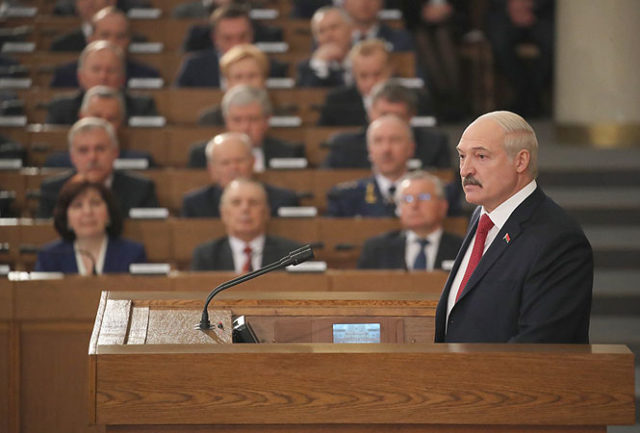 On April 24, President Alyaksandr Lukashenka delivered his annual state-of-the-country address (Belarus Segodnya, April 25). A flamboyant public speaker, this time he set a somewhat calmer tone and delivered a speech that was so much shorter (79 minutes) than on previous occasions that some observers dutifully opined Lukashenka was tired (Salidarnasts, April 24). Yet, as usual, the urge to over-interpret every sentence uttered by the Belarusian leader has been on full display. The focus this year inevitably passed through the prism of the mass street protests occurring in Armenia (see EDM, April 23, 24), which, in the view of some commentators, forced the Belarusian president to abandon his idea of a constitutional referendum just one day after those events exploded (Salidarnasts, April 24).
Lukashenka suggested, on March 15, that the Constitutional Court prepare a list of proposals for constitutional reforms. And on April 2, the chair of the Central Electoral Commission averred that any changes in the electoral law could be made only after the constitution is amended. However, already on April 10, Lukashenka stated that "the time for these changes has not yet arrived," although in the future some prerogatives of the president ought to be transferred to "other branches of power" (see EDM, April 16). Yury Drakakhrust, of Radio Liberty, argued that someone who has been at the helm of power for a quarter of a century does not alter strategic plans on a whim. Moreover, it is likely that the pronouncements about constitutional changes were trial balloons (Svaboda.org, April 25).
Nevertheless, returning to Lukashenka's address, the Belarusian leader expressed the view that global turbulence is fueled by "national egotism, neglect of the interests of one's partners and even allies, and by the trampling of international norms" by the leading global actors. Likewise, Lukashenka castigated disinformation campaigns that he said led to color revolutions over the past two decades. "To those who question the need for our army and police, I would advise to pay a visit to countries that have gone through the Arab Spring or even to the heart of Europe that is now covered with a migratory wave. Talk to ordinary people there and learn if they feel protected in their homes," admonished Lukashenka.
The Belarusian president then attacked certain Russian TV presenters for "rolling up their sleeves, readying to take machine guns and grenade launches to fight the entire world! […] Earlier we used to reproach Americans, and now we ourselves [sic] come to behave like that." Also, Lukashenka lampooned the showdown in Syria, where those same leading actors are "strutting around like roosters" trying to assert their dominance and training their troops for future pursuits. "Stop using Syria as a testing and training ground!" As a Russian "patriotic" media outlet put it, "Lukashenka indirectly criticized Russia's activities in Syria" (Vzglyad, April 25).
Lukashenka more directly criticized Russia when talking about the Moscow-led Eurasian Economic Union, of which Belarus is also a founding member. Whereas earlier, he repeatedly disparaged price differentials for hydrocarbons in Russia and Belarus, the most recent outburst of the trade war has to do with milk. While only 18 percent of dairy products consumed in Russia are imported, 79 percent of dairy imports come from Belarus (Milknews.ru, February 22). In February, Russia decided to fully suspend milk export from Belarus, citing harmful substances (see EDM, March 15). Following a demarche by Lukashenka, this decision was called off. Yet, some Russian entrepreneurs in league with Moscow bureaucrats still entertain the idea of expelling their Belarusian competitors. "Why transport 50,000 tons of dry milk from New Zealand […], if next door in Belarus there is such a glut of it?" exclaimed Lukashenka. "And [lo and behold] they do not want us to bring to Russia milk in jars and cisterns because they found some infection in it; but if we deliver it in plastic containers, then we are welcome, as if that kills the infection!" Lukashenka alleged the Russian ban was actually a price war: somebody wants to eliminate a competitor from selling a cheaper high-quality product.
Alexander Shpakovsky, a government-friendly expert, confirmed this point in his interview to RTVI by citing the personal business interests of Alexander Tkachov, Russia's minister of agriculture, and Sergei Dankvert, who is in charge of Russia's major agricultural quality control agency, Rosselkhoznadzor (YouTube, April 24). Incidentally, during a talk show on Russian TV devoted to Lukashenka's address, two Russian experts, the journalist Maxim Yusin and the economist Alexander Gushchin, expressed shame that this Russian agency is, all too often, used to exert political pressure on foreign actors or to maximize personal and/or group benefits at the expense of national interests (YouTube, April 25).
Lukashenka sees this issue in the broader context of Russia's treatment of post-Soviet countries in general. Thus, in his address, he referred to a frivolous price hike of natural gas for Armenia in 2016 that was retracted after a public outcry in that republic. He also cited the case of Moldova, which he visited on April 18, a country that, as he put it, can lose its statehood unless it is treated kindly "in our Slavic, Russian and Belarusian ways." Whereas Georgia, which in Lukashenka's words was "shoved out" of the Russian market, is now "trying modern American anti-tank weapons, and so is Ukraine. Do we need that? We are to blame for what is happening along the perimeter," he concluded, apparently having Russia's perimeter in mind and casually confusing "we" (Belarusians) with "they" (Russians). Nonetheless, Lukashenko also commended a young Belarusian female musician who, in televised communication with a famous Russian TV anchor, suggested that the latter call her country "Belarus," not "Belorussia."
And in an indirect rebuke to popularly held beliefs of Belarus as a closed country, Lukashenka also railed, "Why is it that our citizens find it suitable to fly from […] Vilnius, Kyiv, or Warsaw and not from Minsk? When will [Minsk airport] become a truly attractive hub?"
Nearly every one of Lukashenka's speeches is a spectacle that offers some interesting food for thought. And this latest address, among other things, showed that setting a reasonable tone about Belarus (see EDM, October 2, 2012) is a problem that not only Western analysts face. For Russians, this appears to be a challenge, too, and possibly even more.