Lukoil Acquires Major Stake in Netherlands Refinery and Marketing
Publication: Eurasia Daily Monitor Volume: 6 Issue: 123
By: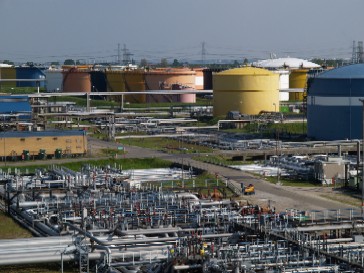 Russia's Lukoil has broken into Western Europe's most lucrative oil refining and retail market by taking over Dow Chemicals' 45 percent stake in Total Raffinaderij Nederland (TRN), a choice morsel. The announcement coincided with Russian President Dmitry Medvedev's June 19-20 visit to the Netherlands.
Seen in a wider strategic perspective, this is a further instance (as with the General Motors-owned German auto manufacturer Opel most recently) of an American company being replaced by a Russian one in Europe. Policymakers on either side of the Atlantic do not seem preoccupied with the long-term implications of this incipient trend.
TRN, located near Vlissingen in the Schelde estuary, currently processes nearly 160,000 barrels of crude oil per day (bpd) or 7.9 million tons annually, out of a total processing capacity of 190,000 bpd or 9.5 million tons per year. It also owns a minority interest in Rotterdam's Massvlatke Oil terminal, rated as one of the world's largest.
Diesel and jet fuel are TRN's main products. Ideally situated to receive crude oil from sea tankers and to ship the refined products by inner waterways, TRN supplies its products to retail networks particularly in the Netherlands, Belgium, and Germany. This area of north-western Europe is rated as the most lucrative market for diesel and jet fuel. Lukoil is now gaining a firm foothold in this retail market. TRN is configured to process a variety of crude oils but operates mainly on heavy, sulphurous oil brands, priced below the Brent benchmark. Lukoil is already a major supplier to TRN from the Russian company's Timan-Pechora fields.
The French company Total, 55 percent owner as well as operator of this Netherlands-based refinery, facilitated Lukoil's entry. Dow Chemicals had sold its 45 percent stake in TRN in May of this year to the San Antonio, Texas-based Valero Energy, North America's largest oil refiner. Valero, seeking to enter the refining sector in Europe for the first time, had identified TRN as "an exceptional entry point in the European market" (Valero Energy press release, May 20).
Total, however, stepped in to exercise its right of pre-emption (first refusal) regarding TRN shares. Overturning the Dow Chemicals-Valero Energy deal, Total bought itself the 45 percent stake in TRN and promptly re-sold it to Lukoil. The transaction is expected to be closed before the end of the year, subject to approval by European regulatory authorities. On the whole, Total's role invites some parallels with Austrian OMV's acquiring a substantial stake in the Hungarian MOL, only to hand that stake over to the Russian Surgut Neftegaz afterward.
Dow Chemicals was acting under pressure to sell off its assets quickly (TRN among others) and cut costs and manpower in order to repay debts in the United States (Bloomberg, June 19; AP, June 20). Lukoil, on the other hand, recently reported a net cash reserve of $3.2 billion, available to finance acquisitions abroad. Lukoil paid $725 million or 5.6 billion Euros to Total for the 45 percent stake in TRN – the same price that the stake had fetched in the triangular process from Dow Chemicals to Valero to Total (Dow Jones Newswires, Bloomberg, Platts, June 19-22).
The price of $725 million is a deeply discounted valuation, a temporary effect of the financial and economic turmoil in the West. Thus, Lukoil acquired this asset on the cheap, an opportunity created by the Western crisis. According to the Moscow-based Veles Capital consultancy and other Russian analysts, this price works out at $205 per ton of refining capacity, compared with the price range of $250 to $350 shortly before the crisis (RIA Novosti, Vedomosti, Kommersant, June 22).
Lukoil had embarked several years ago on a strategy to acquire stakes in refineries and retail marketing networks in E.U. territory, so as to bring those assets into the Russian company's vertically integrated structure. Lukoil had already acquired refineries in Bulgaria and Romania prior to these countries' entry into the European Union. In the last few years the Russian company targeted refineries in the Netherlands (Europoort Rotterdam), England (Coryton), Germany (Wilhelmshaven), Lithuania (Mazeikiai), the Czech Republic (Ceska Rafinerska group), and Spain (Repsol), all unsuccessfully. The assets were too expensive to acquire during the oil-price boom of recent years.
It was not until the second half of 2008, with asset prices on a downward curve, that Lukoil consummated its first major acquisition in Western Europe. It bought a 49 percent stake, with an option to expand it later, in the Italian ERG group's ISAB refinery in Sicily (with its declared total processing capacity at an impressive 16 million tons per year). With that move, Lukoil broke for the first time into refining and marketing in the EU.'s southern area. The acquisition in the Netherlands marks a breakthrough on the E.U.'s even more lucrative northern flank for the Russian company.