Manila's Pivot Toward Beijing
Publication: China Brief Volume: 16 Issue: 17
By:
In mid-October, Philippine President Rodrigo Duterte visited China. His visit was marked by a recalibration in Philippine policy toward China and the announcement of economic and military "separation" from the United States.
The reversal in relations is striking. Under the previous Aquino administration, the Philippines had acted as the primary and most direct challenger to Chinese claims in the South China Sea, bringing a case against the PRC in the Permanent Court of Arbitration (PCA). After the PCA ruled against Chinese territorial claims, Chinese officials and scholars were incensed. One article by China International Studies Institute scholar Jia Xiudong (贾秀东) advised the Philippines to "give up its fantasy as soon as possible…China will not sit idly by" (CIIS.org, July 22). President Aquino expanded military cooperation with the United States, and he began an ambitious modernization plan for the Philippine Armed Forces (PAF). Other nations in ASEAN, also feeling threatened by the extent of Chinese claims, began to take harder stances. Indonesia, long irritated by Chinese fishing boats' activity in the Natuna Shoals, blew up over a hundred captured Chinese fishing vessels and began rearming nearby islands (China Brief, March 25).
Duterte's election in May put the Philippines on an entirely different course. Bombastic rhetoric aside, President Duterte's recalibration toward China has its roots in the Philippines economic situation. An unabashedly domestically focused president, Duterte has taken up crime and economics as his main issues. Though his calls for killing drug dealers has largely alienated his administration, China expressed support for the Philippines efforts to deal with its drugs problem, something with which China itself is also struggling (See China Brief, March 24). An examination of economic fundamentals and China and the U.S.'s respective foreign policy provides useful context for understanding Duterte's shift.
The Philippines trails its neighbors in terms of a number of important economic indicators and moving Filipinos out of poverty will require additional foreign investment and a better business climate. Duterte has announced a new development plan for the Philippines entitled "AMBISYON NATIN 2040" whose plans for "a prosperous, predominantly middle-class society where no one is poor" by 2040 at least rhyme with China's economic goal of a "moderately prosperous society" (小康社会) (neda.gov.ph, October 14; Seeking Truth, April 30, 2015). Duterte's trip to Beijing yielded promises of $24 billion worth of loans and infrastructure projects (ABS-CBN, October 21). China's lifting of restrictions on Philippine exports could further raise this number.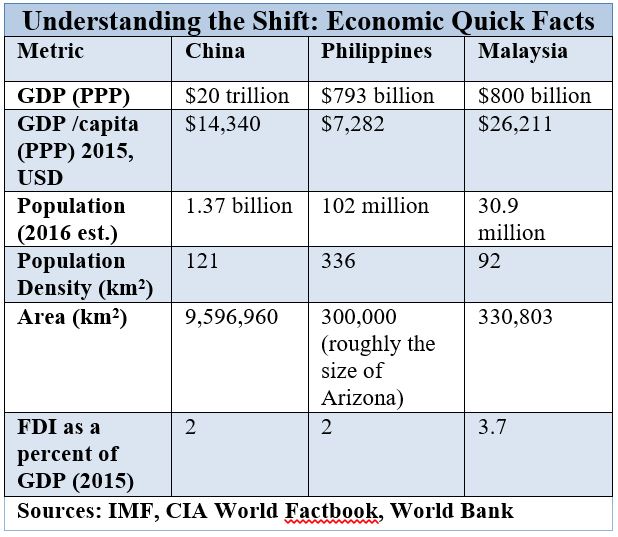 Strategically both the Philippines and China have much at stake. The Philippines' turn inward appears to be mirrored in Duterte's priorities for the Philippines Armed Forces. On October 10, Duterte issued an executive order reorganizing the cabinet structure and increasing the PAF's role domestically by making the Secretary of National Defense the Chair of the "Security, Justice and Peace Cluster" (gov.ph, October 14). Such a focus on improving domestic stability rather than confronting China might have to do with Duterte's conception of the balance between the two states. Even with an influx of jet aircraft and new ships from Korea, Japan and the United States in recent years, the Philippine Armed Forces are inadequately equipped to even consistently patrol the disputed areas. Former Department of Foreign Affairs Albert del Rosario sought "clarification" of whether the U.S. considered its Mutual Defense Treaty extended to protecting these areas—without result. For Duterte's administration, making a deal that would allow  access to Scarborough Shoal and other parts of the South China Sea without a confrontation with China is not an empty gesture for Filipinos. More than 1 million Filipinos fish for a living and these areas are the site of intense competition (FAO.org, Accessed November 9). For its part, after Duterte's trip China has made it clear that granting access to the area in no way diminishes its sovereignty over the area and "the situation has not changed" (FMPRC, October 31).China is already the Philippines largest trade partner. In 2014, the Philippines exported $19 billion dollars-worth of computers and commodities to China, accounting for 24 percent of its total exports. In 2015 bilateral trade between the two countries amounted to $45.6 billion (MOFCOM, February 5). By contrast, total U.S.-Philippines trade was $18 billion for that year (Census.gov, [accessed November 9]). The combination of existing economic influence, Duterte's domestic focus and Beijing's eagerness to both expand foreign markets and achieve policy goals created the environment for the Philippines to realign itself.
Strategically, any lever to strain U.S.-Philippine relations works to China's advantage. Historically the Philippines have been a stepping-stone for projecting U.S. air power on to the Asian mainland—B-17s were deployed to Clark Air Field in the months before Pearl Harbor as a hedge against a restive Japan. [1] U.S. P-8 surveillance aircraft flying out of the same base kept close tabs on China's island-building campaign. Until its closure in 1991, Subic Naval Base was the largest U.S. naval facility in the world, and has since continued to host U.S. vessels. Just as U.S. presence on Okinawa, elsewhere in Japan and to a lesser extent, Guam, makes Chinese leaders uncomfortable, the ease of access and planned expansion of U.S. basing in the Philippines poses a direct threat to Beijing.
Malaysia appears to be making a similar move. In 2015, Xi Jinping met Malaysian Prime Minister Najib Razak on the sidelines of the Asia Pacific Economic Cooperating (APEC) meeting, emphasizing that China considers the bilateral relationship with Malaysia "a priority" (Xinhua, November 17, 2015). Prime Minister Najib Razak visited Beijing shortly after Duterte and landed a number of economic and military agreements (SCMP, October 31). Malaysia's total trade in 2015 with China was $59 Billion, $46 Billion with the United States (MOFCOM, April 1; Census.gov, [accessed November 9]). Malaysia also hosts regular P-8 flights, and it frequently participates in joint U.S. military exercises. If Beijing can use economic incentives to decrease U.S. access to these areas, it will place real strategic costs on U.S. forces operating in the Pacific.
China's use of economic carrots continues to be effective from the Baltic to the South China Sea. With continuing economic contraction at home, and bad bets abroad, such as in Venezuela, the sustainability of economic incentives is far from certain. However, Xi's strategy in buying China diplomatic breathing room has paid off. Though the outgoing U.S. administration made some moves to gain influence with China's traditional supporters in ASEAN, such as Laos, it is clear that China's large overall economic engagement in the region—and targeted diplomatic overtures—have won this round for influence in Southeast Asia.
Notes:
Louis Morton, The Fall of the Philippines, Chapter 3, Available here https://www.history.army.mil/books/wwii/5-2/5-2_3.htm
Remarks by Air Force Combatant Commander General Herbert Carlisle, CSIS, Military Strategy Forum: General Herbert "Hawk" Carlisle on Air Combat Command: Today's Conflicts and Tomorrow's Threats