Members of the Xi Jinping Clique Revealed
Publication: China Brief Volume: 14 Issue: 3
By: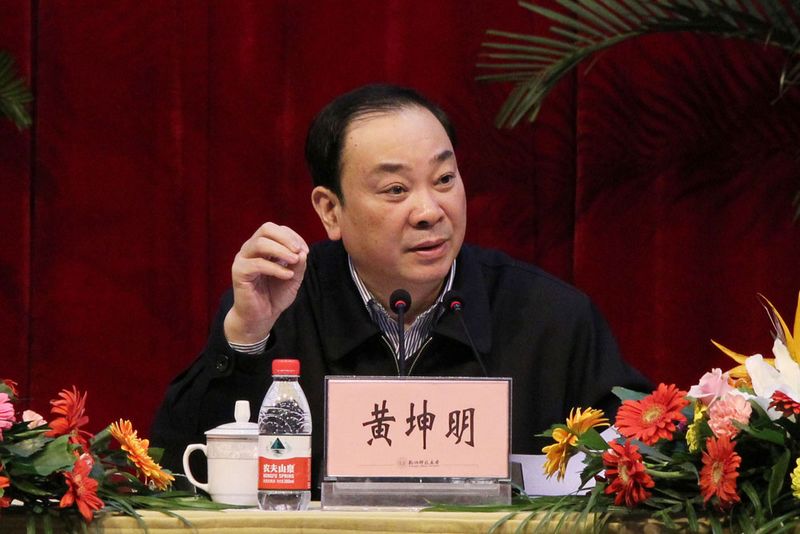 Fourteen months after the watershed 18th Chinese Communist Party (CCP) Congress, President Xi Jinping has emerged as a strongman whose power is deemed to be more extensive and entrenched than that of ex-presidents Jiang Zemin and Hu Jintao. In January, Xi became Chairman of the party's National Security Commission, which controls the nation's police, intelligence and judicial apparatuses. One month earlier, he was named Chairman of another superagency, the Leading Group on the Comprehensive Deepening of Reform (LGCDR), which was established at the Third Plenum of the 18th Central Committee last November (Xinhua, January 24; People's Daily, January 24; China Daily, January 22). These developments mean that in addition to party, foreign and military affairs, Xi is in charge of the labyrinthine state-security and law-enforcement establishment. And given that the main function of the LGCDR is to design and execute economic reform measures, Xi seems to have displaced Premier Li Keqiang as the final arbiter of economy policy (Ming Pao [Hong Kong] January 25; Ta Kung Pao [Hong Kong], January 25). (See "Xi's Power Grab Towers over Market Reforms," China Brief, November 20, 2013 ). Even more significant is the fact that Xi has managed to build up a Xi Jinping Clique whose members are ensconced in senior slots in the party, government and military.
Much has been written about the fact that, compared with predecessors Jiang and Hu—who respectively heads the so-called Shanghai Faction and the Communist Youth League (CYL) Faction—Xi does not seem to have a well-organized coterie of faithful followers. Although it is true that the 60-year old son of party elder and former vice-premier Xi Zhongxun is sometimes considered a leader of the Gang of Princelings (meaning offspring of top cadres), it is important to note that princelings are a relatively loose group when compared to close-knit cabals such as the CYL Faction. While bona fide factions have a clear-cut chain of command as well as a fairly distinct set of beliefs and aspirations, the Princelings Gang consists of powerful personalities who have joined this exclusive club mainly due to their commonly shared "revolutionary bloodline." While all princelings share an interest in preserving the prerogatives of the "red aristocracy," they may have different ideologies and ambitions and the overall group does not depend on the patronage of a single leader. It is also significant that while two of Xi's colleagues on the supreme Politburo Standing Committee—Yu Zhengsheng and Wang Qishan—are princelings, there are very few high-born cadres among the party's Six-Generation Leadership, which consists of fast-rising cadres born in the 1960s (Hong Kong Economic Journal, June 28, 2013; BBC Chinese Service, March 14, 2013). The major bastion of the princelings in contemporary China is the People's Liberation Army (PLA). Prominent generals with "revolutionary bloodline" include General Armaments Department chief Zhang Youxia, Air Force Commander Ma Xiaotian, General Logistics Department Political Commissar Liu Yuan and Navy Political Commissar Liu Xiaoqiang. (See "Commander-in-Chief Xi Jinping Raises the Bar on PLA 'Combat Readiness,' " China Brief, January 18, 2013).
Military princelings, therefore, have become a major component of the inchoate Xi Jinping Clique. In return for their allegiance, Commander-in-chief Xi has paid more attention to the top brass than his two predecessors. For example, since becoming General Secretary and Chairman of its Central Military Commission (CMC) in late 2012, Xi has toured units of all major PLA divisions. Before Chinese New Year, Xi even donned camouflage fatigues when he called upon troops stationed in the highlands of the Inner Mongolia military district. More significantly, Xi has apparently given the top brass a bigger say in foreign and national-security policies (People's Daily, January 29; Huaxia.com [Beijing], December 27, 2013; Xinhua, December 26, 2013).
An even more important talent pool within the Xi Jinping Clique consists of the supremo's associates and underlings when he worked in Fujian Province (1985–2002), Zhejiang Province (2002–2007) and Shanghai (2007). The best example is perhaps Huang Kunming, 57, who rose steadily through the ranks when he was based in Fujian from 1977 to 1999. Not long after his transfer to Zhejiang in 1999, Huang reported directly to then provincial party secretary Xi when he was the head of the cities of Huzhou and Jiaxing. Late last year, Huang was made Deputy Director of the CCP Propaganda Department (Guangming Daily [Beijing], October 24, 2013; Ta Kung Pao [Hong Kong], October 3, 2013). Among newly promoted regional leaders, Guizhou Province Governor Chen Min'er served as head of the Zhejiang Propaganda Department when Xi was running the province. Chen, 50, was one of nine Sixth-Generation cadres to have been inducted into the Central Committee at the 18th Party Congress (People's Daily, October 31, 2013; Guizhou Daily, August 22, 2013).
While Xi was party secretary of Shanghai for only six months, he has elevated several Shanghai cadres to Beijing. Given that Xi owed his promotion to the PBSC in 2007 partly to the patronage of two Shanghai Faction stalwarts, ex-president Jiang and former vice-president Zeng Qinghong, it is not surprising that the putative "core" of the Fifth-Generation leadership should have co-opted Shanghai-based officials into his faction. Foremost among Shanghai-affiliated cadres who have crossed over to the Xi camp is Ding Xuexiang, who was last year appointed Deputy Director of the CCP General Office as well as the Head of the personal office of the President. As director of the General Office of the Shanghai Party Committee, the 51-year-old Ding had impressed Xi with his political acumen and organizational prowess (Wen Wei Po [Hong Kong], July 24, 2013; BBC Chinese Service, May 17, 2013). Yet another Shanghai-based official who has hit the big times under Xi is former vice-mayor Yang Xiaodu. In January, the 61-year-old Shanghai native was appointed Vice-Party Secretary of the CCP Central Commission for Disciplinary Inspection (CCDI), which is China's highest-level anti-corruption unit (People's Daily, January 15; Ta Kung Pao, January 15).
No less influential within the Xi Jinping Clique are senior cadres who were either born—or who spent a significant chunk of their career—in Shaanxi Province, the birthplace of Xi and his much-revered father. This loose-knit Shaanxi Gang includes three PBSC members and four Politburo members. For instance, Politburo members Zhao Leji and Li Zhanshu have bonded with Xi due to the fact that they had taken good care of the Xi clan's interests in their home province. Zhao, 56, the Director of the CCP Organization Department, was party secretary of Shaanxi Province from 2007 to 2012. Also consider the interesting career of Li Zhanshu, 63, who served in senior Shaanxi positions, including party boss of Xian, from 1998 to 2003. Xi first got to know Li in the early 1980s, when both served as the party secretary of nearby counties in Hebei Province (South China Morning Post, November 23, 2013; Shaanxi Daily [Xian] March 17, 2013).
Xi has also recruited a number of high-school and college classmates into his top governing team. Consider, for example, the deputy director of the Party Organization Department, Chen Xi, and the secretary-general of the CCP's Leading Group on Finance and Economics, Liu He. The 60-year-old Chen and President Xi were chemical engineering students and roommates at prestigious Tsinghua University in the mid- to late-1970s (Ta Kung Pao, April 18, 2013; Asia Times Online, February 19, 2013). Liu, 61, became good friends with Xi when they were studying in neighboring high schools in Beijing's Haidian District. A Harvard-educated economist, Liu has become a major Xi adviser on financial and economic reform. Liu, who doubles as Vice-Minister at the National Development and Reform Commission of the State Council, played a seminal role in drafting the economic reform blueprint that was endorsed at the Third Plenum of the 18th Central Committee last November (Phoenix TV News [Hong Kong], October 11; Wen Wei Po, October 11).
While assiduously building up his own power base, Xi has made efforts to sideline members of the CYL Faction, once headed by ex-president Hu. While Premier Li is the sole PBSC member with links to the CYL Faction, several of his CYL colleagues became ordinary Politburo members at the 18th Party Congress. According to long-standing tradition, the premier is the PBSC member in charge of the economy. Yet Li was only made one of three Vice-Chairmen of the LGCDR. The two other Vice-Chairmen—ideology and propaganda tsar Liu Yunshan and Executive Vice-Premier Zhao Gaoli, who are also PBSC members—are considered much closer to Xi than to Li. Premier Li was left out of the high-level team that drafted the Third Plenum document on economic and social reforms. This means that while Li will continue to run the economic departments within the central government, he will likely have to defer to Xi regarding important policy initiatives (South China Morning Post, January 24; Ming Pao, November 17, 2013).
A number of CYL Faction stalwarts who are ordinary Politburo members do not seem to have been given weighty portfolios. Take, for example, Vice-President Li Yuanchao and CCP Propaganda Department Director Liu Qibao. A good part of the portfolio of Vice-President Li, who was a rising star during the Hu Jintao administration, consists of supervising "mass organizations" such as the official trade union, the Communist Youth League and the All-China Women's Federation. Given that he is in charge of the party's press and public-relations issues, the CCP Propaganda Chief usually has a high media profile. Since the 18th Party Congress, however, Liu Qibao has been totally overshadowed by his boss, Liu Yunshan (Chinanews.com, April 1, 2013; Wen Wei Po, November 20, 2013).
Perhaps more important than the question of whether Xi has successfully marginalized rival groupings such as the CYL Faction is whether it is a good thing for Xi to have amassed so much power. Take for instance the LGCDR, which is the biggest high-level decision-making organ in Communist-Chinese history. Apart from the four PBSC members who serve as Chairman and Vice-chairmen, ten ordinary Politburo members sit on the leading group. The LGCDR's elaborate structure will enable Xi to have direct oversight over future directions in economic, administrative, social and cultural reforms (Finance.Sina.com [Beijing], January 24; BBC Chinese Service, December 30, 2013; Deutsche Welle Chinese Service, December 30, 2013). It also demonstrates the supremo's predilection for a clear-cut, top-down chain of command in policy-making. As the Third Plenum document indicated about the orderly implementation of reforms, "we must fully develop the core functions of the party taking charge of the whole situation and coordinating various [sectors]." Xi's determination that party organs at the top should take charge of various aspects of reform, however, seems to militate against Premier Li's emphasis on curtailing bureaucratic interference in the economy and "stimulating the creative powers of the market and society" (China News Service, November 17, 2013; Caijing.com [Beijing] July 13, 2013).
A related question is the quality and competence of the cronies and former associates that Xi has elevated. Probably owing to Xi's concern about putting together his own faction in good time, the supremo seems to have put personal loyalty above professional competence when evaluating the potentials of his protégés. Take, for example, the appointment last year of Chen Xi as the No. 2 in the Organization Department. A gifted engineering expert who was a visiting scholar at Stanford University in the early 1990s, Chen spent the bulk of his career at Tsinghua University, including seven years in the 2000s as its party secretary. He has also taken up largely technocratic positions in the Education Ministry and the China Association of Science and Technology. Chen, however, lacks experience in personnel and organizational work. Also intriguing is the fact that Chen had replaced Shen Yueyue, 56, who is not only younger but more knowledgeable about human resources management. Shen, a follower of ex-president Hu's, was a senior cadre in the Organization Departments of Zhejiang and Anhui Provinces from 1998 to 2002—and then a Deputy Director of the Organization Department from 2003 to 2013. It is hard not to conclude that Xi wants his old classmate Chen to help personnel tsar Zhao Leji play the role of gatekeeper: cadres deemed prejudicial to the interests of the Xi Clique might have difficulty getting the Organization Department's recommendation for promotion (Radio Free Asia, April 30, 2013; Ta Kung Pao, April 18, 2013). Similar to the organizational philosophy of ex-Presidents Jiang and Hu, Xi has placed his most trusted cronies and followers in top positions in key "power units" such as the CCP Organization Department and Propaganda Department. For example, Zeng Qinghong and Li Yuanchan, who headed the Organization Department under respectively Jiang and Hu, were deemed indispensable advisers to their patrons.
While explaining the significance of the Third Plenum initiatives last November, Xi pointed out that "the comprehensive deepening of reform is a complicated piece of systems engineering." "What is needed is top-level design and all-rounded planning and calculations," he said. The official China News Services added that Xi's assumption of the chairmanship of the LGCDR would "ensure that this leading team will have sufficient authority and that decisions can be [effectively] implemented … in such a way that [resistance from] vested interests and blocs can be broken through" (China News Service, December 31, 2013; New Beijing Post, November 14, 2013). To further buttress his legitimacy and popularity, however, Xi and his close allies have to do more to demonstrate that the President is grabbing power for the sake of speeding up reform—and not out of Mao-style self-aggrandizement.