Military Buildup in Belarus and the Exiled Opposition's Downfall
Publication: Eurasia Daily Monitor Volume: 20 Issue: 100
By: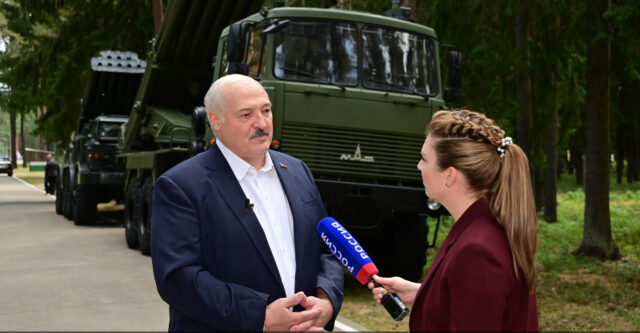 On June 13, Belarusian President Alyaksandr Lukashenka was interviewed by Olga Skabeyeva of Russia One, a Moscow-based television channel (President.gov.by, June 14). On the eve of the interview, the Russian television crew visited Belarus's western border where S-400 anti-aircraft missile systems are installed, later sharing impressions of their visit to kick off the interview. On his part, Lukashenka reminded the interviewer how he once predicted—amid squabbles with Russia over hydrocarbon prices and bans on Belarusian dairy exports—that the time would come when he and Russian President Vladimir Putin "would be standing back to back and returning fire" (Lenta.ru, March 28, 2017). Now, that very time has arrived as Russia and Belarus counter 51 countries aiding Ukraine.
Without going into detail, Lukashenka opined that the war will soon end, as "there are significant grounds" for saying that (President.gov.by, June 14). The Belarusian president reiterated his earlier view that the West is not allowing Ukraine to restart negotiations with Russia. He also predicted that Ukrainian President Volodymyr Zelenskyy, who is "kissed and hugged" by the West just as Mikhail Gorbachev used to be, will also end up like him—an apparent allusion to the collapse of the country Gorbachev presided over and consequently falling into disrepute in Russia. Lukashenka insisted it was his own initiative, even a demand, that Russia "return" nuclear weapons to Belarus. Regarding the observation that Belarus would now become a legitimate military target for the West, Lukashenka replied, "We have always been a target. They have wanted to tear us to pieces since 2020. But nobody has so far waged a war against a country that possesses nuclear arms." He also downplayed the view that it is not him but Putin who will be deciding whether to use those arms—though he did not deny that this would indeed be subject to reconciliation with his Russian counterpart.
Perhaps the Belarusian president's most controversial assertion, already disavowed by the Kremlin (RIA Novosti, June 14), pertained to the Istanbul round of Russian-Ukrainian negotiations in March 2022, where Putin's project regarding Russia's lease of Crimea from Ukraine was reportedly discussed. "Today, however, this would be impossible," remarked Lukashenka, as "Crimea is Russia's territory constitutionally. But it was a normal project that was about to be agreed upon in principle, then initiated by foreign ministries, and then decided on and signed by the heads of states." Finally, Lukashenka once again boasted of a "brilliant operation" by the Belarusian State Security Committee (KGB) that "within four to five days found and detained all the accomplices" of the alleged Ukrainian attempt to damage a Russian A-50 plane at the Machulishchi military airfield in February 2023 (see EDM, March 8).
Coverage of the Belarusian president's interview by the opposition media drew upon the tired 25-year-old trope of Lukashenka being a rough and egotistical leader, as Moscow truly calls the shots and takes advantage of his vanity. (See, for example, Telegraph, June 14.) However, the fortunes of the opposition itself leave much to be desired. Thus, the "provisional cabinet" headed by Svetlana Tikhanovskaya has managed to calm down the conflict within BYPOL by splitting it, with most of its associates departing the original structure headed by Alexander Azarov, a member of Tikhanovskaya's cabinet (see EDM, June 14). BYPOL is an organization of former Belarusian law enforcement associates who plan to subvert Lukashenka by force. Now, opposition commentators joke that BYPOL "reproduces by division" and acknowledge that the entire squabble has inflicted reputational damage on Tikhanovskaya (Telegraph, June 13).
Besides, Azarov is already the second member of Tikhanovskaya's cabinet to betray the trust of opposition-minded Belarusians, the first being Tatyana Zaretskaya, who used to be responsible for the cabinet's finances (see EDM, November 9). Readers of opposition publications are also reminded that, in the past, the same fate once befell the Belarusian Popular Front, which had never recovered its erstwhile influence in the wake of its divisions, and the Belarusian Social Democrats, which split into three parts before falling into oblivion.
In response to the question as to why Tikhanovskaya does not speak up for the forcible removal of Lukashenka, Artyom Shraibman, resident scholar at the Carnegie Endowment for International Peace, referred to her possible misgivings about losing support within Belarusian society. Shraibman also remarked that such reservations may in fact be exaggerated for the simple reason that support for Tikhanovskaya may have already shrunk so much that her further radicalization may be inconsequential (YouTube, June 14). On the BYPOL scandal, Shraibman added one stroke: namely that BYPOL has recently registered a foundation in Poland and, as a result, few donors will be enthusiastic about investing in it.
Pavel Usov of the Warsaw-based Center for Political Analysis and Prognosis and a radical Lukashenka basher, who is also close to Zianon Pazniak, the founder of the Belarusian Popular Front, shared his merciless diagnosis of the Belarusian opposition (Facebook.com/PavelUsov, June 10). According to Usov, "why have you not accomplish anything throughout 30 years?" was the most frequent question directed to the former opposition back in 2020. Those who asked this question have now received a definitive response to it related, however, to the new-wave opposition, which managed "to come to a complete collapse within just one to three years despite quite comfortable conditions for institutional development and existence abroad."
Why so? Usov lists five reasons. First, politics have been converted into business to ensure good living. Second, no democratic political culture exists; every political structure becomes closed, devoid of mutual trust and a corruption-prone system of submission to its leader. Third, there are no lofty political ideas. The slogans of democracy, liberty and independence are gratuitously supplemented by issues of gender identity purely because it is trendy. Fourth, funding is the key parameter of activity, as there is no belief in a quick change in Belarus. Fifth, as a result, there is no responsibility before fellow citizens and history.
In summary, whereas, in addition to economic stabilization and crushed dissent, official Minsk is propped up by Russian nuclear arms, the exiled opposition is going downhill—a rather bleak assessment of the current state of affairs in Belarus.