Mistral Saga: Igor Sechin Se Moque De Paris
Publication: Eurasia Daily Monitor Volume: 7 Issue: 137
By: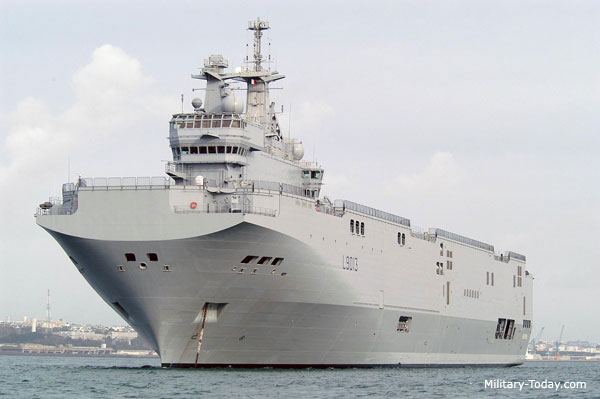 The French ambassador to Estonia, Frederic Billet, has asked the host country to look positively at the French sale of Mistral-class warships to Russia. The ambassador told Estonian media that the warship sale is meant to demonstrate the end of the Cold War with Russia; and the ships would be sold without armaments on board, practically as civilian vessels (Eesti Paevaleht cited by Interfax, July 15).
Portraying the Mistral sale (and other proposed arms sales to Russia) as political demonstrations of the Cold War's end, is a standard talking point for French representatives abroad. Internally, however, President Nicolas Sarkozy's administration seems to fall back on a late-nineteenth century view of European politics to justify a Franco-Russian special partnership, evolving towards an alliance. Le Figaro's editorial page, often used by the Elysee Palace as a mouthpiece, propagates this view.
"It is out of question for France to allow Germany alone to profit from the new Eastern frontier ["modernization" of Russia]. Even if the Germanic [sic] enterprises are way ahead, France must play all its cards." Thus the proposed Mistral sale, "while eliciting understandable objections from Russia's neighbors, such as the Baltic States and Georgia, it eloquently illustrates the mutual trust achieved between Paris and Moscow. The traditional Franco-Russian alliance is reviving. It is all the more promising for being based on shared interests in a rapidly-changing environment" (Le Figaro, June 20).
NATO does not seem worth an afterthought in such French analyses where bilateralism reigns supreme. Meanwhile, NATO itself risks forfeiting relevance by treating the proposed arms sales purely as a bilateral matter between individual West European countries and Russia.
The accompanying French argument seeks to evade responsibility for strengthening the Russian militarily vis-à-vis its neighbors. As Ambassador Billet claims in Estonia, the warships would be sold to Russia unarmed and could even be regarded as civilian ships in that case. These warships, however, are specifically designed as launching platforms for amphibious landing and helicopter assault. Russia has made clear all along that it would put its own tanks and helicopters on the Mistral-class ships, if the procurement goes ahead. A ship of this class carries 16 combat helicopters, 40 tanks (or alternatively, 70 armored personnel carriers), four amphibious landing craft, and 900 marines for short-term missions (470 for long-term missions) (Interfax, July 5).
The appearance of a Mistral-class ship in the Baltic or the Black Sea would affect the power-balance to the detriment of Russia's vulnerable maritime neighbors. It would necessitate some counter-measures, which NATO may well be called upon to undertake, after failing to discourage the proposed sale.
France may be the land of Colbert, but this government keeps silent about its mercantilist motivations in pushing the Mistral sale to Russia. For Sarkozy, this is in part an employment-creation project to rescue French naval shipyards from unemployment and insolvency. For Russia, however, this is a project to create a modern naval construction sector almost from scratch.
The sides have been bargaining since November 2009 over the terms of the deal for four ships. The agreed price tag is in the range of Euros 500 million for one Mistral-class ship, without combat equipment. Moscow seeks the transfer of advanced French electronics and other technologies and insists on building the third and fourth ships completely in Russia under French license. Paris would withhold the most advanced technology components, and wants to build the first two ships completely in French shipyards. The haggling is down to the construction work on the second ship, which may end up being shared by the two national industries.
In Moscow, Deputy Prime Minister, Igor Sechin, has orchestrated another move to make the French nervous. Sechin chairs the inter-departmental commission that handles the Mistral procurement; and is also chairing the state-owned United Shipbuilding Corporation, the designated general contractor for building Mistral-class warships under license. In line with the Russian government's tactics, Sechin is signaling that Moscow could turn to other international shipbuilders, or ultimately to Russian shipbuilders, if France does not sweeten the terms of the Mistral deal for Russia.
In recent days, the managements of several Russian shipyards have asked Russia's Anti-Monopoly Service to investigate the proposed Mistral procurement, for possible violations of Russia's anti-monopoly legislation. These managements complain that the government has chosen the Mistral option without a tender; that some other international shipbuilders can offer competitive analogues to the Mistral; and that several shipyards within the United Shipbuilding Corporation could themselves build a foreign-licensed Mistral analogue within three years. Of the petitioning shipyards, several belong to the United Shipbuilding Corporation outright, while several others are currently being folded into it. Both groups are acting in solidarity with each other (Interfax, July 13, 15; Kommersant, July 15).
Thus, Sechin's subsidiaries ostensibly seek anti-monopoly action in a case handled by Sechin himself for the Russian government. The petitioning shipyard managements include those of Sevmash, Yantar, Admiralty Wharfs, and Baltiyskii Zavod. Meanwhile, Russian officials continue parallel talks with Dutch and Spanish shipbuilders of Mistral-class analogues and, most recently, with the South Korean Daewoo's shipbuilding division (Interfax, July 15).
Unsurprisingly, while the French look eager for a quick deal, Moscow continues playing hard ball. The Kremlin apparently feels that if can play cat to Sarkozy's supplicant mouse.