Mistral Warship Offer Symbolizes New Franco-Russian Strategic Partnership
Publication: Eurasia Daily Monitor Volume: 6 Issue: 221
By: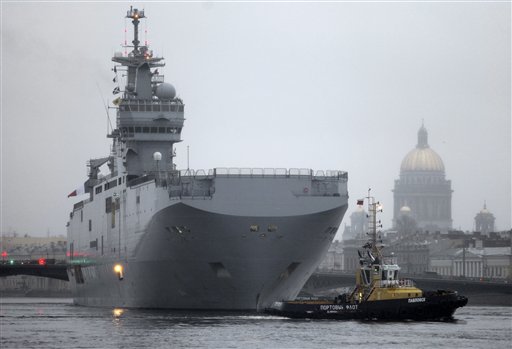 On November 23 the helicopter carrier Mistral, pride of the French Navy, laid anchor at St. Petersburg on a week-long visit with political, strategic, and commercial overtones (Interfax, November 23-27). The French government wants to sell one or, better, several vessels of this class to Russia for billions of dollars, generating jobs at ailing French shipyards, and for drawing Russia into an as yet ill-defined "common security space," which would bypass NATO and the EU and potentially override their common policies (EDM, September 18, November 2).
A naval event in Kronstadt, the Russian Baltic Fleet's base near St. Petersburg, marked the birth in 1891 of the Franco-Russian alliance. Tsar Alexander III, the autocrat who overturned his predecessor's liberal reforms, received the visit of a French naval squadron and even listened respectfully to the French national anthem, La Marseillaise. Agreements signed in 1892 and 1894 formalized the Franco-Russian political-military alliance. From that point onward, French credits shored up Russia's backward economy and helped strengthen Russia's armed forces. In Paris as elsewhere, the "balance-of-power" thinking reigned supreme.
European liberal and democratic opinion was shocked by the French Republic's alliance with the Russian autocracy; but that opinion had little influence even on the Republic's governments. Most French liberal-democrats were eventually co-opted into the Russian alliance; and the French bourgeoisie invested a large portion of its savings into Russian bonds. The alliance ended with Russia's collapse in 1917 and the financial ruin of hundreds of thousands of French holders of Russian bonds. France tried desperately to keep the alliance alive by recognizing Russia's "right" to occupy Constantinople [Istanbul] and the Black Sea Straits (1915 Franco-British-Russian treaty) and allowing Russia unilaterally to determine its western borders, at central European nations' expense (January 1917 Franco-Russian agreement).
Mistral-class amphibious assault ships are intended for power-projection and landing operations. The sale of one or more such ships to Russia would seriously complicate the security environment for NATO member countries in the Black and Baltic seas, if deployed there; and it could become an outright threat to NATO's vulnerable partner countries Georgia and Ukraine.
Mistral's visit was timed to overlap with Russian Prime Minister Vladimir Putin's November 26-27 visit to Paris. There, Putin and French Prime Minister Francois Fillon co-chaired what was billed as a seminar on the Franco-Russian strategic partnership.
French officials are now also starting to speak about a Franco-Russian "modernization partnership." This seems designed for France to emulate Germany's officially declared "modernization partnership" with Russia and to catch up with Germany in Russia's estimation at least politically, if not in overall capability. During Putin's visit, French energy companies announced intentions to join Gazprom's Nord Stream and South Stream projects. For its part, Renault is prepared to rescue Russia's insolvent automobile producer AvtoVaz (Interfax, Le Monde, Le Figaro, Les Echos, November 25-30).
Fillon has emerged as a leading figure in France's rapprochement with the Kremlin, on the intertwined tracks of strategic security policy and business deals. At the 2008 NATO summit, Fillon publicly opposed the Georgian and Ukrainian membership action plans, arguing that their approval would upset the balance of power to Russia's detriment. At present, Fillon actively promotes the Mistral sale to Russia, which could dramatically tilt the balance further against several NATO countries, Georgia, and Ukraine. The French discussions with Russia, under way for several months, ignore NATO and EU procedures on military equipment exports.
According to Fillon and other French officials, "It would be impossible to call for continental stability in partnership with Russia if we refuse to sell armaments to Russia. A refusal would amount to contradicting our own discourse" and obeying "the old reflexes" (Le Figaro, November 26; Agence France Presse, November 27). In this logic, strategic policy would have to be adjusted to fit the rhetoric; while actual experience (including August 2008) is downplayed as unreasonable reflexes.
This policy shift would not be possible without President Nicolas Sarkozy's support. Sarkozy's role, however, is less visible; and he chose to visit South America during Putin's visit to Paris. The president's relations with Fillon were widely deemed to be uneasy and he was expected to replace Fillon at mid-term this year. Sarkozy, however, has announced that he would retain the prime minister.
Defense Minister Herve Morin and the traditional Quai d'Orsay hierarchy are driving this policy shift alongside Fillon. Foreign Minister Bernard Kouchner, a humanitarian left-liberal physician, is following uneasily along. If Napoleon's Old Guard proverbially "grumbled but kept marching on," Kouchner seems to march on without grumbling.
Andre Glucksmann, one of France's leading opinion-makers as well as personal friend of Sarkozy and Kouchner, has publicly urged both of them to stop the Mistral sale (even as lamenting the "Quai d'Orsay's colonization of Kouchner"). "By arming Putin for a [possible] rapid landing in Georgia, on the Crimea, even in the Baltic states, our message is clear: go ahead! Whatever Russian forces do, we shall only protest afterward, to a fait accompli" (Le Monde, November 27).
Asked in which sea would Russia deploy the Mistral ship or ships if the deal is finalized, Putin told the media in Paris that Russia "would use the warships wherever they would be needed" (Interfax, Agence France Presse, November 27).