Moldova Faces Yet Another Election As Governing Alliance Falls Apart
Publication: Eurasia Daily Monitor Volume: 7 Issue: 176
By: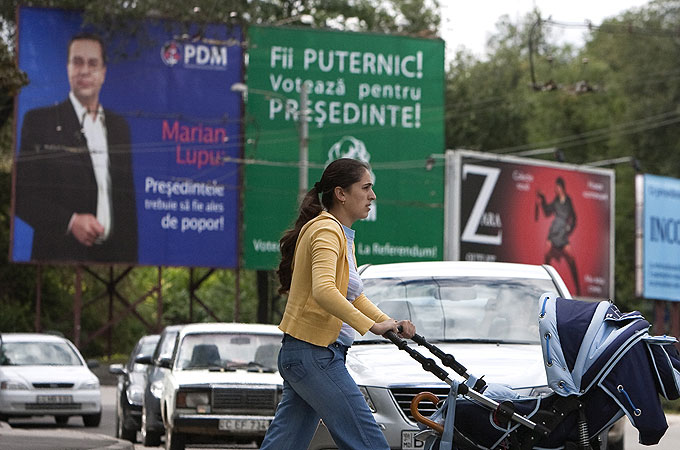 On September 28, Moldovan Parliamentary Chairman and acting head of state, Mihai Ghimpu, dissolved the parliament by decree effective on September 29, and scheduled parliamentary elections for November 28. Both dates had been made public two weeks ahead of the decree. A new parliament will again attempt to elect a head of state in December. Thus, Moldova is headed for the third round of double elections –parliamentary and presidential– in 20 months, not counting the recently failed national referendum (Moldpres, September 28, 29).
The dissolution seems as questionable as the legitimacy of the outgoing parliament itself, which should have been dissolved on June 16 under the constitution. Following its belated dissolution, the parliament nevertheless retains a "mandate" to continue meeting until November 28, mainly for Ghimpu and his allies to attempt lifting the immunity of former president (2001-2009), current communist opposition leader, Vladimir Voronin.
The four-party Alliance for European Integration (AEI), which governed with a narrow majority since September 2009, has now dispersed. Deeply divided all along, its four components will run separately in these elections, competing against each other to capture overlapping segments of the ethnic Moldovan electorate. Fear of a communist electoral revanche had helped delay AEI's dispersal until now. Ironically, the electoral campaign changes that logic. It compels these four parties to push into each other's voter base, with mutual combat taking precedence over anti-communist sentiment. Each AEI party can only expand at another AEI party's expense (only the left-of-center Democratic Party can expand also toward the left, at the communists' expense).
Prime Minister, Vlad Filat, promptly launched the electoral campaign with a massive social-spending program, hoping to boost his Liberal-Democrat Party's prospects at the cost of the state budget. AEI's other three parties had also prepared social-spending programs, to be announced by all four parties jointly at the start of the electoral campaign. But Filat moved faster, capitalizing on his prime-ministerial post and control of the finance ministry. The government shall allocate the funding on its own authority, changing the state budget without parliamentary approval. Filat's intra-AEI rivals could do no more than decry his "selfishness," "lack of team spirit," and "coup de grace to AEI" after his move. The three parties cancelled the parliament's last sitting in protest; and Filat's party reciprocated by walking out of AEI's last caucus (Moldpres, Infotag, Unimedia, September 28, 29).
The supplementary funding is targeted at 521,000 pensioners (amounting to 75 to 80 percent of Moldova's total number of pensioners) and around 100,000 persons who are registered as poor and who receive social assistance. A further 60,000 low-income state employees are also included in the program. Thus, it encompasses a sizeable part of Moldova's in-country population of less than 3 million. The money will be disbursed during the final three months of 2010, under the rubric of compensation for heating costs and some other social designations. According to the government, the disbursement will raise these families' income by an average of 16 percent. Some 426 million Lei are budgeted for these programs. Apart from this, almost 300 million Lei are budgeted to supplement farm subsidies, housing construction in flood-affected villages, and upkeep of student hostels, all timed to coincide with the October to December electoral period. However, the government has yet to inform the public about the funding sources for these programs. Other AEI politicians have also been vague about financing the social programs they had proposed (Moldpres, September 27; Timpul, September 27, 29; Radio Free Europe, September 29).
On September 27, Ghimpu and others made an uncoordinated AEI attempted to lift Voronin's immunity. On that day, the Prosecutor-General's Office applied to the parliament's Legal Affairs Commission to initiate the lifting of Voronin's immunity the next day, in the last plenary sitting of this parliament. The prosecutors charged Voronin with negligence in the performance of official duties as president, in connection with the mob seizure and sacking of the presidency and parliament buildings on April 7, 2009. The Legal Affairs Commission, with its cross-party composition, found the charges unsubstantiated and unactionable. Voronin refuted the charges with sovereign aplomb during the commission's sitting. Some commission members from AEI, however, directed the Prosecutor's Office to re-work and re-submit the dossier (Moldpres, Radio Free Europe, September 27; Moldova Suverana, November 29).
The "negligence" charges represent a full-scale retreat from earlier attempts to hold Voronin criminally responsible for police brutality against the April 7, 2009 rioters. Some AEI leaders (far from all) attempted to prosecute Voronin when the coalition took over the government later that year; but the accusations against him soon collapsed, and the overall investigation into those events fell into oblivion. The new charges signify a last-ditch attempt to eliminate Voronin from the electoral campaign and from politics generally.
Throughout its existence AEI was torn by rivalries among its top leaders. Its four component parties lack any structured existence or outlets for expression. AEI's one-year history was one of infighting without any façade of unity. In overall terms it fell short of its promise to reform state institutions. It also allowed Russia an unprecedented chance to exploit rifts among Moldova's politicians. The reorganization of the foreign ministry is one of its few successes.
The coalition would have needed a full term of four years in power to carry out its initial agenda of reforms. Consumed with internecine rivalries, however, it deprived itself of continuity in power after only one year. The daily televised spectacle of infighting alienated the voters, only 27 percent of whom turned out for the September 5 constitutional referendum –a failure necessitating new elections. Voter alienation from AEI may become a major asset for the Communist Party in the upcoming elections, keeping this party strong for another electoral cycle.