MOLDOVA'S VORONIN REELECTED PRESIDENT WITH BROAD DEMOCRATIC SUPPORT
Publication: Eurasia Daily Monitor Volume: 2 Issue: 66
By: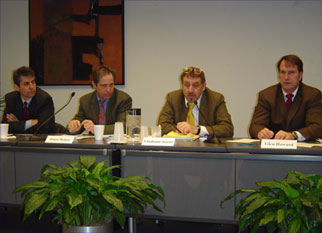 On April 4, Moldova's President Vladimir Voronin was reelected to a second four-year term by an unprecedented — indeed, until now, unthinkable — political alliance, ranging from his Communist Party to right-wing Christian-Democrats and right-of-center Social-Liberals. This informal alliance defeated Moscow's goal of unseating Voronin. The parties to this alliance hope against considerable odds to turn it into a political construction for the four-year duration of the newly elected parliament.
A ten-point reform agenda (see below), worked out by Christian-Democrat People's Party (CDPP) leader Iurie Rosca and Social-Liberal Party (SLP) leader Oleg Serebrean with Voronin and his aide Mark Tkachuk, laid the basis for the informal alliance that reelected the president. Rosca and Tkachuk also co-authored a pro-reform inaugural address, read by the parliament's new chairman, Marian Lupu, a 38 year-old Western-trained economist without party affiliation.
Under the Moldovan constitution, the president is elected by parliament with the votes of at least 61 members out of 101. The March 6 parliamentary election gave the Communists 56 seats. The staunchly anti-communist CDPP and SLP, with 11 and three seats, respectively, refused until the last moment to support the reelection of a communist president, although Voronin is a communist in name only. The Bloc Moldova Democrata's (BMD) "centrist" leaders, Russian-backed but waffling, in command of some 20 deputies, maneuvered to prevent a 61-strong majority from forming. BMD leaders wanted to trigger the constitutional mechanism that leads to the dissolution of parliament and repeat elections within 45 days. In that case, Russia could have amply funded a winning electoral campaign based on the Communist retrograde wing, the red-brown "Rodina" movement, and BMD "centrists" with financial interests in Russia and Transnistria. Such a campaign could have convulsed Moldova, and would have opened the door to significant Russian political influence for the next four years.
While sharing Voronin's sense of alarm at that prospect, CDPP and SLP deputies were loath to deviate from life-long anti-communist sentiments and work with a president who had only recently overcome his past, and whose entourage and party are in large measure still mired in that past. Moreover, CDPP and SLP deputies came under intense pressure from their party organizations, many voters, and several vociferous newspapers, to refuse any cooperation with a "communist president" under any circumstances. It was not until April 2 that Rosca and Serebrean decided to submit the ten-point reform agenda to the president as a basis for cooperation. Finalized with Voronin and Tkachuk on the evening before the presidential balloting, the agreement became the basis not only for the president's reelection, but possibly for a political partnership as well.
The ten goals are:
1-freeing public television and radio from any government control or political interference and naming an independent board for the broadcasting media;
2-closing down government-owned newspapers;
3-depoliticizing and ensuring the independence of the Central Electoral Commission;
4-separating the Prosecutor-General's office from the government, and re-staffing it with non-corrupt personnel;
5-testing the integrity and competence of judges to weed out the corrupt, under a new Magistrate Council, on the model of Georgia's judiciary reform carried out by Mikheil Saakashvili while Justice Minister there;
6-ensuring government transparency at every level through media coverage, Internet availability, full publication of all regulations;
7-decentralizing local government;
8-removing corrupt and/or Russia-connected personnel from the intelligence and security services;
9-creating a new Constitutional Reform Commission to address existing "gray areas" in the Constitution and legislation;
10-turning the Accounts Chamber into an effective anti-corruption tool by changing its charter to strengthen its independence and integrity.
Many of these points are closely related to the European Union-Moldova Action Plan for 2005-2008 and should facilitate its implementation. It is also understood as part of this agreement that the Moldovan party system would transition toward a center-left/center-right model, with Voronin intending to initiate the Communist Party's transformation into a European-type socialist party. Meanwhile, in his April 4 address to parliament as presidential nominee, and in his acceptance speech as president-elect the same day, Voronin announced his intention to give up the post of party leader. He called in eloquent terms for the withdrawal of Russian troops from Moldova and appealed to the United States, the European Union, Ukraine, and Romania to support a democratic solution in Transnistria. Ultimately he garnered 76 votes, including those of several defectors from BMD (Moldpres, April 4).
Former U.S. Congressman John Conlan (R-AZ) was the indispensable facilitator in negotiations and document drafting among the political leaders and factions in Chisinau over a two-week period. He proved highly effective in reducing deep-seated political and inter-personal animosities, not only among communists and anti-communists, but also among opposition figures with long histories of mutual rivalry. Conlan used his political experience in Black Sea region countries, including work last year as a consultant to Viktor Yushchenko's election campaign.