MOSCOW, ANKARA RELUCTANT TO WELCOME NEW BLACK SEA FORUM
Publication: Eurasia Daily Monitor Volume: 3 Issue: 112
By: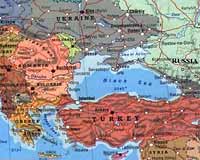 When the presidents of Romania, Moldova, Ukraine, Georgia, Armenia, and Azerbaijan gathered in Bucharest June 4-6 for the first session of the Black Sea Forum for Partnership and Dialogue, Russia's minimal presence was notable.
Russia refused to send a delegation to the Forum and instead, it merely authorized the resident ambassador in Romania, Nikolai Tolkach, to sit in as an observer, without taking part in discussions or signing a concluding document. Romanian President Traian Basescu practically had to corral Tolkach to pose for the summit's "family photo." Moscow's apparently is concerned that the Forum will become a means for Western countries and organizations to voice their positions on issues related to the Black Sea region.
Attending the inaugural session of the Forum were Presidents Traian Basescu of Romania, Vladimir Voronin of Moldova, Viktor Yushchenko of Ukraine, Mikheil Saakashvili of Georgia, Robert Kocharian of Armenia, and Ilham Aliyev of Azerbaijan. They were joined by senior officials from the United States, Turkey, Bulgaria, and several international organizations.
A Romanian initiative, the Forum is tentatively meant to hold annual presidential-level summits — the venues rotating among participant countries — and thematic or sectoral-cooperation meeting during those annual intervals. The Forum is not meant to create new regional institutions, but rather to turn into a regular consultative process among countries of the extended Black Sea region (defined as including the South Caucasus to the Caspian Sea) and between this group of countries and international organizations such as the European Union.
However, Russia maintains that the existing cooperation frameworks, such as the Black Sea Economic Cooperation (BSEC) and the joint naval activity Black Sea Force (Blackseafor), are adequate in their present composition, which is limited to "regional" countries. Russia insists that such bodies form the only possible basis for regional cooperation and it calls for deepening cooperation in these frameworks without bringing in Western members. Tolkach reiterated this position to local media during the summit, thus sniping at the Forum from his observer's perch.
Moscow finds BSEC and Blackseafor to its liking because their limited membership maximizes Russia's weight within these bodies. Turkey, guided by parallel calculations of its own, regards itself as Russia's peer in the Black Sea and is keen to share the leadership role with Russia. Russian Foreign Minister Sergei Lavrov reasserted that position while visiting Ankara on May 31 and released his statement in Moscow on June 4, timed to the Bucharest Forum's opening: "Concentrating the regional countries' cooperation efforts around Blackseafor and BSEC, which exist and are functional, is the optimal way to resolve issues in the region" (Interfax, June 4). Furthermore, Lavrov sent an elaborate congratulatory message to a totally irrelevant parliamentary assembly of BSEC member countries that opened in Yerevan the day after the Bucharest Forum, but he did not deign to send a cable to the Black Sea summit among six heads of state.
Moscow and Ankara jointly resist NATO's proposal to extend the alliance's maritime security operation, Active Endeavor, from the Mediterranean into the Black Sea. Romania, Bulgaria, Georgia, and Ukraine — NATO member and aspirant countries in the Black Sea — support the alliance's proposal. Russia, however, calls for institutionalizing Blackseafor and turning it into a "regional" naval security grouping with a wide range of missions, including anti-terrorism operations. The proposal is designed to create a seeming alternative to NATO in the Black Sea and support the argument that NATO's presence is not necessary there, as the "regional countries" can cope thanks to Russia and Turkey. For an initial step toward institutionalizing Blackseafor, Moscow launched during the days of the Bucharest Forum a proposal to endow Blackseafor with civil defense missions and a corresponding headquarters.
Beyond those specific calculations, there is also a more general political message in Russia's dismissive attitude toward the Forum: It suggests, first, that it is not for "lesser" countries to take major regional initiatives on their own that are not worked out from the beginning with Moscow; and, second, that no regional project can be successful without Russia as a major participant. This is a proposition that Russia seeks to turn into a general axiom in the Black Sea region and it tries to enforce it by distancing itself demonstratively from projects not its own, or perceived as Western-oriented, such as this Forum.
The creation of a Black Sea Fund for Democracy is the only palpable, major result of the Bucharest summit thus far. The German Marshall Fund of the United States is the main donor, and other U.S. foundations are likely to contribute as well. Speaking at the forum, Jack D. Crouch, deputy national security adviser to the U.S. President, underscored the abiding U.S. interest of in the region's security and seeing it advance toward prosperity.
(Rompres, Moldpres, Interfax-Ukraine, AzerTaj, June 5-7)