MOSCOW MULTIPLYING EXTRANEOUS PRECONDITIONS TO TROOP WITHDRAWAL FROM GEORGIA
Publication: Eurasia Daily Monitor Volume: 2 Issue: 31
By: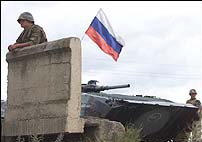 After a two-year interruption and ten years of futile talks, another round of Russian-Georgian negotiations on the withdrawal of Russian troops was held in vain on February 10-11 in Tbilisi. The Russian side advanced conditions that amount to a refusal to withdraw its troops from Georgia. The conditions have grown in number and in brazenness, compared to what Moscow had demanded at the preceding rounds of negotiations. The escalation of conditions is probably also designed and timed to dissuade U.S. President George W. Bush from raising this issue with due emphasis at his upcoming summit with Russian President Vladimir Putin.
In a curtain raiser to the Tbilisi negotiating round, Russia's First Deputy Minister of Foreign Affairs Valery Loshchinin declared that the Russian troops' withdrawal from Georgia and accommodation in Russia would cost "hundreds of millions of dollars, and altogether it would cost more than a billion dollars" (Vremya novosti, February 10). In previous years Moscow had demanded $200-300 million dollars, a preposterous sum for the approximately 5,000 Russian troops based in Batumi, Akhalkalaki, and Tbilisi. (Russian "peacekeepers" in Abkhazia and South Ossetia are not covered by these negotiations.) Moscow supposedly expects the West to pay those sums, knowing full well that the United States and other Western countries are only prepared to defray the real cost, which amounts to a small fraction of Russia's claim.
The Russian side demands an 11-year extension of the functioning of the bases. Tbilisi would agree with a three-year term. Moscow, however, now wants to continue its military presence indefinitely by re-designating the bases as "anti-terrorist centers." Tbilisi originally came up with this idea in 2004 in order to re-start the Russian-stopped negotiations and to provide Moscow with a face-saving way to withdraw the troops. Tbilisi had envisaged the formation of a joint Georgian-Russian analytical center, under Georgian sovereign control and not located at any existing military base, to be created in the wake of the base garrisons' departure, and to include several score of Russian officers, without troops or armaments.
Moscow, however, has seized on that offer in attempting to merely re-label and keep its two bases and its Tbilisi general headquarters. It used the preliminaries to the February 10-11 round, and the negotiating session itself, to entangle the Georgians in a new and complicated process of defining the "anti-terrorist center" missions, structure, and other details, all of this requiring "careful further consideration" — and, undoubtedly, lengthy as well — in Moscow's view. The Russian side wants to co-locate the proposed "anti-terrorist centers" with its existing bases. Moreover, it wants to start creating such "anti-terrorist centers" before commencing any troop withdrawal, and have the prolongation of the bases' functioning to run "in parallel" with the creation and functioning of the "anti-terrorist centers." Thus, Moscow has seized Tbilisi's goodwill gesture and turned it around against Georgia.
The Kremlin has also managed to tie up the military negotiations with the negotiations on a new interstate political treaty, which were proceeding concurrently — in fact, deadlocked for years just like the military negotiations — although they should have been kept separate. As a precondition to a troop-withdrawal agreement, Moscow now demands that the political treaty rule out the hosting of third-party troops and military installations on Georgia's territory, and generally bar Georgia's military cooperation with other countries. Georgia, a declared aspirant to NATO membership and active participant in the U.S.-led anti-terror coalition, deems that Russian precondition unacceptable. Tbilisi offers a commitment within the treaty that Georgian territory would never be used by any third party against Russia.
As a further precondition to withdrawal of its troops (other than the "peacekeepers"), Moscow wants the political treaty to enshrine a special role for Russia in settling the Abkhazia and South Ossetia conflicts and protecting the [newly-minted] "Russian citizens" there. Moscow even wants the repatriation of Meskhetian Turks (which Moscow itself had deported and now refuses to accept in Russia) to be stipulated in the treaty. Russia's Ministry of Foreign Affairs claims that such clauses are necessary in order to persuade the Duma to ratify an interstate treaty with Georgia, if one is signed. This claim is implausible in view of the Kremlin's control of a comfortable majority in the Duma. For its part, Tbilisi argues that all these are Georgia's internal issues as well as issues of legitimate concern to the international community, but do not belong in a bilateral treaty with Russia.
Russia's delegation chief, special envoy Igor Savolsky, appeared content to say at the concluding news conference that the negotiations would continue in the future. His Georgian counterpart, Deputy Minister of Foreign Affairs Merab Antadze, however, remarked, "Continuing the negotiations in this format and in this manner may no longer make sense."
Nino Burjanadze, chair of the Georgian Parliament — which would have to ratify the military agreement and interstate agreement with Russia, if they are ever signed — remarked that those documents can be signed "if Russia realizes that Georgia is a sovereign country, entitled to choose its own future independently."
Attending the negotiations, Giorgi Bokeria, who is a close political ally of President Mikheil Saakashvili, remarked that Georgia must extricate itself from this hopeless process, stop using the 1999 OSCE Istanbul commitments [repudiated by Moscow] as the main Georgian argument, and demand instead the withdrawal of Russian troops on the basis of Georgia's national sovereignty and international law. Bokeria's observation is the only good result of this round in a negotiating process that has long ago become farcical. This observation points the way forward for Georgia.
(Kavkasia-Press, Rustavi-2 TV, Imedi-TV, Interfax, February 11, 12).