Moscow Playing with Multiple Options on Black Sea Pipelines
Publication: Eurasia Daily Monitor Volume: 6 Issue: 103
By: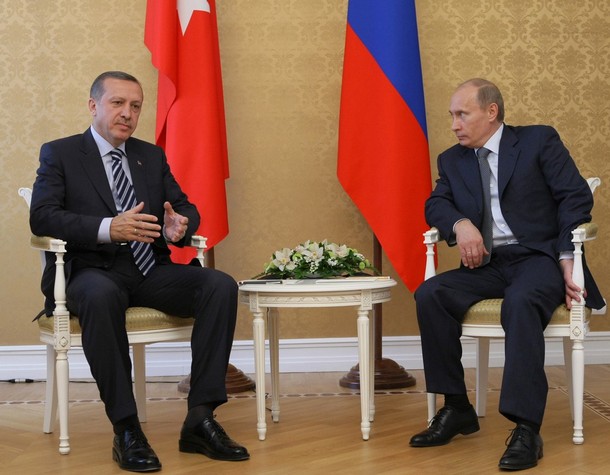 On May 17 in Sochi the Russian Prime Minister Vladimir Putin and his Turkish counterpart Recep Tayyp Erdogan concluded a deal on natural gas. Putin and Gazprom CEO Aleksei Miller promised to proceed with the Blue Stream Two gas pipeline project in a revised version through Turkey. Erdogan and Putin announced this in the wake of their meeting in Sochi (Hurriyet, Zaman, May 18).
Blue Stream Two is envisaged as an overland prolongation of the existing Blue Stream One pipeline. Blue Stream One runs north-south from Russia directly to Turkey, on the seabed of the Black Sea. With a design capacity of 16 billion cubic meters (bcm) annually, Blue Stream One currently operates at half that capacity. The proposed Blue Stream Two, in its revised version, will continue across the Anatolian mainland into south-eastern Turkey.
The original version of Blue Stream Two was intended to run the length of Anatolia westward, approximately on the same route as the Nabucco project from Turkey to Austria. In 2007, however, Russia abandoned that version of Blue Stream Two and pushed strongly for the South Stream project instead. South Stream will run east-west on the seabed of the Black Sea, from Russia directly to Bulgaria and onward to Europe. Designed to bypass the Ukrainian transit system and (unrelated to that goal) to forestall Nabucco, the South Stream project also pursues the lesser-known goal of bypassing Turkey, consistent with Russian policy to avoid transit routes that are not under its control.
The Turkish AKP government has tried to bring Russia back to Blue Stream Two, even in a modified form whereby Gazprom might join Nabucco and use part of its capacity for deliveries of Russian gas (negating Nabucco's entire strategic rationale). However, Gazprom is not interested. Turkey dislikes the South Stream project for bypassing the country and depriving it of an opportunity to become an international energy hub.
Ironically, Russia still needs Turkish consent to proceed with the South Stream project. Even if the pipeline circumvents Turkish territory, it is planned tentatively to run through Turkey's exclusive economic zone in the Black Sea. Thus, Ankara might procrastinate on this Russian project and seek a reward for its acceptance, having already demonstrated considerable capacity for stalling on Nabucco. Partly for this reason, Moscow is now returning to Blue Stream Two, albeit in a modified form.
The basis for the revised Blue Stream Two is both commercial and political. Commercially, it will carry gas for consumption in Turkey and transport via its territory to gas-poor Middle Eastern countries, presumably from 2012 onward. Turkey's long-term agreement with Russia, signed with the USSR in 1986 for gas deliveries by pipeline via the Balkans (the "western route" from Turkey's vantage point), is due to expire in 2012 (Platts Commodity News, May 21).
That gas travels across Ukraine before reaching the Balkans and Turkey. Hoping to bypass Ukraine, the Kremlin proposes to switch deliveries for Turkey, from the Balkan ("western") route toward the underwater Blue Stream One; and to supplement those volumes for transport further afield (primarily to Israel) -although declarations to that effect can hardly be taken at face value. As part of that vision, Turkey might become an international "hub," complete with gas storage capacities.
Politically, Blue Stream Two will reward Turkey for cooperating with the Russian South Stream project. The promise of Blue Stream Two might facilitate Turkish consent to the Russian use of Turkey's exclusive economic zone in the Black Sea. That consent is indispensable to South Stream, since the only alternative is to build it in the Ukrainian exclusive economic zone in the Black Sea. A Russian underwater pipeline specifically intended to bypass Ukraine will be unlikely to receive Kyiv's consent (barring a Russian-orchestrated regime change in the country).
The Ukrainian and Turkish exclusive economic zones are adjacent in the Black Sea, with no intermediate zone. To reach Bulgaria from Russia, the South Stream pipeline must run either through the Turkish zone or much of the Ukrainian zone and a small part of the Romanian zone. Moscow expects to secure Turkish consent and is trying to accelerate this through the promise of Blue Stream Two. Meanwhile, Moscow is building some counter-leverage to Turkey on that issue and is sounding out Romania.
A Romanian delegation, headed by the Economics Minister Adriean Videanu (EDM, May 28, 29), was asked in Moscow recently to provide technical data relevant to pipeline construction on the seabed of the Black Sea within the Romanian exclusive economic zone. The Russian side also inquired about Gazprom conducting a study of the conditions on the seabed. Gazprom vice-president Aleksandr Medvedev -who alongside Energy Minister Sergei Shmatko took part in the talks- indicated that Moscow is considering laying an underwater section of the South Stream pipeline in the Romanian economic zone.
The Romanian delegation agreed to hand over the technical data. Bucharest's official position is that it prefers and prioritizes Nabucco "at the present time" but does not rule out South Stream, if Nabucco fails to materialize (Agerpres, NewsIn, March 21; Radio Romania International, May 22; Rompres, May 26; Romania Libera, May 22, 25, 27).
Laying a section of South Stream underwater in the Romanian zone might affect other Black Sea countries. It implies reducing the Bulgarian share in the overall volume of gas transported through South Stream. It has already signed the intergovernmental and project agreements with Russia and Gazprom respectively, for South Stream. Apparently, Moscow is not above playing with the idea of re-routing a portion of the gas earmarked for transport through Bulgaria under the project.
Moscow's overture to Romania might create a non-Turkish option for laying the underwater pipeline. Moreover, (hypothetically the most intriguing consequence), using the Romanian zone will make sense if Gazprom decides to use the Ukrainian zone, instead of the Turkish zone for laying the South Stream pipeline. Indeed the shortest and comparatively shallowest, underwater route from Russia runs through the Ukrainian and Romanian maritime zones, which are adjacent to each other.
All this maneuvering remains abstract, however, in the absence of Russian-dedicated volumes of gas. The Russian side claims to be able to supply both the South Stream and the Blue Stream Two pipeline projects at their declared capacities: South Stream at 63 bcm annually from 2015 onward (double the figure projected last year for 2013) and Blue Stream Two at 16 bcm annually, presumably from 2012 onward. The Russian stagnant gas production and looming shortfalls, however, invalidate such claims. No Black Sea country can count on the implementation of South Stream. They will all maneuver around each to secure Russian favor in connection with this project.