Nakhchivan Corridor: Implications for Georgia and Iran
Publication: Eurasia Daily Monitor Volume: 18 Issue: 13
By: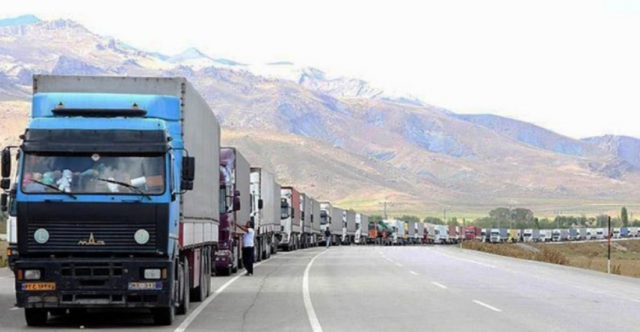 The January 11 trilateral meeting, in Moscow, of Russian President Vladimir Putin, Armenian Prime Minister Nikol Pashinian and Azerbaijani President Ilham Aliyev focused on the unblocking and development of regional transport corridors in accordance with the Russia-brokered November 9/10 truce accord that ended the 44-day war between Armenia and Azerbaijan (see EDM January 12, 2021; Kremlin.ru, January 11, 2021). In particular, a land route connecting Azerbaijan to its Nakhchivan exclave (wedged between Armenia, Iran and Turkey) is central to the activation of the various underdeveloped or long-abandoned regional transport links. The route in question passes through the Meghri district of the Republic of Armenia and is regularly referred to as the Megri or Nakhchivan corridor. During the Soviet era, the route saw significant regional and international railway and motorway transportation to and from Armenia, Azerbaijan and Russia, as well as Iran and Turkey. However, the outbreak of the Armenian-Azerbaijani conflict at the turn of the 1990s made those transportation lines largely unusable for three decades (see EDM December 3, 2020).
The reactivation of the Nakhchivan corridor, thus, promises to shake up the transit map of the entire region (Kremlin.ru, November 10, 2020): Armenia will obtain a railway link with Russia via Azerbaijan, which in turn will be linked to Turkey via Armenia, and therefore, Russia and Turkey will eventually be joined by rail. But the Nakhchivan corridor will negatively affect Georgia and Iran, which have for years benefited as important regional transit countries.
The rehabilitation of the route will benefit Russia commercially, militarily and geopolitically. Namely, the state-owned Russian Railways company, which fully took over Armenian railways in 2008 for 30 years, now stands to further gain from that earlier investment. Under the trilateral accord, Russian border troops will control the Nakhchivan corridor. Therefore, Moscow will be motivated to entice freight forwarders to use the Nakhchivan route instead of the recently-launched Azerbaijani-Georgian-Turkish Baku–Tbilisi–Kars (BTK) railway (Report.az, May 6, 2019). Armenian-Russian transit via Georgia will also be rerouted via the Nakhchivan corridor. Moreover, the resumption of the shorter Armenian-Azerbaijani transit air corridor to replace the Georgian route is another a possibility.
All these developments undermine or reverse the advantages Georgia has enjoyed as the region's accidental beneficiary of the Karabakh conflict (Ekho Kavkaza, November 10, 2020). Georgian expert Emil Avdaliani voices cautious optimism that the BTK and Nakhchivan corridor could be "more complementary in nature than in opposition to each other" (Daily Sabah, December 9, 2020). However, the reality looks different. In 2019, Georgia objected to Russia's intentions to influence the BTK railway in two ways. First, Moscow concluded an agreement with Baku and Ankara to transport freight to Turkey using the BTK. Second, it offered to build a connecting station within the Turkish segment of the BTK to replace the active one in Georgia (see EDM, May 16, 2019; Apsny.ge, May 10, 2019). Additionally, Moscow pushed for establishing a railway line to Armenia via Georgia and the latter's breakaway (Russia-backed) region of Abkhazia. That project later became deadlocked (Jam-news.net, January 14, 2021; Civil.ge, February 27, 2017). But it has now been made entirely irrelevant by the Nakhchivan corridor, signifying Georgia's diminished transit value and related geopolitical significance. As such, Russian leverage over Georgia has grown.
While Russia still subscribes to what George Kennan once described as the "logic of force," the Kremlin now tends to first try softer instruments of pressure—one of the lessons it has drawn from the 2008 crisis with Georgia. It will take many years to effectively put into operation the Nakhchivan corridor. So meanwhile, Moscow will seek to use the shifting geopolitical situation to entice Georgia into economic and transit terms that are more beneficial to Russia instead of resorting to blatant coercion. That said, Moscow may still be interested in developing the north-south Russia–Georgia–Armenia railway out of geopolitical (rather than economic) considerations, concurrently with the Russia–Azerbaijan–Armenia line. In turn, Georgia will likely try to use the interim to seek ways to address potential losses from the regional transit corridor reshuffle and reposition itself in the new situation. Indeed, some Georgian and Western experts and officials have already called on Tbilisi to reinstate a friendlier investment climate, especially in response to the government's controversial cancelations of contracts involving the Anaklia deep-water port and Digital Silk Road projects (Parliament.uk, September 4, 2020; Jam-news.net, September 11, 2020; Caspiannews.com, September 18, 2020; Bm.ge, August 17, 2020; Interpressnews.ge, July 17, 2020; Fas.org, October 13, 2020; State.gov, June 11, 2019; State.gov, accessed January 25, 2021).
Likewise, Iran also stands to lose from the Nakhchivan corridor in certain respects. Initially, Tehran hoped that the new transit route would be limited. In mid-November, Javad Hedayeti, an official with the Iranian Ministry of Roads and Urban Development, downplayed the importance of the corridor saying that it "will likely accommodate just local traffic between Azerbaijan [Republic] and Nakhchivan." He also expected Armenia to block Turkey's access to the corridor. In turn, Yahya Rahim Safavi, the head of the Iranian Association of Geopolitics, insisted on "Iran's unmatched geopolitical position in the world that can connect China, Kazakhstan, Central Asia, and West Asia to the Mediterranean and Europe" (Farsnews.ir, November 18, 2020). Nonetheless, this month's trilateral Moscow meeting shattered Tehran's presumptions: the summit concluded with the creation of a task force, co-chaired by deputy prime ministers, that is tasked with quickly developing their transnational transportation infrastructure.
Iran's geographic location is, indeed, strategic. But the Karabakh conflict and related inactivity of the Nakhchivan corridor had long bolstered the Iranian route. Now, both Turkey and Azerbaijan aim to shrink their dependence on transit across the Islamic Republic. Moreover, Russian Foreign Minister Sergei Lavrov made clear that Moscow would proceed with the development of direct Armenian-Azerbaijani transport links despite Iranian concerns about its diminishing role as a regional transit state (Mid.ru, December 12, 2020). And even prior to discussions of reopening the Nakhchivan route, Moscow—for multiple reasons and despite prior pledges to Yerevan—was unsupportive of the construction of an Armenian-Iranian railway line (the "South Armenian railway project"), which would have been a link in a longer corridor connecting the Gulf to the Black Sea as part of the North-South Transport Corridor (NSTC). As a result, the NSTC was rerouted via Azerbaijan (see EDM, January 30, 2017 and November 9, 2017; Avim.org.tr, May 24, 2018).
When the Nakhchivan corridor comes online, Iran's and Georgia's regional importance and benefits will shrink (see EDM, July 8, 2019, January 28, 2020, June 24, 2020). Consequently, Ankara, Baku and Moscow have sought to appease Tehran and Tbilisi by inviting them to a six-party cooperation platform initiated by Turkish President Recep Tayyip Erdoğan (Gfsis.org, January 12, 2021). That offer, however, seems unlikely to make up for those losses.