OIL REFINERY CONSTRUCTION PROJECT EXAMINED AT THE KYIV ENERGY SUMMIT
Publication: Eurasia Daily Monitor Volume: 5 Issue: 103
By: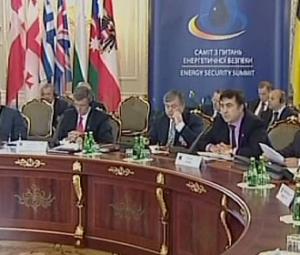 The Energy Summit in Kyiv (see EDM, May 28, 29) looked at a detailed proposal for construction of a refinery in Ukraine to process Caspian oil. The underlying idea is to reduce Russia's strong influence on Ukraine's refining industry and oil-product market by building a large-capacity, technologically advanced, internationally competitive refinery in Ukraine.
Intentions to build oil refining capacities in independent Ukraine have not met with success thus far. Ukraine's six existing refineries, dating from the Soviet era, generally operate with obsolescent equipment at low refining margins and short of European standards for product quality.
Of those six refineries, three are fully Russian-owned (Lukoil's Odessa, Alliance Group's Kherson, and TNK's Linos-Lysychansk); another one is a Ukrainian-Russian joint venture (Kremenchug, owned by Naftohaz Ukrainy and Russia's Tatnafta); and only the two smallest refineries are Ukrainian-owned (Nadvirna and Drohobych, with majority stakes in private ownership through Pryvat Group and minority stakes in state ownership).
Ukraine depends heavily on importing Russian crude oil, which covers some three quarters of Ukrainian demand at present. Russian oil deliveries to Ukraine have declined in recent years, down to 9.8 million tons in 2007, causing refineries to operate far below capacity. Nevertheless, Ukrainian dependence on Russian oil has remained constant or even increased, largely due to the cessation of Kazakh oil exports to Ukraine. Ironically, those deliveries ceased in 2003 and 2004 despite Bush Administration assurances that American companies in Kazakhstan would deliver oil for the Odessa-Brody pipeline.
Refineries in Ukraine were only utilized at 30 percent of the total capacities in 2007, down from 41 percent in 2004 and from 57 percent in 2000. The overall utilization rate, a key indicator of efficiency, has fallen due to aging equipment, temporary shutdowns at some refineries, shrinking deliveries of Russian crude oil, and the lack of Ukrainian access to Caspian oil.
These refineries' product mix and product quality are also inadequate. Overall, they produce insufficient gasoline, diesel, and jet fuel, far below the levels of demand in Ukraine and adjacent parts of neighboring countries. At the same time they produce excess fuel oil, at low or even negative margins. Only one refinery (Lisichansk) is capable of meeting Euro IV quality standards for oil products, but none can meet Euro V standards, implementation of which is expected to begin by 2009.
In this situation, the construction of a modern, large-capacity refinery in Ukraine is seen as an especially attractive proposition. Mott MacDonald, one of the leading energy consultancies worldwide, presented this proposal at the Kyiv summit. It envisages building a technologically advanced refinery with a processing capacity of 10.5 million tons of crude oil annually, or some 200,000 barrels per day. Its production would target the large and growing markets in Ukraine and parts of neighboring countries, where high demand is forecast for diesel fuel and jet fuel in the years ahead, while demand for fuel oil plummets in Ukraine. The proposed refinery could significantly reduce Ukraine's imports of refined products and petrochemicals.
The proposed Ukrainian refinery would accordingly maximize gasoline, jet fuel, and diesel fuel in its product mix while minimizing fuel oil. It would target gasoline largely at regional markets, jet fuel and diesel largely at the internal market. And from the outset it would produce in conformity with the Euro V standard, thus with a strong potential for export.
Capital expenditures for the project are estimated at $3 to $4 billion; construction time at three to five years (depending on the choice of location and other variables); and operating expenditures after completion at $400 million annually. The refinery could be configured to process the Urals Blend of Russian oil from the Druzhba pipeline, or alternatively Azerbaijani light oil, or the Caspian Pipeline Consortium's (CPC) Blend, which mixes Kazakh light oil with the lower-grade Urals Blend and is delivered through the CPC pipeline from Kazakhstan to Russia's Black Sea port of Novorossiysk.
The first and third of these options, however, would not seem consistent with the proposal's overall strategic rationale to reduce Ukraine's dependence on Russian oil.
That goal is attainable through deliveries of Azerbaijani or Kazakh oil via Georgia's Black Sea and onward by tankers to Ukraine. Rising Caspian oil production and recent acquisitions of Georgian maritime terminals by the state oil companies of Kazakhstan and Azerbaijan (see EDM, May 20) have created that possibility.
The proposed refinery's location, and the question of whether it would be linked in some form to the Odessa-Brody pipeline, are yet to be decided. A working group was tasked at the Kyiv summit with moving the refinery project forward.
Meanwhile, Azerbaijan and Kazakhstan are showing interest in acquiring ownership shares in oil refineries and product distribution chains around the Black Sea region. While in Kyiv, President Ilham Aliyev confirmed Azerbaijan's interest in extending the Odessa-Brody pipeline into Poland or building a refinery near Brody. The State Oil Company of Azerbaijan would participate not just as an oil supplier but as a partner in the consortium for building the pipeline or the refinery with a network of fuel stations (Mott MacDonald, "Market Study for the Construction of a New Refinery in Ukraine," Kyiv Energy Summit, May 2008; UNIAN, www.azer.taj, May 22, 23).