Ongoing Environmental Protests in Russia Pose Threat to Kremlin in 2019
Publication: Eurasia Daily Monitor Volume: 16 Issue: 7
By: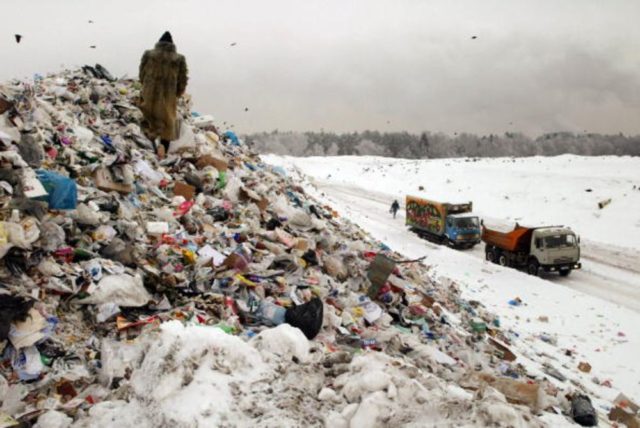 Last year saw a "trash crisis" in Russia, with multiple protests connected to corruption in the garbage collection industry (see EDM, March 12, 2018). The crisis is partially a consequence of Russians' higher prosperity compared to Soviet times—as Russians buy more goods with more packaging and create more waste, this puts increasing strain on existing trash disposal systems. In many other countries, recycling programs have emerged as an environmentally friendly way of dealing with waste; but in Russia, multiple obstacles exist to the effective implementation of such programs. Additionally, political intrigues at the regional level involved with awarding lucrative trash collection contracts—coupled with pressure to protect local vested interests—have meant that capital-intensive projects like incinerators or recycling programs are repeatedly shunned as solutions. And in the absence of new protocols, many Russian regions continue to rely on old remedies—that is, "to build new dumps" (Rosbalt, April 5, 2018). Because citizens are excluded from resolving this dirty problem, often their only recourse is to protest.
Such street demonstrations took place in December 2018 in the village of Dmitrievka, Tambov region, against the expansion of a landfill. According to reports, some 3,000 people turned out to protest in a village whose entire population is only 7,000. Photographs of the rally show individuals carrying Russian flags and placards decrying the construction of the landfill. Village and regional authorities claim that the expansion of the already existing waste dump is necessary to prevent the construction of additional ones (Svoboda.org, December 23, 2018). While it is doubtful that the only protesters at the rally were local inhabitants, the scale is still impressive.
Similarly, an earlier protest in Archangelsk region included demonstrators opposing the construction of a new municipal dump near the Shies railway station, which would store trash from other regions, including Moscow. In response, local deputies held a public meeting. Protesters in attendance carried signs saying "Moscow, keep your trash to yourself" and "We save the North together." The meeting culminated with a pledge from the deputies to send a document to the governor of the region as well as the regional assembly. The document pointedly states, "We demand state authorities not allow waste from other constituent entities of the Russian Federation to be brought into the Arkhangelsk region" (Znak.com, November 8, 2018).
Indeed, it seems that concern over unreasonable or hazardous trash disposal was one of the major sources of protest across the country throughout 2018. In Chelyabinsk, for example, the opening of a new city dump at Poltaevo resulted in the refusal by some carriers to pick up any more rubbish, which consequently piled up in the courtyards of many local apartment buildings (Znak.com, September 24 2018). In northwest Russia, too, trash made headlines when a critical environmental situation emerged as two million tons of toxic industrial waste were dumped in the Red Bor dump in St. Petersburg. During a meeting between Secretary of the Russian Security Council Nikoli Patrushov and Presidential Envoy to the Northwest Igor Patrushov, the latter blamed corruption in the trash removal industry, noting that in Karelia and Vologda Oblasts regional programs had not yet been approved (Interfax, September 18 2018). Demonstrations against landfill construction also erupted during 2018 in Moscow region, Yaroslavl, and Tver.
The famous anti-corruption blogger, activist, and thorn in the side of the authorities Alexei Navalny was quick to capitalize on this mass airing of grievances. His staff in Tambov region, for instance, used Twitter to retweet a post declaring that, "We are looking for the resignation of the political leadership in the region [due to the trash issue]. And that is only the start" (Twitter.com/teamnavalny_tmb, December 23, 2018).
Navalny has long been aware that one person's trash is another man's treasure; he has reported on the corrupt awarding of the lucrative contract for disposal of Moscow's trash back in 2015. At that time, he noted the strange award of a 42.9 billion ruble ($702 million) contract to a company called Charter. This firm had almost no public presence or record, but is known to be controlled by Igor Chaika, the then-26-year-old son of the general prosecutor, Yuriy Chaika (Navalny.com, August 28 2015). Small wonder, then, that Navalny featured Chaika as Exhibit A in a recent video (put out via Twitter) that explains "why trash reform is not possible" in Russia and compares the story to an episode of the popular US television show The Sopranos. As debate opened, on January 1, 2019, for solutions to Russia's trash crisis, the video asserts that the web of corruption around the awarding of contracts to deal with garbage makes the prospect of real reform difficult to contemplate (Twitter.com/navalny, January 16, 2019).
The authorities are under extreme pressure to take these ongoing environmental protests more seriously. The current demonstrations are responding to quintessentially local issues. And yet, in an authoritarian country like Russia, environmental protests can sometimes kickstart a more powerful engine of separatism as well as fuel increasingly politically tinged anger at the government. Indeed, in 1988, environmental protests against a biochemical plant in Gudermes presaged the separatist movement that arose in Chechnya. Thanks to the continued penetration of social media access in today's Russia, the rise in horizontal awareness of local issues in other regions thus represents a growing challenge to both local governments and the Kremlin.