Peculiarities of Public Opinion in Belarus
Publication: Eurasia Daily Monitor Volume: 13 Issue: 71
By: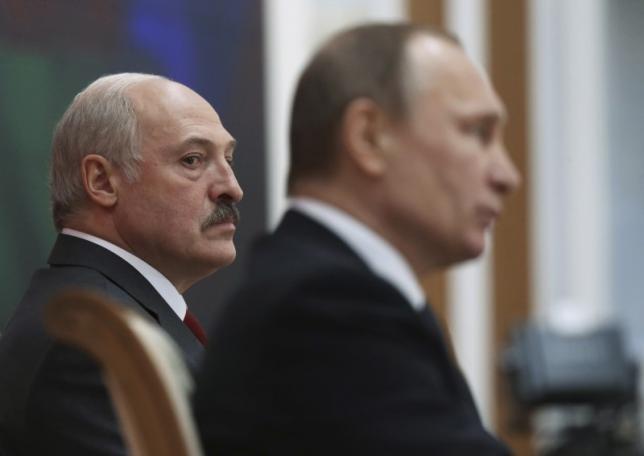 The new (March) quarterly survey by the Western-funded Independent Institute for Socio-Economic and Political Studies (IISEPS)—a polling firm widely considered by Western experts to be the most reputable such organization operating inside Belarus—confirmed a fundamental cultural proximity between Belarus and Russia. According to the results, three-quarters of respondents name Russians as the ethnic group closest to Belarusians, and most identify with Russia's official positions on international conflicts (see EDM, April 8). Twenty-six percent of Belarusians, the second-largest group of respondents, see Russia as a helpful hand in overcoming their own country's economic crisis—which 90 percent of survey participants believe Belarus is currently experiencing. The largest (37 percent) group, though, believes that Belarus should rely only on itself. Belarusians are not ready to be involved in the confrontation between Russia and the West; thus, 54 percent believe that Belarus should not side with either Turkey or Russia in their mutual conflict, and 43 percent are against Belarus hosting a potential Russian airbase in Belarus, up from 34 percent in December 2015. Belarusians are even more critical of Europe. Thus, 60 percent support the opinion that "Europe should send refugees back home as they are alien to Europe"; only 27 percent believe that refugees ought to be accepted. In December, the gap between these two positions was smaller: 52 percent versus 30 percent (Tut.by, March 29).
The IISEPS results are partially echoed by a poll conducted in January–February by sociologists at the Belarusian State University. Their opinion survey was ordered by the Brussels-based Office for a Democratic Belarus (ODB) and interpreted at the University of Kent, in the United Kingdom. Thus, the ODB poll revealed that, compared with 2013 (when this same survey was last carried out), Belarusians less frequently associate the European Union with the notions of "hope" and "enthusiasm" and more with the notions of "mistrust" and "anxiety." While 48 percent of Belarusians believe that the economy and trade should be prioritized in Belarus's relations with the EU, only 8 percent think that the EU's experience in democracy and practice of governance could be suitable for Belarus—and that is less than half of the corresponding percentage share recorded in ODB's first such survey (in 2009). Also, Belarusians who think that the Eurasian Union should be the major strategic partner of Belarus outnumber by a factor of two those who say the EU should be such a partner. Two-thirds of Belarusians approve of Russia being Belarus's closest ally (Odb-office.eu, April 6).
Reflecting on the long-time series of IISEPS surveys, Artyom Shraibman, a political analyst from Tut.by, Belarus's most popular non-state news portal, focuses on the fact that although "Belarusians are not turning away from Russia to the West," since 2003 a steady downward trend has been recorded in the percentage share of those willing to unite with Russia into one state. The highest point of the Belarusians' unification zeal occurred in the mid-1990s, when more than 60 percent of Belarusians were in favor of this option; until 2003, at least 50 percent still favored it; but by December 2015, the corresponding percentage share had declined to 29 percent. So according to Shraibman, the Belarusians' current message to Russia is "yes, we are your brothers, but we will live separately from you; and if you want to settle scores with anybody, go ahead but without involving us" (Tut.by, April 7).
Another notable finding of IISEPS's March survey is the further decline in President Alyaksandr Lukashenka's electoral rating. While in September 2015, it was 45.7 percent—the share of respondents who would vote for Lukashenka "if the elections are held today"—by December, it had dropped to 33.3 percent, and by March, to 27.3 percent. More Belarusians, 47.4 percent, distrust the president than trust him, 41.7 percent (Tut.by, March 29; Infofocus, March 2016). The decline in Lukashenka's rating perfectly tracks the exceptionally lasting cause-and-effect relationship between Belarusians' perception of economic well-being and the presidential incumbent's electoral rating. The beginning of this year saw the devaluation of the Belarusian ruble (the average monthly earning in dollars declined from $412 in December to $345 in February) and ongoing inflation. The crisis and war in neighboring Ukraine had earlier prompted a deviation from this relationship—whereby, for over a year, economic well-being declined while Lukashenka's rating rose. But this aberration, apparently, is no longer the case.
That Lukashenka's rating, as reported by IISEPS, has reached such a low has evidently alarmed the authorities. Thus, the official news agency BELTA published an interview with two official sociologists lambasting the independent pollster. According to them, IISEPS does not have a true field network, so the published results of quarterly surveys are fraudulent (BELTA, March 30). Oleg Manaev, IISEPS's founder, promptly retorted in defense of his organization (Tut.by, March 31; Euroradio, April 4). The situation has several aspects. First, both IISEPS and the aforementioned sociologists interviewed by BELTA conduct regular surveys, but whereas the former publishes its results, the latter do not. Occasional publications cannot match the detailed sociological information comparable across time that one can find on the IISEPS website. Second, the opposition has been displeased by the outcomes of the IISEPS's surveys as much, if not more, than the authorities. While Lukashenka's rating has declined, the ratings of opposition leaders assessed by the March survey are simply microscopic. Only Tatyana Korotkevich, the 2015 presidential hopeful, has a rating (6.9 percent) exceeding the margin of error. The rating of Nikolay Statkevich is 2.9 percent; the remaining opposition leaders have ratings below 1 percent (Tut.by, March 29). Third, based on the amendment to the Administrative Violations Code, adopted in June 2012 (EDM, July 17, 2012), IISEPS's field network can be easily terminated; and yet, this has not been done.
Sergei Nikolyuk, a political philosopher and an associate of IISEPS, suggests that independent sociologists who are de facto allowed to work in Belarus are playing the role that jesters did in medieval Europe. After all, only a jester was allowed to speak the truth to the monarch, who actually appreciated that. Should the king dispose of the jester, nobody else would tell the truth (Author's interview, April 10).