Perceptions of Russia in Azerbaijan: Challenge for Moscow's Peacekeeping Mission
Publication: Eurasia Daily Monitor Volume: 17 Issue: 174
By: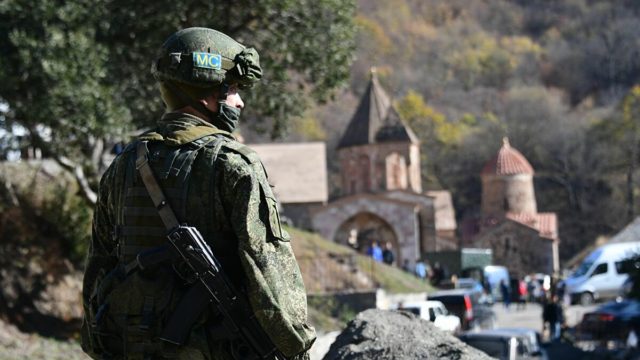 Last September, the Russian Dossier Center investigative project, funded by opposition leader and former Yukos CEO Mikhail Khodorkovsky, published a controversial report on the country's "soft power" policies toward the South Caucasus based on leaks from the Kremlin and Russian special services. The study reveals Moscow's concerns and difficulties with developing pro-Russian civil society organizations inside Azerbaijan in contrast to inside Armenia and even staunchly pro-Western Georgia. According to the report, Azerbaijani non-governmental organizations (NGO), including those serving ethnic Russians, are not readily willing to promote Russian interests or help boost Moscow's influence locally (Dossier.center [1], [2], 2020). In this light, the Azerbaijani public's mixed reaction to the sudden, midnight announcement of the deployment of a Russian peacekeeping contingent to Karabakh, as part of the Moscow-brokered November 9 accord to stop the war between Yerevan and Baku, once again highlighted the complexities of how Russia is perceived in Azerbaijan (Facebook.com/karimliali, Twitter.com/RuslanAsad, EurasiaNet, November 10; Daily Sabah, November 18).
Three historical tragedies of the last 100 years underpin critical Azerbaijani views of Russia—with each having a significant Karabakh/Armenian component. First, Russian-Bolshevik forces invading from the north overthrew the short-lived first Azerbaijani republic (1918–1920) while Azerbaijan's army was focused on a war with Armenia around Karabakh. Second, on January 20, 1990, Soviet troops carried out a massive, armed crackdown on peaceful protesters in Baku, killing around 150 civilians. Moscow's position on the again brewing Karabakh conflict, which was widely regarded in Azerbaijan as favoring Armenia, had been a catalyst for the January protest rallies. Third, the Russian military is perceived as a main culprit in the Khojali massacre of February 25/26, 1992, the First Nagorno-Karabakh War's (1988–1994) bloodiest single event, when over 600 Azerbaijani civilians were killed overnight. Azerbaijan formally attributes the perpetration of those killings to Armenian forces and the 366th Motorized Regiment of the former Soviet military units dislocated in the region (Meclis.gov.az, February 27, 2017; President.az, October 10, 2020). Crucially, Azerbaijanis understand the fact that the Soviet Union had officially ceased to exist in December 1991, with the Russian Federation legally succeeding it before the tragedy occurred.
At the same time, the broader Karabakh conflict is widely regarded by Azerbaijanis as a Russian imperial project; and for several hundreds of thousands of Azerbaijani refugees, the perceived role played therein is still a vivid memory. Soviet-era history books notoriously whitewashed and censored controversial episodes. But literature and poetry—important agents and transmitters of historical memory—somewhat survived the Communist period. Illustratively, the international bestseller Ali and Nino (1937) closes with a poetically metaphorical line: "The life of our [Azerbaijani] republic ceased just like the life of Ali, who was killed with eight Russian bullets [also alluding to the eight-pointed star on the Azerbaijani flag]."
The Russian peacekeeping deployment to Karabakh, agreed to by all sides as part of the November 10 truce, reinforces such negative perceptions if for no other reason than that it reflexively invokes that above-mentioned historical memory and parallels. Therefore, Baku's acceptance of the deployment of a mono-national Russian peacekeeping contingent on its de jure territory seems odd on its face. Notably, both pro-Western president Abulfaz Elchibey (1992–1993) as well as former Soviet leader, KGB general and president Heydar Aliyev (1993–2003), father of the incumbent Ilham Aliyev (2003–present), had previously rejected Russian peacekeepers. Indeed, Azerbaijan's onetime ambassador to Russia, the late Hikmet Hajizade (1992–1993) said in 2019 that Moscow at the "highest level" persistently told him it demanded that Baku accept the deployment of Russian peacekeeping troops. As a result of Baku's refusals, "Azerbaijan's districts were occupied" (YouTube, Azadliq.org, November 20, 2020).
It seems nearly certain that the Russian peacekeeping contingent was imposed, if not forced, by Moscow on Baku (Pia.az, December 2; Toplum.tv, November 10; President.az, October 28). Nonetheless, at least four pragmatic considerations justify Baku's logic in accepting the Russian troops. First, Azerbaijan has already completed its major, transnational oil, natural gas and transportation projects; during the 1990s and 2000s, Russia's presence in the region was seen as a major threat to their implementation, but that is no longer a concern. Second, unlike the Turkey of the 1990s, which only provided lip service to Azerbaijan, today Ankara acts as considerable regional counterbalance to Moscow and insurance for Baku (see EDM, October 13, December 1; Wilsoncenter.org, September 3). Third, Azerbaijan feels increasingly disillusioned with the West's positions/policies on Karabakh. The French parliament's adoption, on December 3, of a resolution to recommend the government recognize the Armenian regime in Karabakh as an independent state (which the foreign ministry rejected) is just one recent case in point (Anadolu Agency, December 4). Fourth, the armistice, however shaky or temporary, allows Azerbaijan to stop and celebrate its military victory over Armenia and finally overcome the national trauma and broken pride it suffered as a result of its defeat in the first Karabakh war. Such considerations represent important silver linings in the otherwise worrying situation arising from the Russian military presence.
Understanding this, Russia responded with restraint vis-à-vis Azerbaijan, compared to its forceful actions in Georgia in 2008 and Ukraine in 2014. Furthermore, Russia has so far sought to give the impression of judiciously implementing the conditions of the truce accord. But Moscow is hobbled by having to find a balance between Armenia and Azerbaijan and not appear to shun either side. Russia's emerging regional counterbalance, Ankara, on the other hand, is in a more advantageous position: Turkey has entirely sided with Baku and feels no urgency to seek balance between Azerbaijan and Armenia. Additionally, Turkey's reputation inside Azerbaijan is incomparably more positive and widely supported compared to Russia's; and the war and subsequent Russian deployment can only further embolden the Turkish image for Azerbaijanis (Wilsoncenter.org, November 18). According to the aforementioned Dossier Center report, Moscow currently eyes 76 Azerbaijani individuals to "use [them] in the interests of the Kremlin." One common criterion is their fluency in Russian. Interestingly, Azerbaijan is home to more Russian/Russian-language schools and university branches than Armenia and Georgia combined; and no Turkish school or university currently operates in the country (see EDM October 24, 2018).
The battlefield victory, and particularly the liberation of the highly symbolic city of Shusha (see EDM, November 12), has sky-rocketed the domestic approval of President Aliyev. Moreover, his public criticisms of Russia throughout the war further emboldened his domestic appeal, attracting even his most critical opponents. These factors all signal challenges ahead for Moscow as the Russian peacekeeping mission in Karabakh faces the nervous and sensitive Azerbaijani public eye (see EDM, September 11; President.az, October 10, 19).