President Poroshenko, Governor Saakashvili Assess Situation in Odesa (Part One)
Publication: Eurasia Daily Monitor Volume: 12 Issue: 130
By: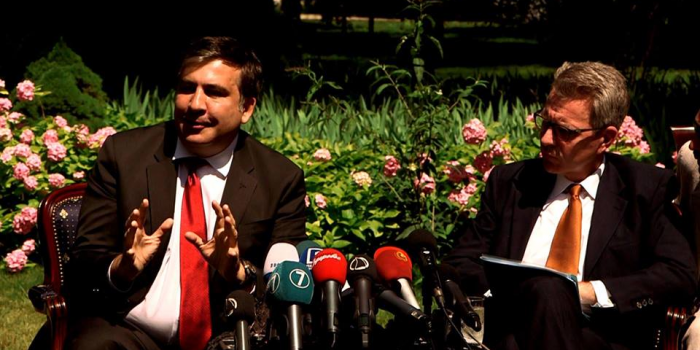 Ukrainian President Petro Poroshenko, the United States' ambassador to Ukraine, Geoffrey Pyatt, and Bulgarian President Rosen Plevneliev descended on Odesa in separate visits (July 2–July 8), to confer with Governor Mikheil Saakashvili there. Georgia's former president aims to turn this undeveloped province of Ukraine into a showcase for reforms, emulating Georgia's transformation during the Saakashvili presidency. As the new governor points out at every stop on his get-acquainted trips, the development potential of this province is impressive but has been stifled by the central government's neglect and local "elite's" misrule.
The challenges here largely resemble those of Georgia from a decade ago, but the instruments at the reformers' disposal are far less effective in Odesa and in Ukraine writ large. Even so, many in Ukraine, from Poroshenko on down, expect a repeat performance by Saakashili in Odesa to inspire reforms in other parts of Ukraine. The Ukrainian president, himself a native of this province, has entrusted Saakashvili with a strong political and personal mandate as governor (see EDM, June 2, 4, 5, 22, 23).
While in Odesa, Poroshenko chaired a meeting of the governors of all 24 provinces of Ukraine, with top state security and law enforcement officials also attending. Altogether, the three high-level visits occasioned an assessment of the challenges faced by the gubernatorial administration, its goals and priorities, and the means at its disposal (Dumskaya.net, Odessablog.com, Ukrinform, Ukraiynska Pravda, July 2–July 10).
—Law Enforcement and Anti-Corruption Efforts
Odesa province is Ukraine's epicenter of smuggling, thanks to the three major seaports and the unofficial "border" with the breakaway Moldovan territory of Transnistria. Customs and law enforcement personnel are often complicit with private smugglers and traffickers. Smuggling is estimated to cost the state $500 million to $1 billion annually in lost tax revenue. The gubernatorial administration plans a wholesale replacement of inefficient, supernumerary, and often corrupt personnel in the customs service, police and other law enforcement services.
The first police patrol force reformed on the Georgian model, with proper training and salaries, is scheduled to enter service in Odesa in September. First Deputy Interior Minister Eka Zguladze coordinated the training program in Kyiv. Police General Gia Lortkipanidze was appointed commander of police in Odesa province last month, and Police Major Kote Mchedlishvili as head of the internal security department last week. The gubernatorial administration has begun recruiting new personnel for the customs, tax and port authorities.
Rapid de-regulation is planned both as an economic measure and for its anti-corruption side-effects. By eliminating many unnecessary rules, inspections, and licensing and permitting requirements, it minimizes bureaucratic corruption and rent extraction. All this is reminiscent of Georgia from 2003 onward; but Ukraine's anti-corruption legislation, for now, is far less effective than Georgia's was during Saakashvili's presidency.
In their public remarks on the occasion, Poroshenko and Saakashvili described corruption as a political and strategic vulnerability of Ukraine and other countries vis-à-vis Russia. They view corruption as one of the forms of Russia's soft power and a means to expand Russian influence into vulnerable countries.
—Shortage of Qualified Personnel
The gubernatorial administration and the province more generally are experiencing acute shortages of qualified personnel with modern professional training. For example, several thousand applications were received for 24 vacant posts of heads of district (raion) administrations, but only 8 applicants were deemed qualified. Meanwhile, Saakashvili is dismissing bureaucrats for "wasting time doing nothing" (Dumskaya, July 3) and plans drastic cuts of superfluous personnel in his administration.
Saakashvili's mandate, however, is confined to the institution of the provincial administration; and he must recruit talent from beyond his province. He had a much wider latitude in terms of personnel in Georgia. There, Saakashvili could easily replace the bureaucracy's dead wood with young talent from civil society, which transitioned seamlessly into the Georgian government at that time. In Odesa, however, young Western-trained specialists are a scarce resource. Ambassador Pyatt, during his visit, (see above) offered to help identify US-funded technical assistance programs and experts willing to work for the gubernatorial administration.
—First Modern Public Services
The gubernatorial administration plans to introduce the first elements of modern public services in Odesa, ahead of the rest of Ukraine. The first Center for Administrative Services is due to open in Odesa before the end of this year. Based on Georgia's "House of Justice" model, these facilities will provide a wide range of notarial, registration, petitioning and information services online within minutes. As a collateral benefit, these depersonalized transactions eliminate opportunities for offering or demanding bribes.
The administration also plans to launch an electronic procurement system (anti-corruption tool as well) this year, and to open a modern customs center with a modern electronic cargo-clearance system next year. This system precludes direct contact between traders and customs officials, reducing opportunities for corruption (Odessablog.com, July 8).