PRESS RELEASE: In Memoriam: Dr. Marshall Goldman, 1930–2017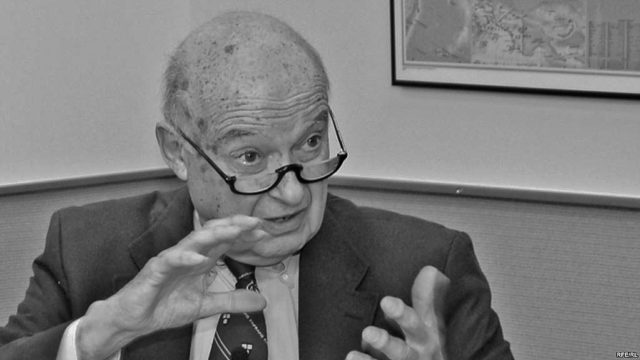 FOR IMMEDIATE RELEASE
Contact: Matthew Czekaj
pubs@jamestown.org
202.483.8888
With deep sadness, The Jamestown Foundation marks the passing of Dr. Marshall I. Goldman, a well-known economist, author, university professor and Kremlinologist. Dr. Goldman faithfully served on Jamestown's Board of Directors for over a decade, from 2001 until early 2011.
On the passing of Dr. Goldman, Jamestown President said that "Marshall Goldman was an active board member known not only for his intellect, but his wonderful sense of humor; he enlightened every event in which he participated. Marshall was always eager to speak at Jamestown events, and his successful book Petrostate: Putin, Power, and the New Russia [2008] helped Jamestown attract new supporters."
Widely hailed as an expert on the Soviet economy, Jamestown's President noted, Dr. Goldman also helped a new generation of Russia scholars understand the energy policies of Vladimir Putin's Russia and its geopolitical importance. "This was certainly one of the areas where he made an invaluable contribution to understanding the interconnection between Russian economics and Moscow's grand strategy. Marshall was a brilliant example of how academics can play an important role in aiding US policy. His expertise on Russia was periodically sought at the highest level by US policymakers and once included a personal meeting with then-President George W. Bush in the White House to discuss US-Russia policy, a rare achievement among US academics," Howard said.
An author of over a dozen books on the Soviet Union, Dr. Goldman spent several decades studying the inherent weaknesses and deficiencies of the Soviet economy. In his 1983 work, U.S.S.R. in Crisis: The Failure of an Economic System, he suggested that domestic economic woes were fueling social discontent that could potentially explode into widespread protests. He is also known for analyzing Mikheil Gorbachev's perestroika and glasnost policies and their negative impact on Moscow's ability to retain control over its empire. Dr. Goldman was one of the most prominent minority voices predicting, as early as 1987, that Gorbachev would not survive the coming political turmoil overtaking the Soviet Union.
Dr. Goldman joined the faculty of Wellesley College in 1958, where he remained, until his death, as a professor emeritus in Russian economics. Between 1975 and 2006, he was also Associate Director of the Davis Center for Russian Studies at Harvard University. In 1991, Dr. Goldman was elected a Fellow of the American Academy of Arts and Sciences. Over the years, he consulted the State Department, the Environmental Protection Agency, the Council on Environmental Quality, the Ford Foundation and numerous corporations.
A graduate of the Wharton School of the University of Pennsylvania, in 1951, he received an MA and PhD in Russian studies and economics from Harvard University in 1956 and 1961, respectively. In 1985, he was awarded an honorary Doctor of Laws degree from the University of Massachusetts, Amherst.
Dr. Goldman passed away on August 2, at the age of 87. He is survived by his wife, Merle Rosenblatt, a Chinse history professor emerita at Boston University; their four children, Seth Goldman, Ethan Goldman, Dr. Avra Goldman and Dr. Karla Goldman; 12 grandchildren; and his sister, Rhoda Frank.
*     *     *
Founded in 1984, The Jamestown Foundation is an independent, non-partisan research institution dedicated to providing timely information concerning critical political and strategic developments in China, Russia, Eurasia and the world of terrorism. Jamestown produces three periodic publications: Eurasia Daily Monitor, Terrorism Monitor and China Brief. Jamestown research and analysis is available to the public free-of-charge via Jamestown's website, www.jamestown.org.