Putin Bluffs on Challenging NATO
Publication: Eurasia Daily Monitor Volume: 13 Issue: 116
By: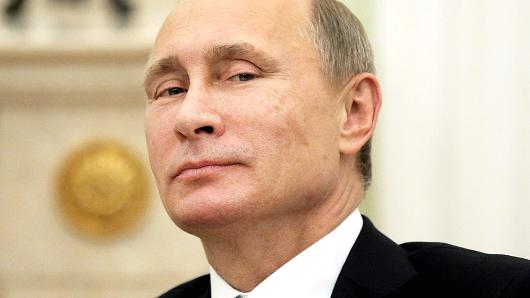 President Vladimir Putin has reacted cautiously and avoided outright triumphalism over the Brexit of the United Kingdom from the European Union, while much of his recent comments on the forthcoming presidential election in the United States also reflect an attitude of circumspection. Whereas, the visit of Defense Minister Sergei Shoigu to the Russian airbase in Latakia, Syria, coincided with fierce exchanges between Washington and Moscow concerning the targeting of the Syrian "moderate opposition." The defense ministry's response reflects uncertain yet boisterous rhetoric ahead of the North Atlantic Treaty Organization's (NATO) summit in Warsaw, which the Kremlin judges mainly through the prism of the US elections and Washington's future commitment to the plans agreed in Poland. At heart, the current level of caution in Putin's "challenge" to NATO stems from Russia's lack of military capability—a capability that, although more advanced than in the 1990s, still faces ongoing systemic issues ranging from defense industry weaknesses to the underlying need for a new reserve system (see EDM, May 24, June 21, 27). Following the Brexit, Putin can now rely on attempting to exploit a greatly weaker EU, but he is unsure about the future strength of NATO or transatlantic resolve. In addition, the ability of Russia's defense industry to fully deliver on the high ambitions of military modernization remains somewhat open to question (RIA Novosti, June 27).
Although Moscow has no say or substantive influence over NATO summits, its more pressing engagements in relation to the Middle East were high on Shoigu's agenda during bilateral meetings in Damascus, which included talks with Syria's President Bashar al-Assad. Significantly, Shoigu was accompanied to Damascus by, Colonel-General Dmitry Bulgakov, the deputy defense minister responsible for the material and technical equipment of Russian operations in Syria. The fundamental issue facing the Russian delegation was the need to develop and improve the logistical support system, implying that the Russian operations in Syria are not planned to end anytime soon. Of course, this was overshadowed by Washington's high-profile allegations that Russia's Aerospace Forces (Vozdushno Kosmicheskikh Sil—VKS) had again targeted the "moderate opposition," resulting in a wave of Russian denials and recriminations. Russian media referred to US support for opposition groups to al-Assad as "plan-B" and ridiculed the Barack Obama administration for its continued support of what they termed a "failing policy" (Nezavisimoye Voyennoye Obozreniye, June 24).
But the predictable denials of targeting "pro-US groups"—as they are portrayed in Moscow—fits a pattern of casting the upcoming NATO Warsaw Summit as hysterically anti-Russian. One commentary in Nezavisimoye Voyennoye Obozreniye alleged that the US is driving a policy to isolate Russia on its western borders, sowing distrust and trying to instigate fresh color revolutions to ultimately destabilize Russia. This interpretation sees strategic areas, including the Baltic Region, the South Caucasus and Central Asia, as part of a wider US effort to damage Russia's long-term interests (Nezavisimoye Voyennoye Obozreniye, June 24).
Certainly, there is continued effort to talk-up the idea of responses to NATO troop rotations close to Russia's borders and implied counter-measures against Alliance plans following the Warsaw Summit. Yet, beneath the rhetoric, Russian efforts on its western border have so far been essentially prophylactic in nature—mainly boosting the divisional strength of the Ground Forces vis-à-vis Ukraine, while wrapping this in a "response to NATO" paradigm. Most likely, there is relief in Moscow about the lack of support among key Alliance members for permanent basing in NATO's East. The real source of weakness, however, remains Russia's domestic defense industry, which struggles to deliver the types of capability that would satisfy Russian nationalists and Western Cold Warriors alike. Recent comments by Russian defense industry specialists on air defense play to the elite gallery, promising more achievements and a future beefing up of short-range air defense systems. But they arguably lack convincing detail to support any great leap forward in Russian military capability (Nezavisimoye Voyennoye Obozreniye, June 17).
One alleged example of success in this area was recently exposed for its failures by Major-General (retired) Igor Semenchenko, a leading advisor to the Federation Council Committee on Defense and Security (2003–2013), and Vladimir Mashkov, the deputy director of the Federal State Unitary Enterprise "MMPP Salut" for Science (2005–2010), writing in Voyenno Promyshlennyy Kuryer. In 1998, a systematic organizational effort began to intensify the training of specialists in engine building. Annually the Institut Tselevoy Podgotovki Spetsialistov Po Dvigatelestroyeniyu (ITsPS) was tasked to train around 5,000 individuals, including 2,000 company employees. Since then, the company has been widely acclaimed and received numerous state awards. In 2012, the ITsPS was subjected to a controversial liquidation and reinvented in 2016, under new management. According to Semenchenko and Mashkov, the ITsPS suffered from many of its best managers being displaced by inexperienced staff; these chronic issues resulted in the "intellectual degradation" of the company. In 2016, a number of highly qualified staff was dismissed, while the transfer of highly skilled experience between the generations declined as a result of abolishing the mentoring system (Voyenno Promyshlennyy Kuryer, June 14).
These institutional problems afflicting the Russian defense industry suggest that much Western commentary, even allowing for operations in Syria and Ukraine, exaggerates Russian military capability. It suits the Kremlin propaganda machine to have EU and NATO members believing the palpably false—that after only a few years of reform and investment Russia has reversed years of decline in military capability to create a force structure that challenges NATO. This was recently underscored in the national snap inspection designed to test a mobilization system never envisaged by the "new look" reforms and serving to inadvertently confirm ongoing manning discrepancies. The Russian defense industry and military manpower systems remain trapped in a different era, struggling to meet the demands of modern warfare and failing to match overall NATO capabilities (Voyenno Promyshlennyy Kuryer, June 21).
This leaves the near-frozen NATO-Russia and US-Russia relations in a period of extended limbo, as all sides await policy clarity to emerge only during the next US presidency and the settling of post-Brexit European politics by 2018. The NATO summit will, no doubt, talk up a threat from Russia, with mirror imaging in Moscow concerning the Alliance's reassurance measures. But the institutions now called upon to resist a resurgent Russia lack unity and strategy on how to define, let alone, deal with these issues. In this context, Putin will continue to shrewdly bluff against the NATO challenge, while cautiously awaiting new leadership in Washington and London.