Putin's Main Target in Syria: Helping al-Assad Win the Civil War
Publication: Eurasia Daily Monitor Volume: 13 Issue: 73
By: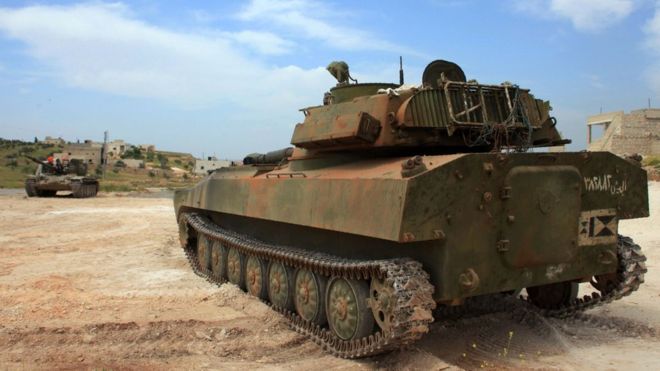 On March 14, President Vladimir Putin surprised both friend and foe by announcing that the Russian military mission in Syria was "mostly accomplished" and ordering the withdrawal of "most of our forces" (Kremlin.ru, March 14; see EDM, March 17, 21). A month later, it became apparent Russia's engagement in Syria still continues and that Putin has not abandoned his long-time ally, Syrian President Bashar al-Assad. The partial redeployment of attack jets back to Russia was a shrewd tactical move that Putin dressed up as potential change in strategy. By the end of March, according to the defense ministry, "all tactical jets designated for withdrawal have been redeployed to Russia" together with some combat helicopters and ground support. The remaining Russian forces continue to attack "terrorists" in Syria and support the pro-al-Assad forces (RIA Novosti, March 28).
A tentative and partial ceasefire brokered by Moscow and Washington went into force on February 27. Some of the Russian attack jet flew back together with several planeloads of support personnel, but all the heavy military equipment stayed in Syria, together with the bulk of the ground troops, special forces troops and antiaircraft missile batteries. While some attack aircraft were withdrawn, new assets were introduced: Russia's most modern attack helicopter gunships, the Mi-28N Night Hunter and Ka-52 Alligator. During the first five months of the Russian air campaign in Syria, the older Mi-24 and Mi-35 (a modification of the Mi-24) helicopter gunships were deployed to guard the Hmeymim airbase. Last month, as the number of attack jets was reduced, the newest helicopters began flying attack sorties and were reportedly actively engaged in driving Islamic State (IS) forces out of the ancient desert city of Palmyra (RIA Novosti, March 28). After Putin's announced withdrawal, Russian casualties continued. A special forces lieutenant was killed fighting the IS in Palmyra; and on April 12, an Mi-28N helicopter crashed in Homs province, killing both pilots (Interfax, April 12).
The official reason given for continued Russian military engagement in Syria after the declaration of cessation of hostilities is the need to fight jihadists from the Islamic State and the al-Qaeda-connected al-Nusra Front. The offensive by al-Assad's forces on Palmyra, planned together with Russian military advisors and supported by Russian forces, was tacitly welcomed by the West as a move against the IS—instead of again being an attack on the moderate Syrian opposition. There was hope that after capturing the desert crossroads town of Palmyra, the Russian-supported offensive would continue east and northeast, deeper into IS-controlled territory (Interfax, March 30). This did not materialize: Palmyra is a prize on its own—its capture was a propaganda bonus both to Putin and al-Assad. On top of that, there are oil fields in the town's vicinity. When Palmyra fell to the IS last May, with it were lost the last commercially important oil fields the al-Assad regime controlled; and now the Syrian government has taken them back.
Neither Putin nor al-Assad appear willing to begin an all-out offensive to destroy the Islamic State while opposition forces in the rear are left undefeated. Last week, speaking to the press in St. Petersburg, Putin insisted: "Our main task in Syria was to reinforce the Syrian state and its legitimate government [al-Assad]." This task has been achieved, but the situation "is still far from a decisive turnaround" (Interfax, April 7).
This week, in Damascus, Syrian Prime Minister Wael Nader al-Halqi told a visiting delegation of Russian parliamentarians: "We, with our Russian partners, are preparing an operation to liberate Aleppo and block all illegitimate armed rebel groups that are not part of or have violated the ceasefire agreement" (TASS, April 10). Al-Halqi's statement seems to indicate possible preparations to begin a major offensive in and around Aleppo against the Syrian opposition, using as a pretext alleged ceasefire violations and the presence of al-Nusra fighters who—unlike the Islamic State—are often intermixed with other more moderate opposition groups.
On April 11, at a briefing in Moscow, the chief of the Main Operational Directorate of the General Staff, Lieutenant-General Sergei Rudskoy, accused the al-Nusra Front of concentrating up to 10,000 fighters and heavy weapons close to Aleppo and of attacking government (al-Assad) forces in an attempt to cut the Damascus–Aleppo road and isolate the north of Syria. According to Rudskoy, Russian jets and al-Assad's forces are in action in and around Aleppo to stop al-Nusra, but "no one is planning to storm the city." Moscow is keen to push Washington into accepting the value of bilateral deals to resolve the Syria conflict and possibly to use the same big power concert understanding in other places, like Ukraine, to decide the plight of lesser nations. Rudskoy insisted the Russo-US ceasefire agreement in Syria is important and called on Washington to do its part in reining in the Syrian opposition (Syria.mil.ru, April 11).
During the five-year-long Syrian civil war, Aleppo, as many other towns, has been divided by deeply entrenched positions, where fighters and civilians hide from artillery and bombs. But during the second Chechen war in the early 2000s, the Russian military developed reliable tactics to break prolonged standoffs and sieges with heavy aerial and artillery bombardments, including by the use of incendiary and thermobaric warheads, also known as vacuum or fuel bombs. The thermobaric weapon of choice of the Russian military is the TOS-1A "Solntsepyok" ("Sunburn") Heavy Flamethrower System. The TOS-1A was deployed in Syria by last September; it was used to effectively dislodge rebels from mountain hideouts in northern Latakia province and recently in the storming of Palmyra (Ridus.ru, March 29).
The ТОС-1А launches heavy but relatively short-range (up to 3.5 kilometers) missiles that deliver thermobaric warheads, which scorch anyone hiding in dugouts, tunnels and bunkers. The ТОС-1А has been filmed in action in Latakia and Palmyra. In Syria it may be manned by Russian contractors or advisers. The use of the ТОС-1А against populated settlements could violate international law, but its use in Chechnya and now in Syria does not seem to cause much international alarm. The ТОС-1А could be a game-changer in the Syrian civil war, and the temptation to forcibly end the Aleppo quagmire could push al-Assad and his allies into decisive action. "Liberating" Aleppo is a high priority goal as its fall would demoralize the Syrian opposition, possibly finally putting al-Assad's overall victory within reach.