Putin's War on Ukraine Throws Black Sea Commercial Shipping Into Turmoil
Publication: Eurasia Daily Monitor Volume: 19 Issue: 50
By: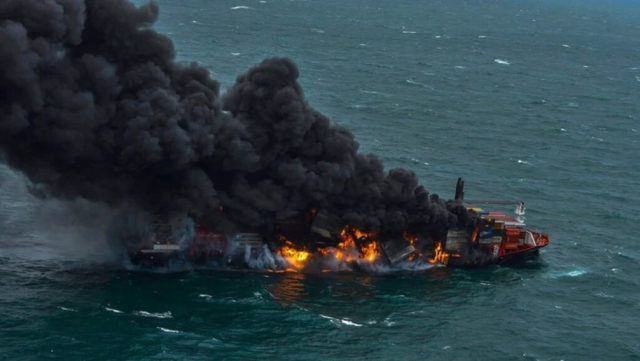 Russian President Vladimir Putin launched his "special military operation" against Ukraine in an early-morning TV address on February 24. Over a month later, beyond inflicting massive suffering and damage, few of Putin's initial objectives in Ukraine have been accomplished, from defeating the Ukrainian Armed Forces to removing the government of President Volodymyr Zelenskyy. While the Russian Federation never made a formal declaration of war, its aggressive operations in the northern Black Sea have turned it into a de facto war zone, trapping dozens of foreign merchant ships there and putting their international crews at risk.
Putin's "special military operation" has impacted Russia's own Black Sea trade. The Association of Russian Seaports reported that in 2021, the cargo turnover of Russian seaports was 835.2 million tons, with the Azov–Black Sea basin accounting for 256.8 million tons, 30 percent of the total. The largest transshipment port, Novorossiisk, handled 142.8 million tons (Vedomosti, March 2). But according to the director of the Institute for Agricultural Market Studies, Dmitri Rylko, the conflict has doubled the insurance premiums for merchant vessels entering the Black Sea, likely to result in massive unsold grain stocks (Interfax, March 2). Ship owners pay annual war-risk insurance as well as an additional seven-day "breach" premium, calculated according to the value of the vessel, when entering high-risk areas. Ships without insurance cannot enter ports, making it difficult to navigate.
The hostilities have also disrupted the energy imports of North Atlantic Treaty Organization (NATO) members Romania and Bulgaria, which receive roughly 200,000 barrels of crude oil per day via their coastal terminals. These volumes arrive mainly from the eastern Black Sea—the ports of Novorossiisk (Russian and Kazakhstani output) and Georgia's Supsa (Azerbaijani output)—supplemented by additional shipments, via the Turkish Straits, from the Mediterranean (InvestingLaunchPad, February 28).
Putin's deliberate labeling of his unprovoked military assault on Ukraine a "special military operation," in lieu of formally declaring war, has left Black Sea maritime trade in limbo as regards operating in a declared war zone under international law, for instance raising questions about the fulfillment of insurance claims. The Russian government has not as yet declared a formal naval blockade of the Ukrainian coast, but its actions directly threaten foreign shipping. The Ministry of Defense of the United Kingdom concluded that Russia's Black Sea Fleet is effectively blockading the Ukrainian coastline, halting Ukraine's wheat exports and marooning nearly 100 merchantmen in Ukrainian waters, while preventing the seaborne delivery of humanitarian relief (The Maritime Executive, March 20). Since February 24, four foreign cargo ships were damaged or sunk (see EDM, April 6), with three Panamanian-flagged vessels suffering Russian missile attacks since the beginning of the conflict (Akşam, March 17).
The Ukrainian State Maritime and River Transport Service reported on March 12 that hundreds of mariners on 94 foreign-flagged ships were "stranded in Ukraine's Black Sea and Sea of Azov territorial waters in the line of fire" (Suspilne Novinne, March 12). Whereas, a week earlier, the United Nations International Maritime Organization (IMO) put its estimate at 2,000 international sailors potentially affected, although some may have been repatriated (Imo.org, March 7).
NATO's Shipping Center warned that the "risk of collateral damage or direct hits on Civilian Shipping in the North Western Black Sea area is considered VERY HIGH [sic]," expressing particular concern for the growing level of hostilities around the Gulf of Odesa (Nato.int, April 4). The IMO as well as the International Chamber of Shipping have urged the establishment of "blue safe maritime corridors" to allow shippers to exit the war zone.
Hapless sailors in the Black Sea also face a new threat; tethered mines that ostensibly have broken their moorings and are now adrift. Naval mines became commonplace after the 1905 Russo-Japanese War; but their growing use and rising threat to merchant marines quickly led countries to agree to legal restrictions on their use, embodied in the 1907 Hague Convention, Article VIII, which forbids the use of free-floating mines (Ogc.osd.mil, accessed April 7). On March 19, Russia's Federal Security Service (FSB) issued a press release asserting that minefields containing approximately 420 obsolete anchor mines, allegedly laid by the Ukrainian Navy to defend Odessa, Ochakov, Chernomorsk, and Iuzhny, were heavily damaged by storms and may be drifting southward toward the Bosporus (TASS, March 19). The deputy head of Ukraine's Maritime Administration, Viktor Vishnov, categorically dismissed the Russian assertions: "This is complete disinformation from the Russian side… This was done to justify the closure of these districts of the Black Sea under [a] so-called 'danger of mines' " (Reuters, March 21). In any case, Turkish authorities, working together with regional allies Romania and Bulgaria, discovered and neutralized several free-floating mines in or near the Bosporus over the past several weeks, with the latest such incident occurring on April 6. The Russian side apparently has not been forthcoming about informing Turkey of such incoming naval mines (Intell4, March 30; Al Arabiya, April 6). Whatever the reality of the mine danger, it adds another layer of complexity to the conflict that has nearly paralyzed a previously thriving maritime trade, with further potential global impact by disrupting Black Sea grain exports.
As for the future of the Black Sea's other littoral countries, to the northwest, the conflict has severed Moldova's normal import channels via maritime and Ukrainian overland corridors and ruptured exports to Russia, Belarus and Ukraine. This has forced the country to utilize more costly alternative routes and suppliers, aggravated by rising prices and energy deficits (Financial Times, March 21).
One of the few shipping channels largely unaffected by the current hostilities is Russia's 63-mile-long Volga–Don Canal, connecting the Caspian and Black Sea. However, its shallow draft of 12 feet in places precludes transit of larger vessels. On March 22, canal operator FSUE Rosmorport announced dredging operations to deepen the channel to 14.7 feet (Morskie Vesti Rossii, March 22). Also so far spared the worst is Georgia. On January 31, Georgia underlined its Western-oriented foreign policy by announcing the opening of the new $93 million Poti Seaport, a joint venture between Pace Group and the United States International Development Finance Corporation (DFC) (Portnews.ru, January 31). The authorities expect Poti to employ 200 people and eventually handle 50 million tons of cargo annually. And apparently, foreign interest in utilizing Georgian seaports grew by 250 percent, mainly from European and Chinese shippers, since the start of the current Russo-Ukrainian war (Ship-technology.com, May 6, 2020; Agenda.ge, January 30, March 29, 2022).
The Kremlin's hopes of capturing Kyiv in one to two days quickly become a protracted war of attrition. Beyond the two combatants, the conflict has embroiled and sometimes paralyzed all the other Black Sea nations' maritime commerce. For countries from Turkey to North Africa dependent on the "breadbasket of Europe's" grain exports, the sooner the conflict is concluded, the better.