Rediscovered Moderation a Poor Fit for Russia's Putinist Policy
Publication: Eurasia Daily Monitor Volume: 17 Issue: 166
By: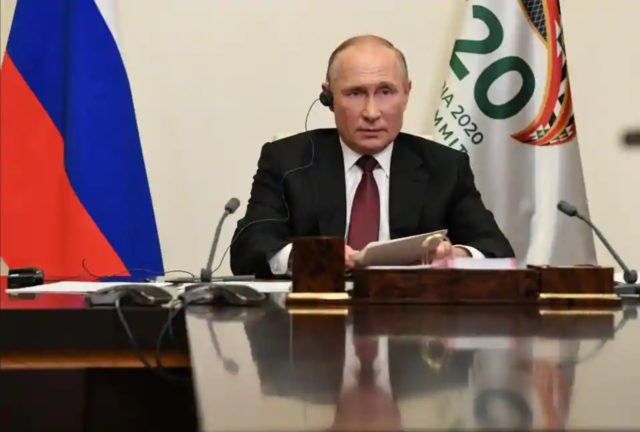 At the G20 summit last Saturday (November 21), virtually hosted by Saudi Arabia, Russian President Vladimir Putin sought to play the role of a wise statesman charting a course of cautious moderation in tumultuous times of economic spasms and pandemic. His advertising of the Russian vaccine was perhaps not entirely convincing but generally in tune with the sober attention he paid to the new coronavirus wave during a special government meeting days earlier (Kommersant, November 19). He had sternly instructed Russia's governors not to hide the real scale of the disaster; and official statistics duly registered a moderate increase in infection rates, which still remain suspiciously lower than independently gathered evidence might suggest (Newsru.com, November 19). His attempt to show that the situation remains under firm control, while denying responsibility for apparent breakdowns of the Russian healthcare system in many regions, is characteristic of Putin's reserved leadership style—which may, perhaps, have become even more cautious in recent months due to his protracted self-isolation (Rosbalt, November 20).
Despite facing a sequence of crises around Russia's borders, the Kremlin shows remarkable indifference to such setbacks as the crushing defeat of pro-Russian incumbent Igor Dodon in the presidential elections in Moldova (Izvestia, November 18; see EDM, November 16, 18). The Russian leadership has also sought to distance itself from the brutal police suppression of continuing street protests against Belarusian President Alyaksandr Lukashenka (Nezavisimaya Gazeta, November 19; see EDM, November 18). This tacit disapproval cannot change the fact that Moscow is the only outside backer helping the embattled autocrat in Minsk cling to power, and Lukashenka continues to play up these "brotherly ties" to the maximum (VTimes, November 17). But the fast-maturing Belarusian civil society is ever so gradually turning against Russia, and new European Union and United States sanctions targeting Belarus notably extend to Russia as well (Kommersant, November 19).
The Russian elites' desire to disassociate from the repressions in Belarus is mixed with fears of a sudden eruption domestically of long-accumulating discontent, against which only the unconstrained application of police force could provide urgent protection (Novaya Gazeta, November 20). These worries underpinned the hasty introduction of legislative packages aimed at banning most still-legitimate forms of protest in the Russian Federation as well as stigmatizing dissidents as "foreign agents" (Forbes.ru, November 20). Russia's drift deeper into authoritarianism butts up sharply against the US's renewed commitment to uphold democratic values under the incoming administration of President-elect Joseph Biden and his plan to organize a summit of democracies (Svoboda.org, November 20).
Meanwhile, key European states' intentions to maintain dialogue with Russia are repeatedly being undermined by indecorous and brusque Russian diplomacy, which contrasts with Putin's pretended moderation. French President Emmanuel Macron did not expect his stance against Islamist extremism to be described as "fueling terrorism"—as claimed by Chechnya's despotic ruler Ramzan Kadyrov, who feels free to formulate his own prescriptions for Russian foreign policy (Znak.com, October 27). Relations with Germany remain badly damaged by Russian denials of the attempted poisoning of opposition leader Alexei Navalny, who is still recovering from a protracted coma (Nezavisimaya Gazeta, November 15). Moscow even announced sanctions against Germany and France in retaliation for their actions related to the Navalny case, in addition to prolonging the package of counter-sanctions approved in 2014 (RBC, November 21).
The odd mixture of constructive steps and aggressive rhetoric is apparent also in the foreign policy area of arms control, where Putin shows a readiness to compromise yet keeps boasting about superior Russian hypersonic weapon systems (Ezhednevny zhurnal, November 12). The recent test of the United States' sea-based SM-3 Block IIA interceptor against a long-range ballistic missile was condemned by Russian officials as destabilizing, ostensibly proving the anti-Russian character of the US missile defense system (Kommersant, November 21). Hopes are high in Moscow that the next administration in Washington will extend the expiring New START treaty; however, Putin refuses to follow China and acknowledge Biden's victory in the elections, contending melancholically that tattered US-Russian relations could not be damaged any further (RIA Novosti, November 20).
The only success Russia has managed to achieve in recent weeks—the agreement on terminating Armenia and Azerbaijan's war over Karabakh—is also fraught with heavy uncertainties (Carnegie.ru, November 18). Putin found it necessary to justify the swift deployment of a Russian peacekeeping force while still confirming a readiness to cooperate with the US and France in achieving a real resolution to this protracted conflict (Rossiiskaya Gazeta, November 17). Whereas, Sergei Naryshkin, the director of Russia's Foreign Intelligence Service (SVR), accused the North Atlantic Treaty Organization (NATO) of purportedly sabotaging the agreement and trying to expel Russia from the South Caucasus (RBC, November 18). This discord reflects the grave suspicions among the Russian elite that Putin's "victory" amounts to a major geopolitical retreat, enabling Turkey to become a major force in the Caucasus and undercut Russia's influence (Russiancouncil.ru, November 16).
Adding to the confused messaging is the Russian Ministry of Foreign Affairs' diminished policymaking role in several key directions, from Belarus to Syria. In the latter, the Ministry of Defense has the lead in executing the intervention, while diplomats simply try to produce a cover of legitimacy for it. The most recent example was the November 11–12 conference in Damascus on refugee return, which yielded few practical results (The Insider, November 19). In the South Caucasus, Foreign Minister Sergei Lavrov was also cut out of the presidential diplomacy, and he is now left trying to sort out the many loose ends of the hastily agreed Karabakh "peace" deal (Kommersant, November 21). Seeking to compensate for the Kremlin's low demand for its professional expertise, the foreign ministry often resorts to broadcasting downright vulgar Russian propaganda (Republic, September 29).
Such an offensive style, in truth, is a smoother fit with the passive-aggressive substance of Russia's foreign policy than President Putin's attempts at showing consideration and moderation. Ultimately, his maturing autocratic regime puts its own survival above all norms of political behavior and perceives every assertion of human rights and freedoms by Western democracies as an act of hostility. The demands for the respect of Russia's "sovereignty"—always so prominent in Moscow's foreign policy discourse—are merely a manifestation of attempts to deter Western support for Russian civil society as well as to assert the privileges of Putin's security apparatus to treat the opposition as it sees fit. Democracy is an ongoing work in progress for every nation, and the Russian elites will continue to gloat over every setback they observe abroad; but they are surely aware that propping up Putinism at home is itself an exercise doomed to well-proven failure.