Putin Tries to Regain Initiative, as Crises Continue to Rage
Publication: Eurasia Daily Monitor Volume: 17 Issue: 162
By: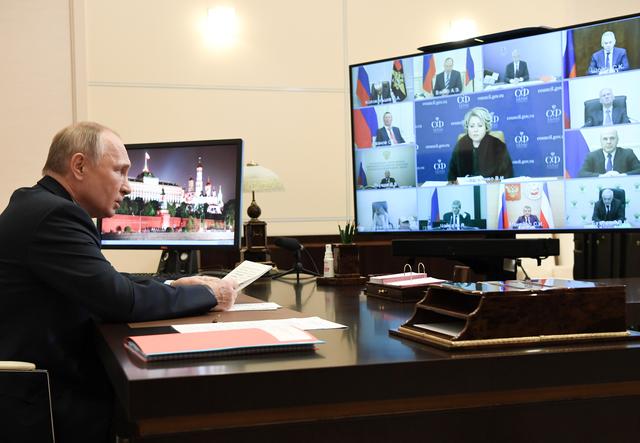 The impression that Russia has behaved uncharacteristically passively in the face of multiple unexpected foreign crises over the last few months is somewhat misleading. It is true that Moscow's attempts at managing these crises—from Belarus to Kyrgyzstan to Moldova—proved limited at best, and President Vladimir Putin's leadership during this time has been rather unsteady. Yet he did, in fact, try to support embattled President Alyaksandr Lukashenka in Belarus and former president Sooronbay Jeenbekov in Kyrgyzstan; nonetheless, the former has been unable to suppress the months of continual mass protests, and the latter has already been forced to resign. The Kremlin also provided some propaganda and economic backing for Moldovan President Igor Dodon (see EDM, October 19, 28); but this was insufficient to prevent his defeat in last Sunday's (November 15) election (Kommersant, November 14). Moscow's apparent inability to stop the war in the South Caucasus for a month and a half most conspicuously underpinned the impression of powerlessness; however, the surprisingly determined effort at forcing Armenia and Azerbaijan to freeze hostilities on November 10 (see EDM, November 12 [1], [2], 13) finally confirmed that Putin has been endeavoring to regain the initiative in Russia's neighborhood.
Russian intelligence probably warned the Kremlin about Azerbaijan's preparations for a large-scale offensive aimed at recapturing the Armenian-occupied territories in and around Karabakh. Yet the strong support from Ankara that helped Baku achieve its decisive victories came as a shock to Moscow (Carnegie.ru, November 11). Turkish President Recep Tayyip Erdoğan boldly intervened in the Russian "sphere of interest" in the South Caucasus, and Putin struggled to check the ambitions of his difficult "friend" (Riddle, November 10). The agreement signed by the Russian, Azerbaijani and Armenian leaders on the night of November 9–10, may appear to restore Moscow's dominant role—underpinned as it is by the deployment of a 2,000-strong Russian peacekeeping force (Nezavisimaya Gazeta, November 11). The deal, however, is open to many interpretations; and Turkey keeps pushing for greater engagement in the unstable war zone and across the South Caucasus region (The Insider, November 11).
Russia also appeared hesitant and inactive vis-à-vis perhaps the most important direction of its foreign policy—relations with the United States. It demonstratively refrained from cyber-interfering in the US elections. Instead, Russian propaganda efforts sought to amplify accusations that the US is incapable of global leadership because of its deep domestic discord (Rossiiskaya Gazeta, November 10). Those attacks had limited success not least because Russians themselves have found the inner workings of US democracy fascinating and compelling (Rosbalt, November 9; see EDM, November 9).
One area of Russian-US relations where Putin has gone the extra mile in seeking to achieve a breakthrough is arms control (Russiancouncil.ru, November 11). President-elect Joseph Biden has expressed his intention to prolong the New START strategic nuclear weapons limitation treaty, which is set to expire in February 2021; but Putin opted to try to strike a quick deal with the Donald Trump administration to extend the treaty for just one year (Kommersant, November 12). The rationale for this rush was not entirely clear, but he may have wanted to grant Trump an opportunity to score a victory on the eve of the election (Nezavisimaya Gazeta, November 1). Now the Kremlin is bracing for a further tightening of the sanctions regime, while further progress on arms control will be used by the US as means to contain Russia's power play (Forbes.ru, November 12).
In the Middle East, a region where Moscow claims a key role, its posturing is invalidated by its de facto indifference to several conflicts, including Yemen and, most recently, Ethiopia-Tigray-Eritrea. Moreover, Russia has also not taken a meaningful stance toward the process of normalization of relations between Israel and several Arab states. And its involvement in the Libyan war has been so ambivalent as of late that Egypt is confidently assuming the lead in backing the Libyan National Army, led by Khalifa Haftar, against the Tripoli-based Government of National Accord allied with Turkey (Nezavisimaya Gazeta, November 5). Russian Middle East policy is predominantly focused on Syria, but the recent airstrike on a Turkish-sponsored militia camp in the rebel-held Idlib province was hardly a show of strength (Russiancouncil.ru, November 9). Moscow's main initiative was organizing an international conference in Damascus on facilitating the return of refugees under the control of the Bashar al-Assad regime. However, this pseudo-humanitarian agenda finds few international supporters (Kommersant, November 12). Seeking to impress potential donors, Russian officials declared that the total value of Russia's aid to Syria exceeds $1 billion, which certainly cannot be verified and is grossly insufficient to cover post-war reconstruction (RIA Novosti, November 11).
Moscow's declarative generosity toward the "ally" hosting the five-years'-running Russian intervention stands in sharp contrast with the government's parsimony when it comes to providing support for domestic businesses and social groups affected by the deepening recession (Nezavisimaya Gazeta, November 10). Measurements of business confidence in Russia keep falling to new lows (Newsru.com, November 10). Putin is trying to alter these pessimistic perspectives by reshuffling the government; but his punishments and promotions do not signal any readiness to advance needed reforms (VTimes, November 9). The Russian autocrat undoubtedly takes the coronavirus pandemic quite seriously as far as his own exposure is concerned, but this concern has yet to translate into any emergency support for the critically overloaded healthcare system in many regions of the Russian Federation (Meduza, November 13). Even carefully doctored statistics cannot hide the sharp increase in mortality. And the authorities are reluctant to show any empathy for the victims lest this acknowledgement reveal the real scale of the disaster (Novaya Gazeta, November 11).
The multiple challenges to Russia's international positions and internal stability have been intensifying to such a degree that the Kremlin's responses may, indeed, have appeared passive in comparison. But Putin continues to look for opportunities that can yield maximum effect for minimal effort. At times—such as in terminating the hostilities in Karabakh—he has been successful. In most cases, however, his procrastination (like in Kyrgyzstan), propensity to downplay the depth of the crises (Belarus as the top example), and denials of failures (the poisoning of Alexei Navalny remains a hugely damaging blunder) have only aggravated those problems. Meanwhile, at home, Putin's COVID-19 response rests on hopes related to the dubious Russian-developed vaccine; but those laboriously boosted expectations fail to address the devastating and daily accumulating impact of the fast-mounting outbreak. Millions of Russians are discovering that their "omnipotent" leader is patently not up to the job, and this conclusion may ultimately contribute to the final demise of Putin's illiberal, kleptocratic regime.