Regime-Change Attempts in Moldova: Russophile, Leftist and Oligarchic
Publication: Eurasia Daily Monitor Volume: 19 Issue: 156
By: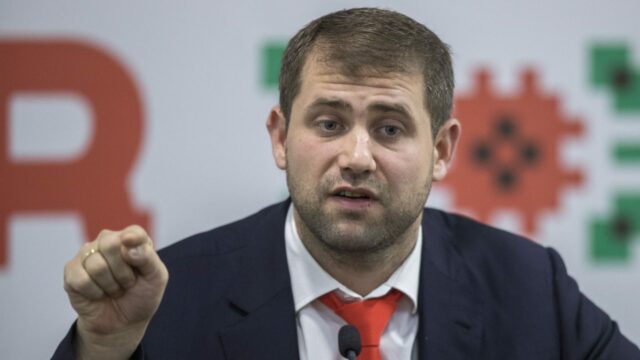 Moldova is experiencing an attempt at regime change through social protests mobilized by parties of the Russophile left. They are calling for the resignation of President Maia Sandu and her Western-oriented government and for pre-term parliamentary and presidential elections. All public opinion polls show the Russophile left-wing parties winning such elections easily if held amid the current economic crisis (see EDM, August 4, 8, 9; Ziarul National, October 13).
Russia would, therefore, neither need nor wish to intervene directly in Moldova's domestic politics at this time. Moscow could intervene if the Russian army makes its way across Ukraine to Odesa, but this is unlikely. Russia's war in Ukraine, meanwhile, is remote from the Moldovan protesters' concerns and even more distant from the protest leaders' scruples.
Spearheading the regime-change effort at this stage is the Shor Party of businessman Ilan Shor; a Russophone Moldovan fugitive from justice and presumed billionaire who currently operates from Israel. Shor, alongside Vladimir Plahotniuc, epitomized oligarchic state capture in Moldova. The Shor Party currently holds seven seats (including the absentee Shor's seat) in Moldova's 101-seat parliament, behind the Socialist Party and the Communist Party with their 22 and ten seats, respectively.
The Shor Party's social base, however, is larger than its political representation would suggest. The party owes its popularity to Shor's network of low-price food shops, low-price pharmacies and other philanthropic projects across the country (Partidulsor.md, accessed October 19). Initially a Russophones' organization, the Shor Party has made significant inroads into the ethnic Moldovan electorate.
The Shor Party is now calling all opposition parties to a general rally in downtown Chisinau on October 23 to press for regime change. This is intended as the climax to a five-week warmup.
From September 18 through October 16, Shor's organization alone maintained a "tent city" in front of the Moldovan presidential and parliament buildings in Chisinau. Borrowing from the "color revolution" model, the participants staged anti-government events every day while occupying the tents at night. The Shor Party transported supporters from the countryside to downtown Chisinau on those five Sundays.
The mass rallies numbered around 20,000 supporters on average and the round-the-clock tents ultimately numbered nearly 300. Shor constantly addressed the participants through video messages on social media and on a giant screen in Chisinau's central square. He spoke mainly in Russian, in his trademark inflammatory mode. Most of the other speakers used Russian and Moldovan/Romanian in equal measure.
Socialist and Communist leaders feel threatened by Shor's ambitions and have not supported his efforts, even though Shor's rallies echoed many common tenets of the Russophile left parties. The tenets include:
President Maia Sandu has introduced a dictatorship repressing the opposition parties; ongoing corruption investigations constitute political persecution.
The Moldovan government serves Western masters and obeys their orders.
The European Union saddles Moldova with indebtedness for generations to come.
The Moldovan government's pro-Western policy has caused high prices for Russian natural gas and the closure of Russian market to Moldovan agricultural products.
President Sandu should fly to Moscow and negotiate the conditions for improved relations; failure to do so is state treason.
Opposition leaders are ready to negotiate with Moscow.
Moldova does not need an army and does not need to defend itself against anyone.
This government plans to abandon Moldova's neutrality, draw close to NATO and join Western sanctions against Russia.
A Russia-friendly government would guarantee cheaper Russian gas and Russian market access for Moldovan products.
Moldova cannot live and prosper without Russia as its strategic partner (Moldova Watchdog Community, September 1–October 10).
While the rallies remained peaceful, the tent city caused havoc for vehicular and pedestrian traffic. The lack of sanitation created a pestilential environment around the area. On Sunday, October 16, after five weeks of nonstop protests, troops from the Moldovan Ministry of Internal Affairs cleared out the tent city quickly and smoothly, without encountering much resistance.
The troops acted a few hours after the rally had endorsed a Shor Party resolution to create a "national salvation committee." Characterized in the resolution as "an alternative government," this body would supposedly govern the country until pre-term elections are held. The Shor Party is calling on all opposition parties and civil associations—meaning, in practice, those of the Russophile left—to join this salvation committee (Unimedia, October 16).
For now, however, the committee lacks a coalition character. Most of its members represent the Shor Party in parliament and local administrations. Other committee members are mere tokens: a veteran Communist editorialist on Russian-language television programs, an absentee police colonel who eluded arrest on corruption charges and the head of a local Russian group that advocated for the Moscow-led Eurasian Economic Union (Infotag, October 16).
President Sandu, Prime Minister Natalia Gavrilita and Parliament Chair Igor Grosu (Ziarul National, October 10, 17, 18) have all characterized these events as a last-ditch effort by criminally corrupt figures associated with former governments to escape justice and regain power. These "thieves and traitors … who rendered Moldova weak and vulnerable" are now attempting to "set the country on fire and save their own skins." They are, according to Sandu, "promising in Moscow to overthrow the constitutional order and form a government that Russia could use to implicate Moldova in the war" (Ziarul National, October 11).
On October 17, Shor released a Russian-language video message proclaiming that Moldova's president and government are "illegal from this day onward. … Maia Sandu's regime has openly declared war against its own citizens. … She has become another [Muammar] Gaddafi." Consequently, "the people have the right to engage in civil disobedience, a full right to stop paying for natural gas and electricity as well as taxes." If this takes place, "the government will run away and justice will quickly be restored." The Shor Party is convoking a "national assembly" on Sunday, October 23, in Chisinau, "in order to elect new authorities and a new leadership of the Republic of Moldova" (Infotag; Unimedia, October 17; Facebook, October 16).
It is up to Chisinau Mayor Ion Ceban to authorize this potentially dangerous assembly or deny its authorization. Ceban is a former Communist, then Socialist politician, who is still close to former president and Socialist leader Igor Dodon and gearing up to run himself for president from the center-left. Should Ceban authorize this assembly, the troops from the Ministry of Internal Affairs can be expected to handle the situation competently as they did on October 16.