Rogozin Details Preconditions to Transnistria Conflict-Resolution
Publication: Eurasia Daily Monitor Volume: 9 Issue: 79
By: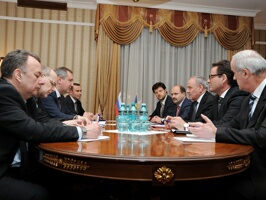 Russian Deputy Prime Minister Dmitry Rogozin visited Chisinau and Tiraspol for the first time on April 16-17 in his additional role: as Russia's presidential envoy "for Transnistria," and chairman on the Russian side of the Russia-Moldova inter-governmental economic commission. Russian President Dmitry Medvedev and Prime Minister Vladimir Putin had appointed Rogozin to that additional, dual role on March 21 (see EDM, March 23).
The disjunction between the Transnistria track and the rump-Moldova track indicates that Moscow has decided to institutionalize its direct relations with Tiraspol, bypassing Chisinau. Placing both assignments under a single authority, however, Moscow will more effectively combine economic and political instruments of pressure on Chisinau. During his Tiraspol visit, Rogozin announced a comprehensive program of developing direct relations with Transnistria and consolidating Russia's military presence as "Russia's exclusive right" (see accompanying article).
In Chisinau, Rogozin held talks with Prime Minister Vlad Filat and members of the Moldovan government behind closed doors, with minimal disclosure. While Tiraspol was basking in the glow of Rogozin's proposals and initiatives, Chisinau had to face heavy pressure and chose to conceal this from public view.
Rogozin listed eight preconditions to a political resolution of the Transnistria conflict and promptly disclosed them to the press. His itemized preconditions to Moldova include five "to do" demands and three "don'ts" (Kommersant, April 20):
1) "Moldova" to recognize "Transnistria" as a party to negotiations with equal rights ("ravnopravnyi"); 2) Moldova to seek a common assessment with Transnistria regarding the 1992 armed conflict [in which Rogozin claims to have led Russian volunteers fighting against Moldova]; 3) Normalize Moldova-Transnistria economic relations; 4) "Recognize Russia's role as the only country with political and military authority in this region. And stop seeking mediation from parties that have absolutely nothing to do with this region" [an allusion to the European Union and United States in the 5+2 negotiating format]; 5) Any future political settlement "would only be possible on a federal or confederative basis." On this point and elsewhere in his remarks, Rogozin used the term "common state," dating back to the 1997 Primakov Memorandum, and signifying a contractual arrangement between Moldova and Transnistria as co-equal parties under Russian guarantees.
The three "don'ts" to Moldova are: 1) Not joining a "bloc of countries" [Rogozin did not specify NATO or the EU]; 2) "Don't try to tinker with the existing [Russian] peacekeeping operation, don't try to involve non-regional states in it, or else we shall pursue our national interests without a resolution of the conflict." The "or-else" seems to allude to Russian recognition of Transnistria. According to Rogozin, Russia "could have recognized Transnistria in order to ensure Russia's military presence; but Moldova acquiesced to Russia's peacekeeping mission [since 1992], so that Russia had no reason to take that further step." 3) "Don't join Romania." "If you want to be Romanians, Moldova's borders will change" [i.e., Russia triggering Transnistria's official secession]. Until Moldova clarifies its position on statehood, "no settlement [of the conflict] is possible any time soon."
The Romanian theme pervaded Rogozin's and other Russian statements in connection with this visit. From Tiraspol he warned Chisinau that "Moldovan politicians' pro-Romanian moods are harmful not only to Moldova-Transnistria conflict-resolution, but also to Russia-Moldova neighborly [sic] relations" (Olvia-press, April 17). Whether Moscow is genuinely misinformed or paranoid about Romanian "unionist" trends in Moldova, or fabricates this pretext for stalling negotiations and demanding "guarantees," is hard to tell. At least, Rogozin absolved Prime Minister Filat of "Romanian-unionism" suspicions: "Vlad Filat is an entirely pragmatic man. One can and must do business with him" (Kommersant, April 19).
In that business, however, Moldova's government acts as an economic supplicant, vulnerable to Russian economic and political leverage. Nothing has changed in this regard since the change of government, from the Communists to the Alliance for European Integration in 2009. Filat and members of his government again solicited a discount on the price of natural gas; easier access for Moldovan wine and agricultural products to Russia; asked Russia again to simplify registration rules for Moldovan gastarbeiters, whose remittances have become critical to Moldova since West-European labor markets shrank. Russia remains unyielding on those issues and is now also asking for repayment of debts for past deliveries of natural gas. Moldova's contract with Gazprom expired in December 2011. Deliveries continue for the time being on the basis of the old contract, but Gazprom seeks property takeovers in Moldova's energy sector in return for a new contract and possible price discount.
Rogozin raised three political demands related to Transnistria in Chisinau:
• Tiraspol Consulate: Russia wants Moldova to authorize the opening of a Russian consulate in Tiraspol. This demand dates back to the late-1990s. The Moldovan government always turned down the opening of a foreign consulate in a Moldovan territory under foreign control. Filat reaffirmed that position most recently on April 17. But he reversed it on April 18, contributing his own arguments in favor of this move (ProTV, April 17; RFE/RL, April 18; Infotag, April 19).
• Composition of the Russia-Moldova inter-governmental commission: The Russian side wants this commission to include Tiraspol's representatives. On April 17, Rogozin said that Chisinau "does not object." On April 18, Filat said that the Moldovan government itself proposed such a move (Olvia-press, April 17; RFE/RL, April 18). Moscow, however, is institutionalizing its own direct relations with Tiraspol, completely excluding Moldova from that relationship. Moreover, Tiraspol does not seem qualified for representation on Moldovan governmental bodies, as long as Tiraspol explicitly rejects Moldova's territorial integrity.
• Transnistria's gas debts: Transnistria alone owes approximately $3.3 billion to Gazprom, which never attempted to collect that debt. Rogozin argues that "Transnistria's debts for gas are Moldova's debts and they must be repaid," as long as Chisinau insists that Transnistria is a part of Moldova. But he offers to count Transnistria's debt separately, if Chisinau recognizes Tiraspol as a co-equal party in the conflict-settlement process (Kommersant, Olvia-press, April 17).