Rogozin Institutionalizing Direct Relations with Transnistria
Publication: Eurasia Daily Monitor Volume: 9 Issue: 79
By: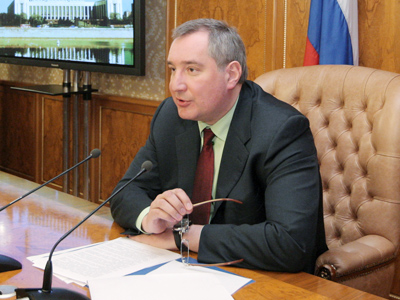 On April 16-17 Dmitry Rogozin, Russian Deputy Prime Minister overseeing the arms industry, visited Chisinau and Tiraspol for the first time in his parallel capacities: Russian presidential envoy "for Transnistria" (po Pridnestrovyu) and chairman on the Russian side of the Russia-Moldova inter-governmental cooperation commission. Russia's outgoing president, Dmitry Medvedev, appointed Rogozin to the special envoy's post on March 21, undoubtedly at the behest of incoming president Vladimir Putin, whom Rogozin will serve.

Concurrently, Medvedev/Putin appointed presidential envoys for Abkhazia and South Ossetia. Those envoys are of incomparably lesser caliber than Rogozin. This package of appointments, however, implicitly equates Transnistria with those Russian-occupied Georgian territories, to which Russia has already extended "diplomatic recognition" (see EDM, March 23).

The dual-track appointment of Rogozin treats Transnistria and Moldova implicitly as separate entities. The newly created post of presidential envoy for Transnistria opens avenues for direct relations between the Russian government and Tiraspol authorities, bypassing Chisinau. Thus, Moscow-Tiraspol relations would operate in parallel with, and separately from, the conventional Russian-Moldovan diplomatic relations. Short of an official Russian "recognition" of Transnistria, this arrangement will enable Russia de facto to institutionalize direct relations with Transnistria; in effect, institutionalizing Moldova's division.

In Tiraspol, Rogozin held separate meetings with "President" Yevgeny Shevchuk, members of his "government," the command and officers of Russian troops stationed there, local Russian nationalist NGOs, industry directors, and the local university's faculty and students. Rogozin used the term Transnistria Republic (Pridnestrovskaya Respublika) repeatedly in his speeches while in Tiraspol. He announced the following policy positions and initiatives (Olvia-press, April 16, 17, 18):

• Political representation: Rogozin considers opening an Office of Russia's Presidential Representative in Tiraspol (a branch of his own Moscow office). A branch office could oversee all aspects of direct relations between the Russian government and Tiraspol authorities. It could also coordinate activities of Russian-Transnistrian joint commissions in various economic sectors, according to Rogozin and his Tiraspol hosts. The Presidential Representative's branch office could also include a consular section, if Moldova refuses to authorize a consulate under Russia's Foreign Affairs Ministry in Tiraspol, he said (see below).
• Consulate General: Rogozin proposes that Russia' Foreign Affairs Ministry open a Consulate-General in Tiraspol [a step toward informal political relations]. According to him, the consulate would prolong the validity of Russian passports distributed to 160,000 local residents in 2007, which expire in 2012. Further, according to Rogozin, any former Soviet citizen residing in Transnistria (or elsewhere) is entitled to receive a Russian passport. Thus far, Moldova has refused to authorize the opening of a Russian consulate in Transnistria.
• Investment: The Russian government is prepared to encourage Russian capital investment in Transnistria, on the condition that Tiraspol adopts appropriate investment protection "legislation" [treating this as separate from Moldovan law]. Rogozin conveyed this message in his meetings with Shevchuk and with directors of Transnistria's ailing industrial enterprises (Nezavisimaya Gazeta, April 18).
• "Peacekeeping": In Rogozin's view, Russia holds "exclusive rights as peacekeeper in this region." "Russia has full responsibility for the peace and security of the huge [ex-Soviet] geopolitical space, also in Transnistria." "We will never allow anyone to dispute Russia's mandate in this matter, or the exclusive rights to provide security in this region [Transnistria]." Rogozin made no reference to international obligations or the absence of Moldovan consent.
• Re-arming Russian troops: According to Rogozin, Russian troops in Transnistria need more modern arms and equipment. Rogozin agreed on this matter with Defense Minister Anatoly Serdyukov, who had inspected the Russian troops in Transnistria on April 12-13 unannounced, drawing an official protest from Moldova (Moldpres, April 13). Russia's Defense Ministry considers rearming and reequipping its troops in Transnistria, as part of overall modernization of Russian ground forces. Serdyukov and Rogozin clearly believe that they need not seek Moldovan consent (which, as they must know, would be refused). Rogozin dismissed, however, as a mere "canard" Nezavisimaya Gazeta's (April 17) speculations about deployment of a Russian anti-missile radar in Transnistria.

Echoing Putin, Rogozin deplored "the tragic dissolution of the great country, the Soviet Union," and echoing Medvedev, he claimed that Russia as the Soviet Union's successor is responsible for protecting the residents of former Soviet territories generally, including Transnistria.

The Kremlin's choice of a personality like Rogozin for this assignment presages an aggressive pursuit of this agenda in Transnistria. A declared Greater-Russia nationalist, Rogozin claims in his autobiography to have led a volunteer unit as part of Russia's 1992 military intervention against Moldova (Dmitry Rogozin: Vrag Naroda, Algorithm Publishers, Moscow 2007). Later he established a branch organization of his political movement, Congress of Russian Communities, in Transnistria. In that same book Rogozin calls for Transnistria's integration with the Russian Federation. Prior to Rogozin's appointment, such calls often came from hard-line nationalist supporters of Tiraspol in Moscow outside the Russian government. With Rogozin's official appointment, however, the Kremlin seems set to legitimize and operationalize the goal of "integrating" Transnistria. This is also the oft-declared objective of recently elected "president" Shevchuk in Tiraspol, although not necessarily his final or irrevocable word.

In line with Russia's constitutional system, Rogozin will be reporting to President Putin on Transnistria issues, and to Russia's prime minister on rump-Moldova economic issues. This implies higher priority and a higher level of attention to Transnistria on Moscow's part.

However, Rogozin will oversee economic relations with Moldova (for the Russian government) and conflict-resolution issues (for the Russian president) at the same time. This combination will enable Moscow to coordinate economic and political instruments more effectively vis-à-vis Chisinau. It will use Russia's heavy economic leverage for influencing Chisinau's position on the Transnistria conflict and other political issues. Rogozin provided a first demonstration of these scissors tactics in his meeting with Moldovan Prime Minister Vlad Filat in Chisinau (Moldpres, RFE/RL, April 17, 18, 19).

The Moldovan government decided to impose an information blackout on Rogozin's Tiraspol visit. This decision minimized domestic political embarrassment, avoided reacting to Rogozin's affronts, and protected the government's claims that its relations with Russia are good and promising. The Moldovan government keeps up that pretense in consideration of Russia's economic leverage. It also must cater to the sizeable bloc of Moldova's Russophile voters, in this country of permanent elections. In contrast to Chisinau's mass media, Tiraspol media provided deeply detailed coverage of Rogozin's speeches and proposals.