Romania Bidding for Influence in Moldova (Part Two)
Publication: Eurasia Daily Monitor Volume: 13 Issue: 81
By: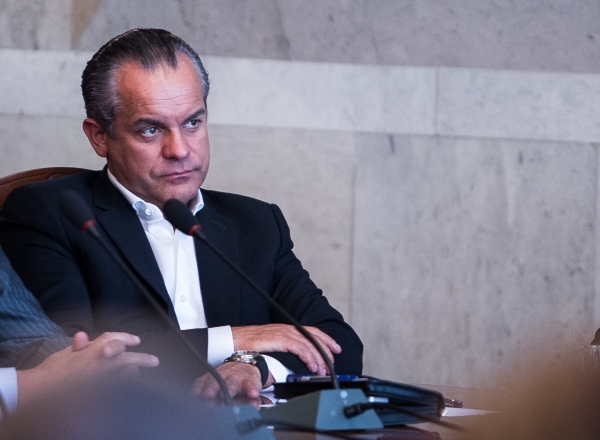 Romania has surged as a political player in the Republic of Moldova in recent months, for the first time in a quarter-century (see Part One in EDM, April 22). Two inter-related failures—that of the European Union's Partnership Policy in Moldova and that of Moldova itself, politically and economically—have created an opening and even strategic demand for Romania, a member of the EU and the North Atlantic Treaty Organization (NATO), to assume greater responsibilities in Moldova. At the same time, Romania's growing resources and its incipient attractiveness (along with the EU's relative eclipse) have recently created a viable basis for a more activist and ambitious Romanian role.
At this stage, however, Romania has not yet established the necessary building blocks for political and economic influence in Moldova. This will take time. For now, the main thrust of Bucharest's policy is a high-risk deal with Moldova's de facto ruler, Vlad Plahotniuc. The main thesis underlying this policy is that Plahotniuc "guarantees Moldova's stability" generally, its "European orientation" in particular, and keeps the strong pro-Russia parties out of power, if only to protect his own power. Without holding any state post, Plahotniuc basically completed an unconstitutional takeover of power in January 2016 (see EDM, January 15, 21), and is now putting the finishing touches on this process.
Bucharest's apparent bet on Plahotniuc, however, meets with the disapproval of Moldova's pro-Western parties and civil society leaders, skepticism on the part of EU officials in Brussels, and critique from Romanian members of the European Parliament. In those quarters, Plahotniuc is seen as the epitome of corruption, largely responsible for blocking Moldova's reforms; while his informal rule is viewed as a case of state capture. Meanwhile, opinion polls consistently show 90 percent of Moldova's populace disapproving of him, and only 6 or 7 percent supporting Plahotniuc's Democratic Party. Thus, any external bet on Plahotniuc would seem to count not on popular support to his de facto rule, but on Plahotniuc's power apparatus to impose control over the country.
Relying on Plahotniuc to "maintain stability" is a proposition that might, perhaps, be argued with reference to Moldova's fragility as a state and society. Instead, the justification is sometimes adduced that Plahotniuc's government is "pro-European." While factually untenable, and widely contradicted in Moldova and abroad, this label produces a specific political effect in Moldova. It conflates Europeanism with state capture and corruption in the eyes of Moldova's ordinary populace. The use of this label by the failed "Alliance for European Integration" and "pro-Europe Coalition" since 2014 (if not earlier) has tarnished the "Europe" brand in Moldova, playing into the hands of local pro-Russia parties and, potentially, Russia. Depicting Plahotniuc's government as pro-Europe can only exacerbate that effect.
Following Plahotniuc's successful annihilation of Vlad Filat's Liberal-Democrat Party, a vacuum has opened on the pro-Western side of Moldova's party spectrum. Two embryonic parties, "Platform for Dignity and Truth" and "Solidarity Action," led by Andrei Nastase and Maia Sandu, respectively, are attempting to fill this opening, ahead of the presidential election expected to be held in October. These parties staunchly oppose Plahotniuc—as does the Civic Forum, comprised of the country's most respected civil society leaders. These groups regularly participate in public events protesting against "state capture," and they plan to contest the presidential election against Plahotniuc's stand-in candidates. These groups' political experience and resources are meager, but they are the West's and Romania's natural allies in Moldova. They find it hard to accept or understand a Romanian policy that supports Plahotniuc.
Whether that policy rests on a consensus in Bucharest seems uncertain. Given all those downsides, it might not be a full-consensus policy. But it is the visible policy for now, perhaps seen as inevitable at this stage by its exponents. On one hand, it takes into account the undeniable fact that, according to Kamil Calus of the Warsaw-based Institute for Eastern Studies, "despite public and international protests, Plahotniuc's clan has been tightening their grip on the institutions" (Osw.waw.pl, April 11).
On the other hand, the risky stake on Plahotniuc is a consequence of Bucharest's inability during more than 20 years to establish serious political alliances in Moldova beyond the narrow circle of ineffectual "unionist" parties. The largest among those, Mihai Ghimpu's Liberal Party, traditionally confined to 10 percent of the electorate, transferred its loyalty from Bucharest to Plahotniuc in 2013 and is down to 2 percent in the latest opinion polls (Infotag, April 21).
Plahotniuc, of course, is no "unionist" (he has no apparent ideology or vision beyond day-to-day tactics). It is public knowledge that he holds Romanian citizenship under a different name. Plahotniuc's Romanian allies have included certain leaders of the Social-Democrat Party (SDP), particularly the disgraced SDP leader Victor Ponta (prime minister 2012–2015, indicted on multiple corruption charges). Among Romania's main parties, the SDP has been the most infested with corruption, and it tried hard to resist presidents Traian Basescu's and Klaus Iohanis's anti-corruption efforts. Local pro-Western opinion and Western embassies supported Basescu and, currently, Iohannis in this struggle. Plahotniuc, however, demonstratively aligned with Ponta and his group. This struggle is still ongoing in Romania at present. Given this Romanian political constellation, the decision to bet on Plahotniuc might not be a whole-of-government decision, particularly considering its downsides (see above).