Russia Denies Recruiting Ethiopian Volunteers for Its 'Special Military Operation' in Ukraine
Publication: Eurasia Daily Monitor Volume: 19 Issue: 70
By: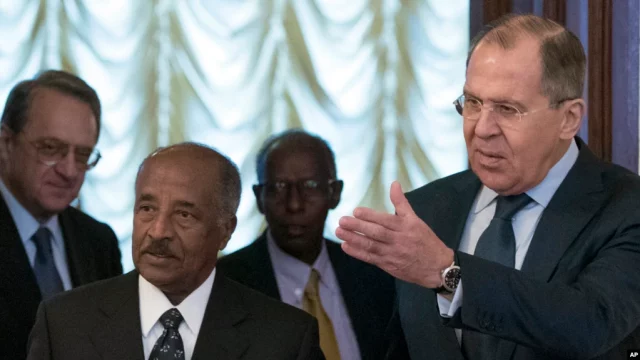 Ten weeks after Russian President Vladimir Putin began his unprovoked full-scale assault on Ukraine (launched on February 24), both combatants are beginning to experience logistical shortages, from personnel to military equipment. Accurate information is difficult to ascertain, but the Russian media is reporting that Ethiopians, prompted by rumors of lucrative military contracts to fight in Ukraine, have been lining up in front of the Russian Embassy in Addis Ababa, in the hopes of securing rich sign-on bonuses.
The Russian ambassador to Addis Ababa, Evgenii Terekhin, subsequently told journalists that the Russian embassy in Ethiopia had not been recruiting volunteers for Putin's "special military operation" in Ukraine, even as it has received a large number of inquiries from Ethiopians since the beginning of the Russian campaign. Terekhin added that the numerous questions coming in to the embassy were undoubtedly fueled by rumors that Russia was offering foreign mercenaries $2,000–$5,000 to sign a military contract (Moskovsky Komsomolets, April 22). The purported recompense is a fortune in Ethiopia, where the loosely applicable monthly minimum wage is 336–420 birr ($18–$21) (Minimum-wage.org, accessed May 12). According to Ukrainian media outlets, beyond the money the Ethiopian volunteers are also promised employment in Russia following their military service (Fokus, April 22).Russian embassy press attaché Maria Chernukhina contended that while "Russia has not advertised to recruit Ethiopians for the war in Ukraine, and the information [circulating in] social media is false," it was true that Ethiopians had gone to the embassy "to show their solidarity with Russia" (The Addis Standard, April 18).
Nor is the apparent Russian interest in Horn of Africa volunteers limited to Ethiopia. Russian Foreign Minister Sergei Lavrov visited Eritrean President Isaias Afwerki in Asmara, shortly before the invasion of Ukraine (The Times, April 21). Moreover, on February 7, Russia's special representative for the Middle East and Africa, Deputy Foreign Minister Mikhail Bogdanov met with both Eritrean President Isaias Afwerki and Foreign Minister Osman Saleh in Massawa (Mid.ru, February 8). In recent weeks, new intelligence reports have posited that Eritrea was preparing to send 5,000 conscripts to serve in the Russian Armed Forces (The Times, April 21).
Eritrea has consistently supported Russia's position in international forums, such as the United Nations, voting against resolutions condemning the Kremlin's attack on Ukraine. The Eritrean government has labeled the conflict as "essentially […] between Russia and the United States," in which Washington supports Ukraine with the express purpose of weakening the Russian military (Kommersant, April 28).
At Lavrov's invitation, on April 27, a senior Eritrean delegation headed by Foreign Minister Saleh and presidential advisor Yemane Gebreab began a two-day working visit in Russia. The top Russian diplomat reportedly briefed his guests on the background of the "special military operation," Moscow's objectives and the current situation (Shabait.com, April 27). The Eritrean visit was a prelude to increased Russian engagement in Africa. During the press conference with Saleh, Lavrov discussed his government's preparation for an upcoming Russia-Africa summit, to be held later in the year (News.ru, April 27).
Meanwhile, Ukraine is also seeking African assets: the return of personnel and helicopters it had rented to various UN peacekeeping missions operating on the continent and elsewhere. On March 7, President Volodymyr Zelenskyy signed a decree withdrawing all Ukrainian contingents participating in international peacekeeping operations. The decree, to be implemented immediately, stated simply, "Withdraw the national contingent and national personnel involved in international peacekeeping and security operations to Ukraine in order to participate in the protection of the sovereignty and territorial integrity of the state" (Zakon.cc, March 7).
Ukrainian analysts have noted that 26 much-needed Ukrainian transport helicopters have yet to be returned from foreign missions, despite Zelenskyy's decree. Eight Mi-8MT helicopters are being used in a UN mission in the Democratic Republic of Congo (DRC), while another 18 Mi-8MTV helicopters were leased by the private company Ukrainian Helicopters to work for the United Nations all over the world. The analysts believe the holdup may actually come from the Ukrainian side: Kyiv may be reluctant to bring the helicopters back because Ukraine makes "serious money on participation in UN missions" or because it wants to avoid violating UN procedures (Zerkalo Nedeli, April 23).
The Russian-Ukrainian conflict has heavily strained personnel and materiel reserves on both sides, and they are seeking replenishment wherever it can be found. Ukraine has an edge in accessing a flow of fresh and increasingly deadly arms from the North Atlantic Treaty Organization (NATO) and the US; while the aggressor is seemingly reliant exclusively on its own stocks and whatever its sanctioned military-industrial sector can produce (see EDM, April 13, 2021, May 4, 2021, May 4, 2022). Personnel shortages are also a growing problem, though evidence is more readily available regarding the Russian side, and media reports increasingly detail Russia's efforts to sign up volunteers from among friendly nations. As the grinding war continues to drag on, all such efforts will surely intensify.