Russia-Dependent Armenia Shies Away From Openly Backing Moscow on Ukraine War
Publication: Eurasia Daily Monitor Volume: 19 Issue: 82
By: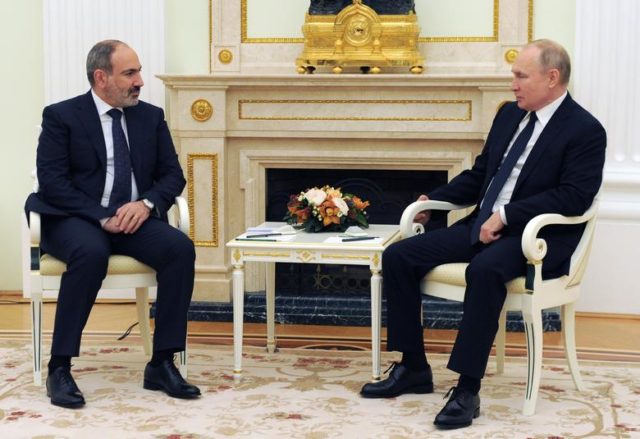 Bilateral relations with Russia remain of crucial importance to Armenia, given the small South Caucasus country's difficult security predicament. Yet these considerations extend beyond hard military factors. Russia monopolizes Armenia's energy supply, exemplified, in particular, by Gazprom's direct ownership of the Armenian pipeline and natural gas distribution network as well as control of the electric power grid by an ethnic-Armenian owner with strong connections to the Russian government. The Armenian economy is considerably dependent on remittances from its citizens working in Russia. And in recent months, since the beginning of the large-scale Russian invasion of Ukraine, the government in Yerevan faces the difficult task of securing a continuous supply of grain and other staple foods for its population while avoiding militarily supporting Russia in its war of aggression (see EDM, March 24, May 11).
Allegations of Armenia backing Russian actions against Ukraine present one of the most sensitive issues. Although Moscow would never bother asking for Yerevan's consent to redeploy some Russian troops from its 102nd military base in Gyumri to Ukraine, even the theoretical possibility of such a move worries the Armenian establishment—especially if assertions to this effect first originate from Azerbaijan (EurasiaNet, March 11). Back in March, an Azerbaijani website claimed, and then a private Turkish television channel repeated the story, that Armenia supplied four Su-30SM fighter aircraft (acquired in 2020) to Russia for deployment against Ukraine. Quickly, the authorities responded by inviting the local defense attachés from European Union and North Atlantic Treaty Organization (NATO) member states to the airbase in order to prove that such allegations were groundless (Hetq.am, March 31).
At the same time, although official Armenian statements routinely mention the need to deepen cooperation within the Moscow-dominated Eurasian Economic Union (EEU) and Collective Security Treaty Organization (CSTO), few practical efforts in that regard can be seen. The Russian narrative contends that the aim of the sanctions imposed by the West is to weaken Russia and to ensure global hegemony by the United States. As a result, Russia and its former Soviet allies need to show "solidarity" and take joint EEU action to reduce the sanctions' impact, declared Russian ambassador to Yerevan Sergey Kopirkin back in April (Aravot.am, April 6). Kopirkin's appeal has not led to any practical action either in the region or from Armenia itself, however. Such narratives coming out of Moscow tend to be repeated by the Armenian radical opposition, which is then, in turn regularly amplified by Russian pro-government media (see EDM, May 11). As a result, Nikol Pashinian's government in Yerevan is hardly willing to take up this mantle, especially considering that other EEU members, Kazakhstan and Kyrgyzstan, are also reluctant to circumvent the sanctions imposed on Russia and Belarus. Moreover, when Belarusian President Alyaksandr Lukashenka again mentioned the issue of "solidarity" during the most recent CSTO summit in May, Prime Minister Pashinian stated the need for reciprocity. The Armenian leader implied that because of the CSTO's previous neglect of Yerevan's concerns during and after the 44-day war in 2020, as well as the fact of Russia and Belarus supplying arms to Azerbaijan for years leading up to the conflict, hardly any practical action should be taken now (Primeminister.am, May 16).
During the latter phase of the 44-day war over Karabakh, reports surfaced that Azerbaijan's military had used incendiary bombs with white phosphorus. Russian "patriotic" film director Sarik Andreassian, who is believed to be close to Kremlin-backed propagandist Margarita Simonian, alleged that Ukraine had supplied this type of munition to Azerbaijan shortly before or during the war. And that narrative has continued to be repeated by local proxies since then. But the story took on new significance after Russia launched its re-invasion of Ukraine: the allegations are now being used to provoke additional anti-Ukrainian sentiments in the region (Civilnet.am, February 25). However, recent news accounts of Russia using white phosphorus munitions in Mariupol have intensified the Armenian public's discontent regarding Moscow's weapons supplies to Azerbaijan.
The issue of Russian propaganda had been a point of heated discussion among Armenian experts, non-governmental organizations (NGO) and media for years; yet until recently, the country had taken no real action on this issue aside from some debunking efforts by those aforementioned NGOs. This finally changed on May 20, during the Armenian Forum for Democracy, organized by the Union of Informed Citizens (with support from Freedom House) and attended by a number of state officials and foreign diplomats. For the first time, a key Armenian government official publicly underlined the menace to national security from such state-coordinated propaganda. The head of the Commission on Television and Radio, Tigran Hakobyan, asserted that foreign television channels broadcasting via the public multiplex and cable networks, as well as Telegram channels and other unregulated media seriously distort their audiences' view of the world (Factor.am, May 20). Notably, the only foreign channels currently included in the public multiplex are four government-controlled Russian channels. Those had to be shut down according to the 2020 Law on Audiovisual Media, which regulates broadcasting, television and radio. The legislation notably stipulates that only Armenian media companies may receive slots in the public multiplex, unless stipulated otherwise by intergovernmental agreements; in November 2020, immediately after the end of the Armenian-Azerbaijani war in Karabakh, Russia successfully pushed for such an agreement.
Other issues may potentially also strain bilateral relations between Moscow and Yerevan: minimal Russian support to Armenia during and after the 44-day war; Russia's mistrust of the Armenian-Azerbaijani negotiations under the auspices of the European Union (see EDM, April 14, May 18, 31); as well as the Armenian opposition's belligerently pro-Russian rhetoric. Neither side wishes to escalate any of those or other sources of friction into an open confrontation at this time—Armenia due to its vulnerability vis-à-vis Azerbaijan and Russia because of its focus on the war in Ukraine and need to hold on to "loyal" allies (see EDM, June 2). Nonetheless, these disagreements will likely continue to bring discomfort in Yerevan.