Russia Eyes Civilian Nuclear Markets in Africa
Publication: Eurasia Daily Monitor Volume: 20 Issue: 138
By: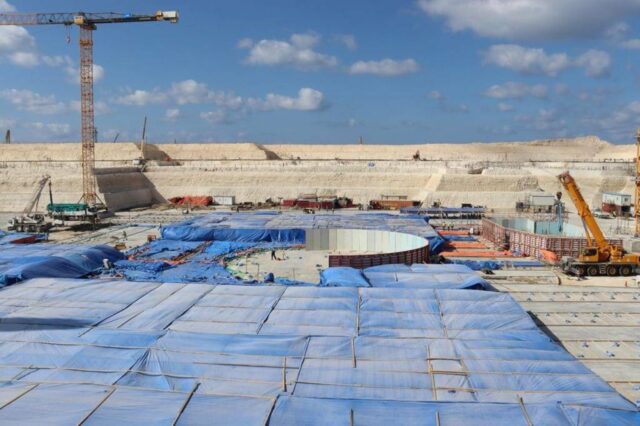 On July 27 and 28, during the Russia–Africa Summit in St. Petersburg, Russian officials signed a number of intergovernmental memorandums and agreements regarding possible future cooperation in nuclear energy with Burundi (Rosatom.ru, July 27), Zimbabwe (Rosatom.ru, July 27) and Ethiopia (Rosatom.ru, July 28). Moreover, Russian fuel producer TVEL recently inked an agreement with the South African Nuclear Energy Corporation regarding cooperation in producing and processing nuclear fuel (Tvel.ru, August 2). Undeniably, Moscow eyes the nascent and still prospective civilian nuclear markets in Africa as providing opportunities to develop the continent as a main export direction for Russian nuclear technology. In this, the Kremlin hopes to repeat its success in Egypt, where Rosatom is currently building a four-reactor nuclear power plant. The extent to which expanded Russian efforts to build energy relations with the Africa states will succeed, however, remains a significant question mark, and any concrete investment plans will likely only emerge after several years.
The global push for the transition to green energy and abandoning of fossil fuels has created new momentum for nuclear energy. And significant potential for this so-called "nuclear renaissance" can be found in Africa. Only one nuclear power plant is currently in operation on the continent—namely the Koeberg Nuclear Power Station in South Africa. Nevertheless, more than ten other African states are currently building (Egypt) or considering building new units (Neimagazine.com, February 8). Several of these newcomers to nuclear power are already rather advanced, operating research reactors, engaging with the International Atomic Energy Agency and increasing their regulatory capabilities (World-nuclear-news.org, July 24). For example, Ghana is relatively new to the nuclear sector but boasts a modernized program, primarily due to collaboration with the United States.
Most plans for these power plants have yet to materialize into specific business and investment agreements. Still, the possibility is growing that new nuclear power plants will emerge across Africa in the 2030s and 2040s. This, in turn, has fostered a growing interest in the continent's potential from nuclear technology vendors based in the United States, France, South Korea, China and Russia, as each has been pursuing new host countries for their reactors.
For now, Russia's Rosatom is the only vendor that has secured a binding engineering, procurement and production (EPC) contract and commenced construction. In July 2022, the "first nuclear concrete" was poured for the first reactor of the Egyptian El-Dabaa Nuclear Power Plant, which will comprise four Russian VVER-1200 units once it is completed (Rosatom.ru, July 20, 2022). The Russian company was selected by Egypt for the project back in 2015 (the bidding phase started in 2011), and the parties agreed that Moscow would provide Cairo with a $25 billion preferential loan covering 85 percent of construction expenditures (Egypt Independent, November 30, 2015).
Officially, it has been announced that the project is being developed with no delays (Zawya.com, June 14). In reality, this does not seem to be the case. Currently, Egyptian officials stipulate that the four units at El-Dabaa will be brought online sometime between 2028 and 2031. Yet, according to the 2015 plans, originally, the first unit was meant to begin generating energy as early as 2024 (Egypt Independent, November 30, 2015). Western sanctions, which have disrupted significant parts of the Russian economy, may serve to further derail the project. It could be the case that, if Russia's economy continues to destabilize, Moscow could have problems providing the remaining batch of loans promised to those Egyptian companies involved in the project (totaling more than $10 billion) (Shorouknews.com, May 19, 2016). Such an outcome would hurt Moscow's potential to strike new energy deals with other African countries down the road.
The El-Dabaa example, on the one hand, provides a useful insight into the Kremlin's "nuclear diplomacy" model, which is based on preferential state loans covering most of the financing for any particular project. On the other hand, it demonstrates how long the development of nuclear projects can last. In the El-Dabaa case, 20 years will have passed since bidding started in 2011 until scheduled operation of the last unit in 2031, if this deadline is even met at all.
This, in turn, is a prerequisite to understanding why Rosatom, only now, has been able to attract other African countries with its civilian nuclear offers. The recent documents signed with Burundi, Ethiopia and Zimbabwe underline this notion, as the three countries had formally started their cooperation with Rosatom years before and now are simply agreeing to further develop their partnership.
Yet, even with these and future agreements, the prospects to begin working on specific nuclear projects with the countries in Africa remain rather foggy. Most African states still have to develop the required infrastructure and, perhaps more importantly, build up the regulatory, technical and operational capabilities to adequately sustain a civilian nuclear program. For example, Ethiopia, which started its cooperation with Rosatom back in 2017 (Rosatomafrica.com, June 19, 2017), has yet to overcome a number of challenges on its way to producing and using nuclear energy, including developing the proper technical personnel. Even so, the country is still aiming to begin operating its first nuclear power plant sometime in 2035–2040 (Ajol.info, June 13).
Widespread political instability in Africa and the ongoing impact of Western sanctions on the Russian economy makes expanding any business prospects in the nuclear arena even more uncertain for the Kremlin. As such, Rosatom likely will not secure numerous new EPC contracts to build nuclear technology in Africa anytime soon. If Moscow can resolve the bottlenecks on its side and provide regulatory support, then Russia could be well-positioned to capitalize on these opportunities over the long term—something that Western policymakers might want to keep an eye on.