Russia's Diminished Global Status Exposed in India
Publication: Eurasia Daily Monitor Volume: 20 Issue: 139
By: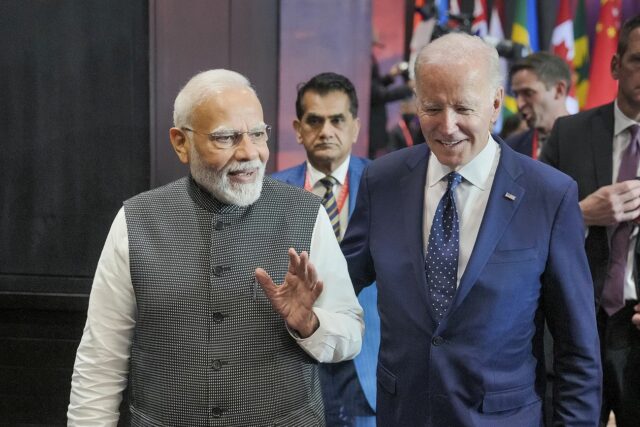 Russian President Vladimir Putin's absence at the G20 summit in New Delhi on September 9 and 10 was not all that surprising and seemed hardly registered by any of the two dozen world leaders who attended. Putin also missed the previous summit in Bali, Indonesia, and did not attend the most recent BRICS gathering in Johannesburg, South Africa, nor the Association of Southeast Asian Nations summit in Jakarta in early September. Instead, Foreign Minister Sergei Lavrov has been shuttling from one high-level event to another delivering the same anti-Western message. In Jakarta, the United States delegation was headed by Vice President Kamala Harris and the Chinese contingent by Prime Minister Li Qiang (Russiancouncil.ru, September 8). Li also represented China in New Delhi, as President Xi Jinping opted to skip the G20 summit for the first time (Kommersant, September 8). For its part, Beijing is actively seeking to position itself as the leader of the Global South. Russian influence among these nations has been undercut by its aggression against Ukraine, which a significant number of states in Latin America, the Middle East and Southeast Asia have condemned.
India has invested extraordinary efforts in its G20 presidency. Prime Minister Narendra Modi sought to strengthen his political capital by boosting the profile of the summit, going so far as to expel pestering monkeys from New Delhi (RBC, September 7; Izvestiya, September 8). Furthermore, the successful landing of the Chandrayaan-3 spacecraft at the Lunar South Pole demonstrated India's technical progress. It also punctuated the failure of the Russian Luna-25 mission to the Moon as well as the breakdown in cooperation between the Indian and Russian space programs (Meduza, August 25). Modi hoped to focus the G20's attention on economic matters, and US President Joe Biden obliged by presenting a plan for reforming the World Bank and expanding credit lines for developing economies. And while Russian commentators keep arguing that the G20 format has lost relevance (Rossiiskaya gazeta, September 5), ironically, it is Russia that has become increasingly irrelevant in global discussions on sustainable growth, as its financial system is profoundly distorted (Forbes.ru, September 8).
Energy is one of the few issues through which Moscow can still assert its global influence. However, its recent deal with Saudi Arabia on cuts to oil production spells trouble for many developing economies overloaded with debt (Bfm.ru, September 5). The rise in oil prices is bad news even for Beijing, which continues to struggle with a serious economic slowdown and finds its Belt and Road Initiative progressively undermined and compromised (Forbes.ru, September 4). For a time, India had benefited from importing Russian discounted oil and paying for it in rupees rather than US dollars; yet these benefits were short-lived (see EDM, August 16). Now, focus is on developing a new energy corridor to the Middle East, which ostensibly has support from the US and European Union (The Bell, September 8). Every step energy consumers make in tapping into renewable sources and introducing "green" technologies is a setback for Russia, which is stuck with its dependency on exporting hydrocarbons (Svoboda, September 6).
One achievement New Delhi can be proud of is the invitation for the African Union to become a member of the G20 on par with the EU (RBC, September 9). This initiative implicitly erodes China's leadership in economic relations on the continent and directly undercuts Russia's anti-colonial rhetoric by formally accentuating the importance of ties between the African states and Western democracies (Ru.valdaiclub.com, August 29). Moscow's stubborn refusal to revive the Ukrainian grain deal leaves the various stakeholders disappointed and global food markets in a precarious position. Turkish President Recep Tayyip Erdogan grows ever-more frustrated, as his attempt to go the extra mile and travel to Sochi to impress on Putin the necessity of restoring the trade corridor in the Black Sea ultimately failed (Forbes.ru, September 5; see EDM September 7). The Wagner Group had been a crude but useful instrument for the Kremlin's agenda in Africa. However, presently, the mercenary group's operations are in disarray as Russian military intelligence (GRU) and Foreign Intelligence Service (SVR) compete in dividing the heritage of the late Yevgeny Prigozhin (The Bell, August 28; see EDM, September 6).
The most divisive issue for the summit was forging a common stance on the war in Ukraine. In the lead-up to the event, Russian commentators had predicted that the political gap would prove too much to overcome (Nezavisimaya gazeta, September 7). Nevertheless, New Delhi worked fastidiously on perfecting the language of compromise. And while the final declaration does not explicitly condemn Russian aggression, it denounces the use of force for territorial gains and reiterates the inadmissibility of nuclear threats (Meduza, September 9). Kyiv has expressed disappointment regarding the statement's perceived weakness. Even so, the Ukrainian leadership understands that perhaps the most effective way to convince those states that prefer to keep a safe distance from the European war to take a more principled stance is to inflict a series of defeats on Russia (Republic.ru, September 4). Thus, every trench captured by the Ukrainian brigades signifies a blow to Moscow's grandstanding in the international arena and Putin's plan for prevailing in the long war of attrition (Novayagazeta.eu, September 6).
Overall, the Indian presidency of the reconstituted G21 has demonstrated that the organization remains useful for building a common agenda between the reunited and reenergized West and key state influencers in Asia, Latin America and Africa. Russia has become not just increasingly irrelevant to this agenda but in fact constitutes a major obstacle to its implementation. India, as well as Brazil or Nigeria, may be upset with the West's preoccupation with the war in Ukraine; however, global attention can only focus on the problems of economic inequality and climate change after the victory of restoring Ukraine's full territorial integrity. Each additional package of Western military and economic aid to Ukraine inevitably diminishes the pool of resources available for addressing humanitarian crises and natural disasters in the poorest countries, and many Western politicians and activists resent this reality bitterly. A swift end to Russia's war against Ukraine would effectively reset these priorities.