Putin-Erdogan Meeting Shows Turkey Unfit to Mediate Between Russia and Ukraine (Part One)
Publication: Eurasia Daily Monitor Volume: 20 Issue: 139
By: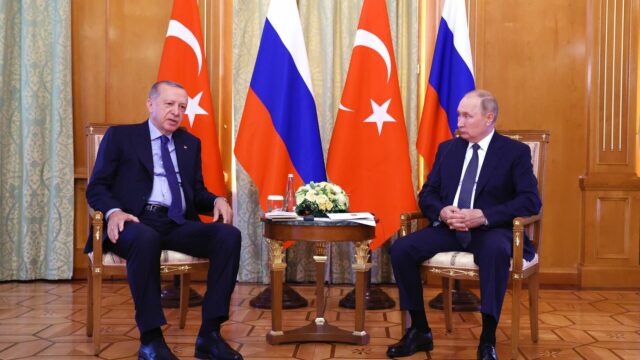 Russian President Vladimir Putin has sternly rebuffed his Turkish counterpart Recep Tayyp Erdogan's ambitions to play peacemaker in the Russo-Ukrainian war and partially ease Russia's blockade of Ukrainian grain exports. Receiving Erdogan in Sochi on September 4, Putin made clear that he had no use for Erdogan's efforts unless they aligned with Moscow's objectives regarding Ukraine and the Black Sea (Kremlin.ru, September 4).
Erdogan, however, did not return from Sochi empty-handed. Putin offered several major business projects that would further increase Turkey's reliance on Russia in key economic sectors and on Russian-generated revenues (Daily Sabah, September 4, 5, 6; see Part Two).
Russian-Turkish relations are often described as a mix of cooperation and competition. This formula provides a general explanatory framework for the relationship overall; however, it needs to be disaggregated on an issue-by-issue basis and examined in each geopolitical theater distinctly. Turkey lacks the ambition, let alone the means, to compete with Russia in the Ukraine–Black Sea theater. The rough parity of forces that existed before 2014—inspiring Ankara's vision of a Russo-Turkish condominium in the Black Sea—has given way to lopsided Russian superiority following Moscow's annexation and militarization of Crimea.
Balance-of-power theory would, at least, prescribe for Turkey to strengthen Ukraine's defensive capacities in the Black Sea basin. Ankara supplied Ukraine with Bayraktar aerial drones that proved effective during the initial stage of Russia's full-scale invasion. However, the significance of these drones has declined as Ukraine developed its own and as Western military assistance ramped up. Meanwhile the Turkish fleet hunkers down in the southern reaches of the Black Sea even as Russian warships patrol the northern boundary of Turkey's and Bulgaria's exclusive economic zones (EEZ), discouraging merchant ships from heading to Ukrainian ports (see EDM, August 15, 18).
Even so, Russia's full-scale war against Ukraine has opened up unprecedented economic opportunities for Ankara and its business interests. Turkey trades with Russia circumventing the Western sanctions (Arab News, April 14). When the Black Sea Grain Initiative partially lifted Russia's blockade on Ukrainian grain exports (July 2022–July 2023), Turkey inserted itself as an intermediary and skimmed a profit with Russia's approval under the umbrella of the United Nations. Russia has re-imposed a full blockade of Ukraine since July and wants certain Western sanctions to be lifted in exchange for reverting from a full to a partial blockade. Turkey is advocating for Moscow's conditions to be met by the West and has redoubled this effort following the Putin-Erdogan meeting in Sochi.
President Erdogan's current objectives center on three main pillars:
Brokering a start to diplomatic talks between Russia and Ukraine, preferably in Turkey, leading to an armistice in some form and potentially to a negotiated peace;
Advancing Russo-Turkish trade and energy projects, bypassing Western sanctions on Russia or helping ease some sanctions, with reinstatement of the grain deal as top priority; and
Positioning himself personally as an indispensable mediator who promotes stability and, eventually, peace in the Black Sea region.
Erdogan had hosted Russo-Ukrainian armistice negotiations in Istanbul in March and April 2022 and has on many occasions since offered to reconvene those negotiations. The Turkish president did so again with a sense of urgency in Sochi on September 4 without referencing any particular conditions (Aa.com.tr, September 4). Erdogan thus implied that negotiations could go ahead even as Russian forces remain entrenched on Ukrainian territory. Kyiv had been forced to negotiate on that basis in March and April 2022 from a precarious military position; however, it broke off the talks as Ukraine's military position improved and Russian war crimes came to light. Ever since, Kyiv has maintained that negotiations are unacceptable while Russia occupies Ukrainian territory.
For his part, Putin showed no appreciation for Erdogan discounting Ukrainian interests. The Russian president curtly reminded his guest that Kyiv had "thrown the [2022] Istanbul draft agreements into the garbage dump" (TASS, September 4)—a painful remark as Erdogan had brokered those proceedings. The rejected drafts entailed, inter alia, open-ended Russian occupation of Ukrainian territories up to the ceasefire lines, Ukrainian neutrality (as opposed to joining a Western alliance) and post-conflict security guarantees to Ukraine—with Russia among the "guarantors." A return to the Istanbul 2022 dispensation is inconceivable to Kyiv and many of its Western partners. Turkish Foreign Minister Hakan Fidan had visited Kyiv (Daily Sabah, August 25) in the run-up to Erdogan's Sochi visit and undoubtedly was reminded of Ukraine's known position.
In Sochi, Putin told Erdogan publicly that Russian warships have been deployed to protect the South Stream and Blue Stream pipelines that carry Russian gas to Turkey. The Kremlin's spokesman, Dmitry Peskov, and Foreign Minister Sergei Lavrov belabored this point afterward (TASS, September 4, 8). This was another slight to Erdogan, implying that Turkey's own navy was not up to the task. It was also a reminder that Russian warships feel free to patrol relatively close to Turkish waters.
Erdogan stacked the cards against himself by displaying weakness in the run-up to the meeting. He failed to protest or even comment on Russia's ongoing, brutal actions in the Black Sea, which include:
A total naval blockade of Ukraine;
Air strikes on Ukrainian Black Sea and Danube ports (striking the ports even on the day of Erdogan's visit);
Moscow's refusal to allow 12 Turkish cargo vessels stranded in Mykolaiv and Kherson to sail home; and
The Russian Navy's forcible boarding and illegal search of the Turkish-owned, Turkish-crewed Sükrü Okan merchant vessel, just outside Turkey's EEZ.
With the Sükrü Okan ordeal, Turkish authorities ignored the incident for four days until an anonymous spokesman declared that the vessel sailed under Palau's flag. Therefore, it was up to Palau to respond (see EDM, August 15; Daily Sabah, August 17).
Erdogan also omitted the usual courtesy of telephoning Ukrainian President Volodymyr Zelenskyy and sharing information with him following the Sochi meeting with Putin.
Displaying weakness in public is quite unusual for Erdogan. In this case he seemed eager to earn Putin's goodwill for the large-scale business projects that the Russian leader seemed to offer (see Part Two). On the return flight to Ankara, Erdogan told his entourage and the press that "the end of the war was not visible on the horizon" (Radio Free Europe/Radio Liberty, September 4).
Overall, the Sochi visit has cast serious doubt on Erdogan's ambitions to facilitate a solution to the Russia-Ukraine war. And it remains to be seen how the Turkish president might respond.