Ukrainian Naval Drone Warfare: Some International Political Implications
Publication: Eurasia Daily Monitor Volume: 20 Issue: 134
By: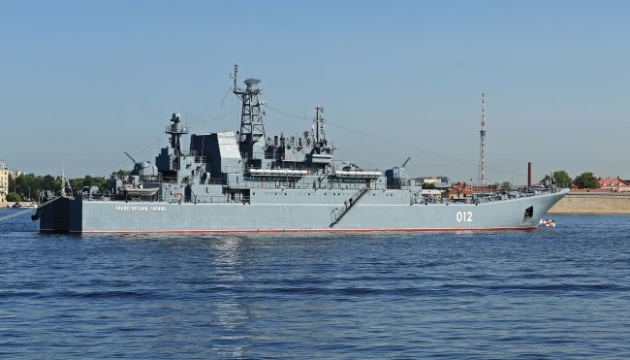 Ukrainian naval combat drones are demonstrating rapid improvement in their technical characteristics (see EDM, November 8, 2022, June 2, 13). Ukrainian-made drones (uncrewed submerged, semisubmersible or surface vehicles; USVs) have struck several significant Russian targets in close sequence in recent weeks. This unprecedented series of successful hits is a result of a drone-manufacturing project sponsored by the Security Service of Ukraine (SBU) with the Ukrainian Navy's participation.
Overnight on July 16–17, two Ukrainian drones hit the Kerch Strait Bridge, damaging its highway section and a support pillar (The Moscow Times, July 17). The SBU initially hinted at its role (Novoye Vremya, July 17), then openly acknowledged it to international media complete with video footage of the drone attack. The bridge has yet to be fully repaired, and traffic on it remains below full capacity (Ukrinform, August 17).
Since then, Ukrainian military and political authorities are openly acknowledging responsibility for naval drone attacks on Russian targets (see below).
During the night of August 3–4, two Ukrainian drones struck, severely damaging the Russian assault landing ship Olenogorsky Gornyak on the outer perimeter of Russia's Novorossiysk Naval Base. This was the first-ever successful Ukrainian strike within Russia's internationally recognized territorial waters. No casualties were reported. Russia had transferred this Soviet-era ship from the Northern Fleet to the Black Sea Fleet in early February 2022, anticipating amphibious landings in the imminent war against Ukraine. Since that scenario failed, the Olenogorsky Gornyak has operated as a transport ship, ferrying military supplies from mainland Russia to occupied Crimea (TASS, August 4; Censor.net, Ukrinform, August 5).
Overnight on August 4–5, Ukrainian drones struck again, seriously damaging the Russian oil tanker SIG near the southern entrance to the Kerch Strait, within Ukraine's internationally recognized territorial waters. The tanker was apparently empty at that moment. Owned by a St. Petersburg company but homeported in the Port of Kavkaz on the Russian side of the Kerch Strait, the SIG (of the Soviet-era river-and-sea class) had routinely been carrying fuel to the Russian military base in Tartus, Syria, via the Bosporus Strait—and more recently for the Russian military in Crimea, most likely on long-term contract with the Russian Defense Ministry (Interfax-Ukraine, Black Sea News; TASS; T.me/morflot_gov, August 5).
Kyiv has identified the newly developed USVs being employed in these successful strikes as "Sea Baby," a joint SBU-Navy project. Earlier Ukrainian drone strikes had been less effective.
On October 29, 2022, a swarm of Ukrainian drones penetrated Russian defenses at the Sevastopol Naval Base, possibly resulting in slight damage to the Admiral Makarov flagship (Ukrinform, TASS, October 30, 2022). Immediately following that strike, Ukrainian President Volodymyr Zelenskyy initiated a public fundraising campaign to build a fleet of Ukrainian naval combat drones. That strike turned out to be the first act in the SBU-Navy effort that led to the Sea Baby project (Censor.net, August 4).
On November 18, 2022, Ukrainian drones apparently failed to penetrate Russian defenses at the Novorossiysk harbor (TASS, November 18, 19).
On May 24 and June 11, Ukrainian drone attacks failed to damage the Russian reconnaissance ships Ivan Khurs and Priazovye, respectively. Three drones were launched in each attack (TASS, May 24, June 11). Both incidents occurred in the southwestern part of the Black Sea—with one of them being "140 kilometers from the northern entrance to the Bosporus" (TASS, June 12; Censor.net, August 1), thus possibly taking place in Turkey's exclusive economic zone (EEZ).
Between July 24 and August 2, the Russian corvettes Sergei Kotov and Vasily Bykov repelled four attacks by Ukrainian drones, detecting them in time and shooting them in the water, according to the Russian Defense Ministry. These were night-time attacks, employing one to three drones against one Russian corvette at a time. Both Russian corvettes were exercising within Bulgaria's EEZ, "controlling shipping" or "escorting civilian transport" there (TASS, July 25, 29, August 1, 2). The Bulgarian government has repeatedly protested against the Russian naval exercises ongoing in its EEZ (see EDM, August 15).
Overnight on August 17–18, the Vasily Bykov, together with the escort warship Pytlivyy, shot and destroyed an incoming Ukrainian drone in the water, again "in the southwestern part of the Black Sea," according to Russia's Defense Ministry (TASS, August 18).
This overall track record shows the success rate for Ukrainian naval drone attacks spiking in July and August 2023. The earlier attacks may be regarded as testing a weapon entirely new to the Ukrainian Armed Forces. The development of USVs in Ukraine started only after February 2022 in response to Russia's all-out invasion. According to SBU Chairman General Vasyl Maliuk, the development and production of the Sea Baby and other naval drones is purely internal, with no inputs from Ukraine's Western partners (Ukrinform, August 15).
Kyiv has only recently adopted a full-disclosure policy regarding its naval drone attacks. It has done so, first, as a consequence of the recent successful strikes; and secondly, to lift national morale at a time when delayed Western arms supplies have caused the Ukrainian army's counteroffensive to stall.
Moscow apparently feels under pressure to make some gesture directly responding to Ukraine's drone challenge. Russian Defense Ministry chief spokesman, Lieutenant-General Igor Konashenkov, claimed on August 14 that, overnight, Russian missiles had struck two Ukrainian sites where naval drones were produced and stored (TASS, August 14). He named no location, and there has been no corroboration of his claim.
The novelty of this weapon and prospects for its further development are inducing optimism across the Ukrainian media. Practically, however, Ukrainian drones have inflicted what amounts to pinpricks on Russian maritime assets thus far (see above). Claims in foreign and domestic media that Ukrainian naval drones are about to change the balance of power in the Black Sea basin seem premature at best.
According to Ukrainian National Security and Defense Council Secretary Oleksiy Danilov, further development is necessary to increase these drones' autonomous range, accuracy and explosive power; the drone production rate should grow significantly; and the drone operators need to gain more experience (Ukrinform, August 5).
Furthermore, mass production of aerial as well as naval drones would be required to neutralize the Russian Black Sea Fleet's threats to the Ukrainian mainland and sea, as the respected analyst Serhii Rakhmanin suggests (Novoye Vremya, August 11).
Beyond scoring minor hits with the currently available drone types, Ukraine must develop capabilities to actually "sink Russian warships, until Russia ends up without a surface fleet in the Black Sea," Zelenskyy told international media (Ukrinform, August 8).
For now, Ukraine might capitalize on the long range that the Sea Baby drones have demonstrated when reaching Novorossiysk twice (see above). Russia's second-largest naval base in the Black Sea is located in Novorossiysk alongside two major oil export terminals: one for oil and petrochemicals produced in Russia and the other for oil extracted in Kazakhstan. This makes Novorossiysk the largest Russian oil export outlet to European and global markets.
Discussions are ongoing in Ukraine about possible actions to curtail Russian oil exports from the Black Sea to international markets. Ukraine's newly demonstrated drone capability looms in the backdrop to these discussions as a psychological and political factor. Launching or threatening to launch drones at Russian oil terminals or tankers in the northeastern Black Sea is not necessary. Merely the implied possibility of drone strikes could discourage at least some traders and shippers from venturing there and cause freight and insurance costs to spike, possibly making this oil export route unprofitable.
On August 4, Ukraine's maritime authorities issued a "war risk area warning" to all international mariners headed for six Russian Black Sea ports, including Novorossiysk and the smaller oil-exporting terminals of Tuapse and Taman. The warning is scheduled to go into effect on August 23 and continue "until further notice" (Interfax-Ukraine, August 5). And on August 8, Zelenskyy's economic adviser Oleh Ustenko told US media that "everything the Russians are moving back and forth on the Black Sea are our valid military targets," including oil tankers or terminals. According to the presidential advisor, curbing the volume of Russian oil exports is a legitimate response to Russia's blockade of all Ukrainian maritime trade and air strikes on Ukrainian ports. Moreover, reducing Russia's oil revenues should impair Moscow's capacity to finance its ongoing war against Ukraine (Ukraiynska Pravda, August 8).
This response has full legal and moral justifications and is proportionate to Russia's own actions in the Black Sea. The response is roughly symmetric in economic terms, implying that Ukraine is within its rights to imperil Russian oil exports in the Black Sea in response to Russia blockading Ukrainian agricultural and other exports in the same area. But the Ukrainian response is deeply asymmetric otherwise, as Ukraine lacks the military power to enforce a blockade, whereas Russia is easily doing so. In practice, therefore, Kyiv can only capitalize on the psychological and political effects of its warnings backed up by its naval drones.
Even so, Kyiv's Western partners would probably balk at curbing Russian oil exports from the Black Sea. A large share of those exports traditionally goes directly to European Union countries. They, as well as the United States, would seriously worry if Russian oil exports out of the Black Sea are imperiled. They partly depend on Russian oil (under the price cap of $60 per barrel, set in 2022 by the Group of Seven) to hold down oil prices. Western governments could also argue that an energy crisis linked to Ukraine would make it politically more difficult for their publics to support Ukraine in the ongoing war.
Kyiv certainly does not contemplate hitting an oil terminal or tanker with a drone or otherwise. Doing so by accident could cause an environmental disaster, with heavy political damage to Ukraine and huge fines to bear as imposed by international courts (Ekonomichna Pravda, August 8). For its part, the Kremlin is certainly not above staging a false-flag operation to blame Ukraine. And ultimately, any success in curbing Russian oil exports from the Black Sea would increase world oil prices, thus also revenues from oil exports originating elsewhere in Russia.
Apart from the oil sector, hitting Russian commercial and naval ships and ports with Ukrainian naval drones or other means would constitute fully legitimate self-defense legally, morally and politically. Russia launched an all-out war against Ukraine, including the destruction of the country's export trade and turning Ukraine de facto into a landlocked country. Russia's own maritime trade is consequently a legal and legitimate target for Ukrainian retaliation with naval drones or other means that might become available to Kyiv.
Since Russia turned the Black Sea and Azov Sea into theaters of war, they are, by definition, unsafe and risky for peaceful navigation and trade. With Ukrainian naval drones now available, "making Russian ships feel nowhere safe in the Black Sea" has become a priority goal articulated by Ukrainian officials and commentators. While posing this new threat to Russian shipping, Ukraine has no need nor interest in threatening international shippers and traders. It only needs to demonstrate that approaching Russian ports is becoming too risky, too expensive in terms of freight and insurance costs and thus increasingly unprofitable.
Russia's naval blockade and air warfare against Ukrainian ports has hurt the country's agricultural trade first and foremost. The Black Sea Grain Initiative with Russia's participation (July 2022–July 2023) mitigated that situation to a degree, allowing Ukrainian grain exports in limited volumes under Russian oversight and at a Moscow-imposed tempo. Russia, however, has unilaterally suspended the grain deal aiming to extort Western economic concessions of a far wider scope (see EDM, July 26, 27, 31).
Some interested parties now suggest that Ukraine could refrain from drone attacks on Russian ships and other maritime assets in exchange for Russia reinstating the grain deal and stopping air strikes on Ukrainian ports. This would, however, be a short-sighted and untenable bargain. Russia could suspend the grain deal at will again, as it has done several times for shorter periods before suspending it for an open-ended period in July 2023.
Reinstating the deal would merely mitigate Russia's naval blockade of Ukraine again, in a partial and ever-revocable way. It would also unjustifiably relieve Western naval powers of the task of compelling Russia to lift this blockade. Russia must commit to lifting the naval blockade irreversibly under international arrangements complete with verification. For its part, Ukraine needs to maintain and further develop its newly acquired counter-leverage vis-à-vis Russia in the form of naval drone warfare to continue making progress on the battlefield.