Russian Black Sea Fleet Intrudes Bulgarian Waters, Harasses Turkish Grain Freighter
Publication: Eurasia Daily Monitor Volume: 20 Issue: 131
By: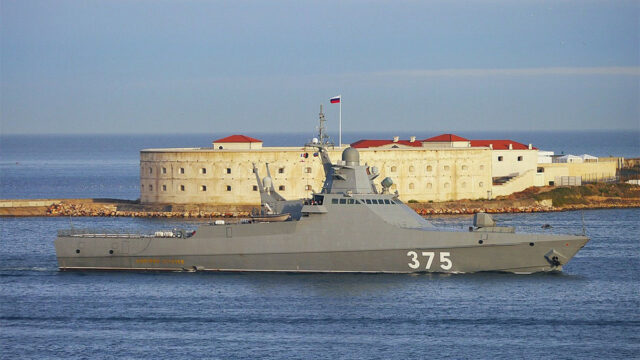 On August 13, a warship of Russia's Black Sea Fleet executed a board-and-search operation of a Turkish freighter that was passing through Bulgaria's exclusive economic zone (EEZ) en route to Ukraine to load grain. The Russian crew fired warning shots from automatic weapons to intimidate the Turkish vessel into compliance.
According to the Russian Defense Ministry's communiqué, the corvette Vasily Bykov "forced to a halt" the Turkish dry-cargo freighter Şükrü Okan, which was headed for the Ukrainian Port of Izmail in the Danube's estuary. The Russian warship cited a purported right to "search for prohibited goods being transported," without specifying what goods and which authority had prohibited them. The warship radioed warnings and opened fire from automatic weapons when the freighter attempted evasive maneuvers. The Russian boarding team alighted from a Ka-29 helicopter (organic to the corvette) onto Şükrü Okan's deck, "conducted inspection work" on the vessel and allowed it to proceed toward Izmail. The communiqué locates the incident "in the south-western part of the Black Sea" without specification, cryptically adding that "Russian Black Sea Fleet warships continue patrolling the areas to which they are assigned" (TASS; T.me/mod_russia, August 13). Those areas are known to include Bulgaria's EEZ (see EDM, August 3).
The Russian communiqué framed this action in terms designed to set a usable precedent for Russia to repeat such actions and for other parties to comply with them. It does not specify what prohibited goods were being searched for, nor which authority had prohibited them. All this implies a Russian self-arrogated, blanket authority to stop and search ships. Even more brazenly, this action took place within a third country's (Bulgaria's) EEZ, wherein the Russian warship had been "conducting exercises" for several weeks. In truth, this is the first incident on record in which the Russian military has opened fire—if only with light weapons—on a non-Ukrainian civilian target beyond Ukraine's territory or waters in the Black Sea.
According to multiple ship-tracking services, the Şükrü Okan had departed from Istanbul that morning and had just crossed from the Turkish EEZ into the Bulgarian EEZ when the Vasily Bykov intercepted it (Agerpres; Der Spiegel, August 13, 14).
Map of Şükrü Okan's Route
(Source: Dumskaya.net)
Turkish-owned and Palau-flagged, with an all-Turkish crew of 12, the Şükrü Okan is a 283-foot merchant ship that had routinely carried grain from Danube ports and was empty at the time of the Russian "inspection." A widely circulated video made by the crew shows crew members passively sitting on the deck while the Russian helicopter is about to drop the boarding team, then the team walks on the deck. The Russians then searched the cabins looking through various documents.
Russia announced naval exercises with corresponding warning zones in Bulgaria's EEZ from July 17 onward; it has renewed the notification to the Bulgarian government for 10 days at a time since then (Kapital; Nova News, July 27, 28; Novinite, August 3). The Russian Defense Ministry's chief spokesman, Lieutenant-General Igor Konashenkov, has several times referenced the Black Sea Fleet's corvettes Sergei Kotov and Vasily Bykov as participating in these exercises, purportedly "escorting civilian transport" or "controlling shipping" in this "south-western part of the Black Sea," without naming Bulgaria's EEZ. Konashenkov referenced these sister ships variously as operating singly or in tandem (TASS, July 19, 25, August 1, 2, 5, 13).
On July 26, the NATO-Ukraine Council's communiqué noted that "Russia's new warning area in the Black Sea, within Bulgaria's economic zone, has created new risks of miscalculation and escalation, as well as serious impediments to freedom of navigation" (Nato.int, July 26).
Bulgaria's current pro-Western government is slightly more than two months old (see EDM, April 6), following a long period of instability during which the Russian-friendly President Rumen Radev held sway over policy. The new government has reacted with restraint but growing firmness to these events. It seems distinctly possible that Russia has singled out Bulgaria for holding naval exercises in the country's EEZ as an intimidating response to the change of government.
Bulgarian Defense Minister Todor Tagarev and other defense officials have told Bulgarian media that foreign warships have a legal right to sail through the EEZ; however, any naval exercise and warning zone is normally limited to a few days and are not considered good practice. They have further noted that this must not impede the navigation of commercial and naval vessels and that Russia has no right to impose embargoes or other restrictions on maritime traffic. Additionally, they have expressed unease regarding natural gas projects in Bulgaria's EEZ while Russian warships exercise or cruise there (Novinite; Mediapool, July 27; BNR.bg, July 30; see EDM, August 7).
The Bulgarian Foreign Ministry under Mariya Gabriel underscored Russia's "use of food supply as a weapon to achieve imperial ambitions. … The entry of Russian warships into the exclusive economic zones of Black Sea countries, including that of Bulgaria, as well as the declaration of warning areas in them, is dangerous to navigation, harms the economic interests of our country and its citizens, and is inadmissible" (BTA, August 6).
Bulgarian Prime Minister Nikolai Denkov moved from caution to greater frankness as the Russian warships prolonged their presence. Denkov told the media, initially, that "Russian exercises in the Black Sea are proceeding in accordance with standard procedures. There are no indications of any new threats to the movement of Bulgarian ships and citizens" (Novinite, July 27). But two weeks later he addressed citizens via his Facebook page: "Russia's aggression militarizes the Black Sea. Russian ships have lingered in the waters of our exclusive economic zone for some 20 days now … Bulgaria needs to integrate more closely with NATO. This [organization is] like a bomb shelter for us today" (Novinite, August 11).
The incident in its EEZ coincided with a festive event at Bulgaria's Higher Naval School in Varna. The country's chief of defense, Admiral Emil Eftimov, sounded a note of caution: "Be calm, everything is under control, we are acting very carefully, we intend to act rationally so as to not give cause for provocations," while Bulgaria is safe in NATO (Novinite, August 13).
From Ukraine's perspective, the August 13 incident confirms Russian intentions to maintain a sufficient level of military threat at sea to discourage maritime trade with Ukraine. The Kremlin can achieve this objective without applying lethal force, merely by brandishing it to intimidate large international traders. Moscow seems content with allowing small-time traders to operate in Ukraine's Danube ports to some limited extent, asphyxiating Ukraine gradually without giving cause for a Western humanitarian relief operation in the Black Sea.
Kyiv has no longer appealed to NATO in this instance in light of the disappointing July 26 meeting (see EDM, July 31). Instead, the Ukrainian Presidential Office and Foreign Ministry (Ukrinform, August 13, 14) have launched appeals to the international community more generally, including the United Nations, International Maritime Organization and Turkey, to uphold the freedom of commercial navigation in the Black Sea and persuade Russia to reinstate the Black Sea Grain Initiative. However, this does not look feasible on any terms but Russia's own in the absence of Western navies.