When Will Western Naval Powers Return to the Black Sea and on What Conditions? (Part One)
Publication: Eurasia Daily Monitor Volume: 20 Issue: 125
By: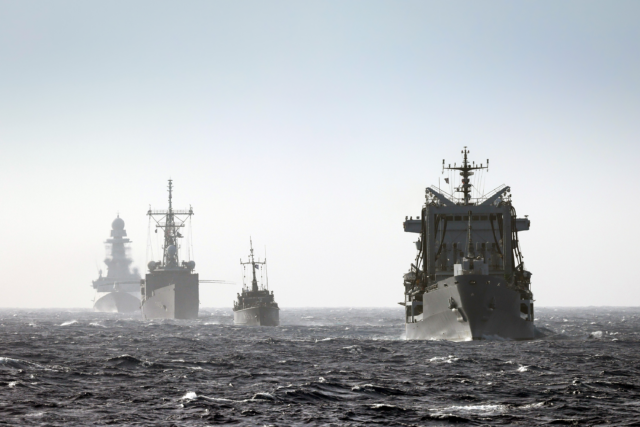 Western naval powers have been shut out of the Black Sea until further notice. This is an extraordinary situation, exceedingly rare in modern history. No warship from a non-riparian country has entered the Black Sea since December 2021. And no naval exercise with Western participation has been held in the Black Sea since July 2021.
Russia's Black Sea Fleet consequently enjoys wide freedom of action with a corresponding level of impunity. It imposed a total blockade of Ukraine—practically turning Ukraine into a landlocked country—from late 2021 (in the run-up to Russia's full-scale invasion of mainland Ukraine) until July 2022, alleviated the blockade partially and conditionally in the next 11 months and snapped it back into place again in July 2023 (see EDM, July 26, 27, 31). In its next move, the Russian fleet deployed two corvettes astride commercial shipping lanes in the Bulgarian and, apparently, Turkish exclusive economic zones (Nato.int, July 26; Novinite; Mediapool, July 27; TASS, July 25, August 1, 2; Radio Free Europe/Radio Liberty, July 28, August 2), while Russian sea- and land-based missiles and drones struck Ukrainian riverine ports to paralyze civilian shipping there (Black Sea News; Censor.net, August 1; RBK; Ukrainska Pravda, August 1, 2).
The Western powers' withdrawal from the Black Sea is almost certainly a temporary measure, but its duration seems uncertain at this juncture (an open-ended withdrawal would run counter to the long history of their naval presence). The causative factors behind their decision are: the dangerous environment created by Russian military actions in the Black Sea in the run-up and during the full-scale war against Ukraine; the United States' and its allies' policy of avoiding kinetic contact with Russian forces at almost any cost; and Turkey's decision, when the war broke out, to bar access through the Bosporus Strait into the Black Sea for warships of non-riparian countries. The US and the North Atlantic Treaty Organization (NATO) have unofficially welcomed this Turkish decision with some relief (see below).
The current absence of Western navies from the Black Sea stands in sharp contrast with their presence throughout the post-Soviet period and particularly in the wake of Russia's 2014 military intervention against Ukraine. The US and allied navies conducted exercises on an annual basis as well as multiple patrols and port visits every year, albeit within the limitations of the Montreux Convention in terms of tonnage and duration of stay in the Black Sea. The US Navy bore the brunt of that effort, with some contributions from NATO allies in their national capacity and occasionally from NATO as an organization. This unequal burden-sharing explains the fluctuations in their presence from year to year until 2021. According to German researcher Carsten Schmiedl, warships of Western allies were present in the Black Sea for 210 days in 2014, 58 days in 2016 and 182 days in 2021 (Centerformaritimestrategy.org, February 3).
During the current war, however, Western allies (whether singly or collectively as NATO) have ruled out re-entering the Black Sea even when Russian actions inspired their sharpest condemnation, as with the blockade of Ukrainian grain exports, the mining of Ukrainian ports and missile strikes against critical infrastructure. The US and its allies have abjured the usual responses to such situations: a freedom of navigation operation to enforce international maritime law, a humanitarian maritime operation to unblock Ukrainian agricultural exports by escorting cargo ships, or a demining operation employing, for example, one of the Standing NATO Mine Countermeasures Groups (SNMCMG). The SNMCMG2, however, is currently exercising in the Mediterranean Sea (Nato.int, July 31).
Russia has extended its discretionary domain in the Black Sea stage by stage, squeezing out the other riparian countries from international waters and their respective exclusive economic zones—and ultimately the Western navies from the sea during this war. By wresting Abkhazia from Georgia already in 1994, Russia established full control over the corresponding portion of the Black Sea even before officially declaring that seizure in 2008. The annexation of Crimea in 2014 enabled Russia to appropriate de facto vast tracts of Ukraine's territorial waters and exclusive economic zone as well as establishing sole control over the Sea of Azov and Kerch Strait (hitherto shared with Ukraine). In 2022, Russia seized the entire Ukrainian coast on the Sea of Azov and a portion of Ukraine's Black Sea coast up to Mykolaiv. This steady expansion set the prerequisites for Russia's current blockade of Ukraine and forays into the Bulgarian and Turkish exclusive economic zones.
A single case is known of a freedom of navigation operation—albeit not officially declared as such—in the Black Sea. In June 2021, the British destroyer HMS Defender sailed for a rather short distance through internationally recognized Ukrainian waters, de facto appropriated by Russia off the Crimean coast. The Russians responded by buzzing the British ship with their planes and firing warning shots from coastal artillery.
The last significant exercise with the participation of non-riparian Western navies, Sea Breeze 2021, was held in July of that year. It was the 21st annual iteration of that multinational exercise, co-hosted by Ukraine and the United States and involving naval, land and air components in Ukrainian and international waters (Navy.mil; Eucom.mil; Nato.int, July 19, 2021). In the lead up to the exercise, a US Navy official spokesman explained: "We are demonstrating to the world that the Black Sea is an international sea, open and available for free transport, commerce and shipping of all nations, not owned by any one nation" (State.gov, June 29, 2021).