The Anatomy of Prigozhin's Mutiny and the Future of Russia's Mercenary Industry (Part Three)
Publication: Eurasia Daily Monitor Volume: 20 Issue: 125
By: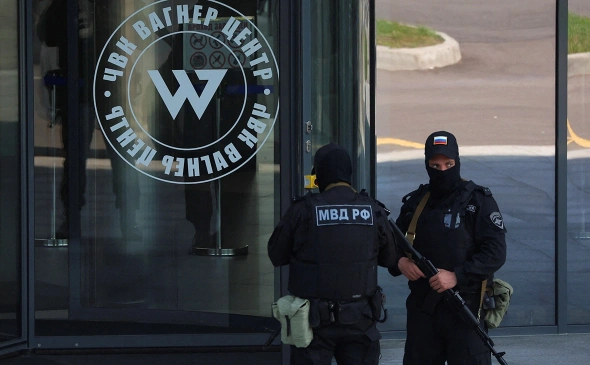 Yevgeny Prigozhin's failed mutiny on June 23 and 24, which culminated in the Wagner Group's de-facto capture of the city of Rostov-on-Don, highlighted the complexity of the ongoing para-militarization of Russian society and the state's overarching reliance on irregular formations after the outbreak of Moscow's full-scale war of aggression against Ukraine in 2022. Beyond the mutiny's key events (see Part One) and central players (see Part Two), Wagner's "march for justice" also has significant implications for the future and prospects of Russia's mercenary industry.
While Prigozhin himself is not behind the emergence of this industry—the idea of using quasi–private military companies (PMCs) came from the Russian General Staff in 2010 (see War by Other Means, accessed August 2)—he has, nevertheless, become its symbol. Thus, reflections on the industry's future should begin with a brief description of the Wagner chief's post-mutiny path. The initial harsh reaction of the Russian officials—opening of a criminal case and Vladimir Putin's remark about Prigozhin's treasonous behavior, which in the Russian president's own words is generally an unforgivable sin (Vesti.ru, March 11, 2018)—was followed by a rapid retreat. Prigozhin not only reclaimed his financial means temporarily seized by the authorities (RBC, July 4) and was allowed to freely depart with his fighters to Belarus, where he posted a video critical of the Russian Ministry of Defense (MoD), his business structures also continue to generate huge profits on state-related contracts (The Moscow Times, July 3). Moreover, instead of severe punishment—as was predicted by many Russian and Western analysts—Wagner commanders, including Prigozhin, held a meeting with Putin in the Kremlin on June 29, where the Russian president "offered them potential options for future employment and combat operations" (Lenta.ru, July 10).
Similarly, the rhetoric of Russia's leading policymakers followed suit. For example, Andrey Kartapolov, chairman of the State Duma's Defense Committee and a member of the United Russia party, stated that the Wagner Group "did not do anything extraordinary in Rostov. … No one takes issues with them—neither Rostov residents, nor the military of the Southern Military District, nor representatives of the Ministry of Internal Affairs. … If they want to sign a contract with the MoD, they will do it." He also noted that it would be senseless to ban or prohibit the mercenary formation; instead, it should be used in a way that answers the interests of the Russian state. He further argued that the only immediate measure that could be taken would be to change the Wagner leadership and install someone "more loyal" to the Russian state (Vedomosti, June 25). Perhaps, the only cautious voice of discontent came from Vladislav Surkov, a former advisor to Putin, who urged Russian authorities to "stop toying with PMCs" (Fontanka.ru, June 28).
Speaking about the future of the Russian PMC industry, it is safe to suggest that the Russian state—despite the proven risks associated with the employment of such formations, especially in light of the expanding economic crisis domestically as well as the growing criminalization and para-militarization of Russian society—will continue using PMCs and other quasi-legal paramilitary formations for its objectives. This became clear when Russia's two top-level politicians—Valentina Matviyenko, chair of the Federation Council, and Putin—almost simultaneously stated that Russia does not need a law on PMCs since these "companies do not exist" (Lenta.ru, July 25). This pointed to the Russian state's rhetoric reverting to the pre-2022 interim when the existence and activities of these formations were kept in the shadows.
Analysis of the most recent developments suggests two primary roles that PMCs (and other militarized groups) could play in the short term. First, domestically, PMCs and entities akin to pseudo-Cossack formations will most likely be used as tools of regional control that may take the form of so-called "federal state unitary enterprises" (spetspredpriyatiya)—militarized entities replicating the tasks and functions typically performed by territorial defense units. These groups will largely be formed in those Russian regions bordering Ukraine and, in the future, Kaliningrad and other European Union–adjacent areas.
A preliminary assessment of the proposed activities of these entities brings to mind several key considerations. Overall, these group will be armed and equipped to such an extent as to be ready to perform operational functions in specific regions. Acting in concert with the Russian Federal Security Service (and likely Rosgvardia), these entities will carry out tasks that include maintaining public order, protecting the state border, confronting subversive groups and other military formations, as well as conducting counter-drone activities.
Notably, the heads of Belgorod and Kursk oblasts, Vyacheslav Gladkov and Roman Starovoyt, respectively—perhaps, two of the most avid supporters of granting Russian border regions the right to form paramilitary formations—have ardently supported the idea (RBC, July 25). It cannot be excluded that, in the future, members of such entities will be trained by veterans of the war against Ukraine, including the Wagner Group.
Second, in terms of outward-related actions, Russian PMCs are likely to serve in two main capacities. To begin with, these entities can serve as tools for ensuring "stability" in Belarus—which is likely to become a replacement for Wagner's training (Krasnodar Krai) and transportation (Rostov) facilities in Russia—and maintaining local political leaders' compliance with Moscow's demands. Moreover, they can be utilized in pursuing and protecting Russia's geopolitical interests in Sub-Saharan Africa and parts of the Middle East and North Africa, where Wagner and Prigozhin are likely to continue playing a key role. In fact, at the recent Russia-Africa Summit in St. Petersburg, the Wagner leader was spotted taking a picture with the ambassador of the Central African Republic (RBC, July 27).
In sum, seemingly, the Kremlin is not ready to depart from shadow paramilitary groups as a somewhat unique post-2014 Russian phenomenon. As a result, their spread and influence might even increase in the coming months. And this could spell trouble for Russia, especially if the domestic situation deteriorates further.