Western Sanctions and Personnel Shortages Plague Russia's Aircraft Industry
Publication: Eurasia Daily Monitor Volume: 20 Issue: 138
By: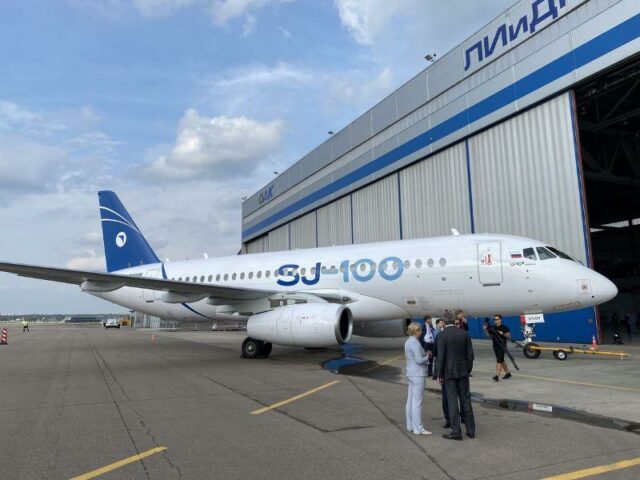 On August 29, a new version of Russian commercial aircraft, the SJ-100 (formerly known as the SSJ-100), completed its first flight. The main difference between the new SJ-100 and the old SSJ-100 is that extensive import substitution efforts were carried out to source the necessary avionics and parts—primarily due to Western sanctions. However, the first SJ-100 produced still contained SaM-146 engines, the outcome of French-Russian cooperation. The United Aircraft Corporation (UAC), a subsidiary of state-owned Rostec, has promised that the second SJ-100 will use Russian-made PD-8 engines (Uacrussia.ru, August 29; Aviation21.ru, December 26, 2022).
Overall, the main problem for the Russian authorities with the domestic aircraft industry is that the production schedule for the commercial aviation program launched in June 2022 is already off track. That schedule is shown in the table below and demonstrates the Kremlin's ambitions, which will be difficult to meet given present circumstances (Government.ru, June 25, 2022; Holod.media, August 23):
 

Seats
2023 Total
2024 Total
2025 Total
2026 Total
2027

Total

2028

Total

2029

Total

2030

Total

Overall Total

SJ-100

98–103
2
20
20
20
20
20
20
20

142

MS-21

181–211
–
6
12
22
36
50
72
72

270

Tu-214

150–215
3
7
10
10
10
10
10
10

70

Il-114-300

64–68
–
2
8
12
12
12
12
12

70

Il-96-300

237–300

–

–

2

2

2

2

2

2

12
Besides troubles with sourcing critical components and thus producing aircraft engines, as well as the limited production capacity of Russia's existing manufacturing facilities, the government program itself does not account for the current domestic realities (see EDM, July 3; Business-gazeta.ru, June 22). Today, Russia's aircraft industry is plagued by two fundamental difficulties: (1) blocked access to industrial equipment and technology from the United States, Europe, Japan, South Korea and Taiwan and (2) the lack of human capital, which is being effectively exhausted by Russia's war against Ukraine.
Regarding the first challenge, the Russian government has tried to provide substitutes for advanced industrial equipment. However, even Russian-made equipment relies and depends on imported computers, robots and other components. Even if Russian companies use smuggling supply chains, this will not be able to wholly make up the growing deficit of these parts and cannot effectively increase production rates. For example, from 2019 to 2021, the UAC received only 50 units of industrial equipment from Mekhanika Holding, another subsidiary of Rostec. As of May 2022, the UAC is in need of at least 300 more units by 2026 just to maintain its aging industrial equipment, let alone support production (Rostec, May 27, 2022). As such, it seems that Moscow will largely be unable to solve its shortage of industrial equipment so long as the Western sanctions regime remains in place and smuggling supply chains continue to break down.
On the second difficulty, the Kremlin seemingly has no answer for solving its growing shortage of human capital. Over 40 percent of all Russian factories are currently experiencing a deficit of personnel and engineers (RBC, August 3). Earlier, the total deficit of the workforce within Russia's aircraft industry was estimated at more than 14,000 people (RBC, February 3). In 2022, the UAC alone needed 8,500 workers and engineers to shore up its shortages. And this situation is sure to have only worsened given Russia's "partial mobilization" campaign launched last year and its use of "human wave" tactics on the Ukrainian battlefield (Rostec, April 8, 2022; RIA Novosti, August 15).
Moreover, the current deficit has been further compounded by longer-term systemic problems in Russia's workforce. For example, the UAC was looking to employ 8,000 new personnel in 2015 based on a renewed manufacturing strategy devised at that time. Instead, the number of employees decreased from 101,380 employees in 2015 to about 90,000 employees in 2020 and sat around the same figure, 90,192 employees, by the end of 2022 (Topwar.ru, January 30, 2015; E-disclosure.ru, accessed September 7, 2023). Thus, while the war in Ukraine has exacerbated this problem, Russian companies have struggled to fully staff their teams for years, which has hampered Moscow's ambitious production agenda.
In reality, this problem also subsists as the number of technically trained workers in Russia has dropped. Taking data from Russian universities, the number of students enrolled in aircraft engineering programs at Russian technical universities in 2023 is less than 1,500. Considering the fact, that 18 percent (more than 16,000) of UAC employees were 50–59 years old and 16 percent (about 14,500) were more than 60 years old in 2020, the UAC and the rest of Russia's aircraft industry is staring down the barrel of a total shortage of engineers by 2030 (E-disclosure.ru; Vuzopedia.ru, accessed September 7, 2023).
All this leads to the presumption that the Russian government has lost the ability to develop and realize an adequate strategy for improving production in the aircraft industry. For comparison, the recent strategy presented by the Kremlin for development of unmanned aviation presumes the need for one million employees by 2030, which, given the current dearth of human capital, is rather absurd (Government.ru, June 28). And it is not a stretch to say that same presumption can be made regarding Moscow's strategies for enhancing production practices in other key industries, including space and, perhaps most importantly, arms manufacturing. In truth, those problems plaguing Russian aircraft production probably are systematically hurting the domestic economy across the board and limiting Moscow's ability to conduct its war against Ukraine.