United Russia Considering New Focus on Peaceful Regionalism
Publication: Eurasia Daily Monitor Volume: 20 Issue: 138
By: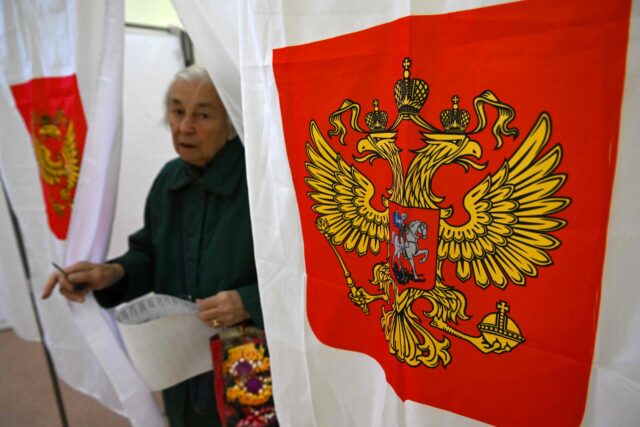 From September 8 to 10, polls will be open across Russia as part of the annual "single voting day," during which 26 governors will be elected and 16 regions will select new members of parliament (TASS, September 8). Usually, these elections do not bring many surprises, as most future governors are appointed in advance by the Kremlin. This is how the principle of "preventive democracy" has been operating since Putin's return to power for a third term in 2012: A governor will suddenly resign "of their own free will," and in their place, the president appoints an "interim" governor. This official is then "elected" as part of formal voting procedures. This process is mostly for show, as opposition candidates are simply not allowed to run (see EDM, November 20, 2017).
As a result, few candidates not appointed by the Kremlin have managed to win past elections. This was the case with the sensational victory of Sergei Furgal in the 2018 gubernatorial elections for Khabarovsk krai. Nevertheless, Putin's political system does not tolerate such upstarts and typically strikes back. In Furgal's case, he was arrested in 2020 on the allegations that he organized two contract killings and one assassination attempt. After a year, he was found guilty and sentenced to 22 years in prison. His arrest triggered massive protests throughout Russia, as many considered Furgal's apprehension to be unlawful and the charges against him were never proven (Sibreal.org, February 10).
Moscow has taken other measures to better control regional elections. In 2001, shortly after Putin first came to power, regional political parties were banned. Since then, all local parliaments in Russia's republics and oblasts have been reduced to "clones" of the State Duma. In Putin's Russia, federalism is not characterized by regional legislative diversity, but rather by placing all regional laws under a single "federal standard" (Severreal.org, September 2, 2021).
The second year of Russia's full-scale war against Ukraine has brought unexpected adjustments to this seemingly unshakable "vertical of power." It turns out that, today, some regional candidates from the United Russia Party, which has been ruling for more than 20 years, are abandoning their military rhetoric. Instead, they declare, "If you support the war, you will not be elected." They directly recognize the growing negative attitudes toward the so-called "special military operation" on the part of Russian voters. In virtually none of Russia's numerous regions, save for the recently occupied territories in Ukraine, does the topic of the war appear in pre-election materials (Verstka.media, July 28).
This is the case in the Siberian Republic of Khakassia. With the beginning of the gubernatorial campaign, the military theme of United Russia candidate Sergey Sokol's campaign almost completely disappeared. In his keynote address, sporting a jacket and not his usual military camouflage, Sokol declared, "The time has come for change" (T.me/krasotkao, June 10). As a slogan, he chose the phrase: "The power of the state for the benefit of Khakassia!" His competitor from the Communist Party, Valentin Konovalov, is also going to the polls with the regionalist slogan, "Local! Honest!"
The situation is similar in the Far East. In June 2023, the governor of Primorsky, Oleg Kozhemyako, was depicted on Vladivostok billboards in military camouflage. But by July, the propaganda coming from his office stopped talking about the war. Instead, in his campaign materials, a smiling Kozhemyako is pictured in a white T-shirt saying, "Our regional time has come." And the main slogan for his campaign is: "We live in Primorye. Let's decide together!"
This is not the first time that Kozhemyako has played on the regionalist sentiments of Vladivostok residents. Back in 2017, he used this same technique when he was first elected governor (Region.expert, December 17, 2018). Local residents in the Far East hold rather critical sentiments toward Moscow, which they believe wrongfully takes all of the regions' resources and tax revenues. Thus, a strong demand for regional self-government remains. And with this, some Russian politicians are beginning to follow the model: "If you cannot suppress the movement, then lead it."
Such changes are taking place within the United Russia Party—not only in the east but also in the more central regions. For example, the governor of Oryol oblast, Andrey Klychkov, who at the beginning of the year actively supported the war against Ukraine, chose not a militaristic, but the regionalist slogan: "For the development of our cities and villages!"
Of course, none of the candidates from the ruling party openly oppose the war. Yet, they are increasingly trying to avoid the topic, hoping to re-focus the Russian public's attention on social and regional issues. Although many citizens have long been accustomed to the fact that United Russia's election promises are merely empty words, the absence of militaristic statements by the party's candidates in and of itself already makes these elections somewhat more attractive to Russian voters. This is especially the case when opposition candidates, who directly advocate for ending the war, are barred from running.
Perhaps the most significant figure in these elections is Moscow Mayor Sergey Sobyanin, who is running for his fourth term. Many Russian commentators consider Sobyanin to be the informal leader of the so-called "party of peace" in Russia. According to Abbas Gallyamov, one of Putin's former speechwriters, "As much as possible, he tries to distance himself from the war" (Novayagazeta.eu, July 1). Today, many liberal-minded Muscovites are opposed to the war, and Sobyanin cannot ignore this fact.
For now, the change in United Russia's image from hyper-militaristic to more regionally focused looks to be an electoral ploy; nevertheless it is still quite revealing. Party leaders have seemingly realized that an increasing number of Russians, who are afraid to speak out against the war, can still reflect their true sentiments at the ballot box. And this seriously breaks with Moscow's message that the vast majority of Russians completely support the war.
Indeed, it is likely that this shift is being dictated by the Kremlin. Perhaps Putin's administration already feels that the protracted war in Ukraine cannot be won. And this game of "peacefulness" is an attempt to evade responsibility and blame military failures on someone else.
At any rate, it is important to recall that governors in today's Russia are not at all politically independent figures. This stands in stark contrast to the 1990s, when they were relatively freely elected. Now, they are simply elements of a single centralized authority (Riddle Russia, January 27). Thus, their task today is rooted in demonstrating the illusion of democracy in Russia to prevent its real application.