Russia Prepares to Repel United States on All Fronts
Publication: Eurasia Daily Monitor Volume: 11 Issue: 169
By: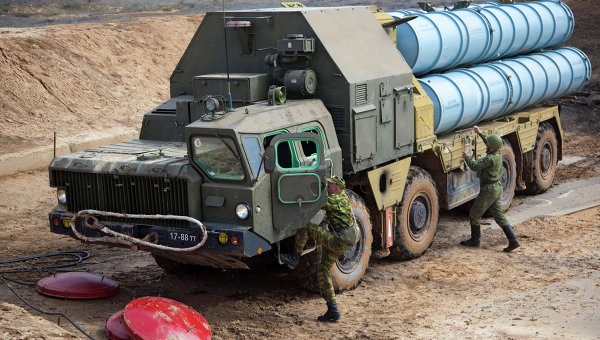 The ceasefire in Donbas (eastern Ukrainian region encompassing Luhansk and Dontesk provinces) between Ukrainian and pro-Russia forces, announced on September 5, has been solidified by an additional agreement to withdraw artillery, multiple rocket launch systems (MRLS) and other heavy equipment from the front line. The second agreement was signed on September 20, in Minsk (Interfax, September 20). The Russian state-controlled media reports that both sides in Donbas have begun to withdraw their heavy armaments from the front line under the control of observers from the Organization for Security and Cooperation in Europe (OSCE ). Negotiations continue between the warring parties about further prisoner-of-war exchanges and local troop deployment adjustments to somewhat straighten the line of control in Donbas (Rossiyskaya Gazeta, September 24). Local clashes, shootings and shelling continue in Donbas, in particular in Donetsk, the region's biggest city, where heavily entrenched Ukrainian military forces have successfully repulsed all attempts by Russia-backed rebels to take control of the international airport in the western suburbs of the city. Still, Ukrainian President Petro Poroshenko has declared the ceasefire deal he had brokered with his Russia counterpart Vladimir Putin a success: "September 24, was the first real ceasefire day—not a single Ukrainian soldier dead. Hail Ukraine!" (Segodnya, September 25).
The fighting in Donbas has significantly subsided—and with it the threat of imminent escalation by direct Russian military engagement. Nevertheless, last Sunday, September 21, the streets of central Moscow were packed with thousands of anti-war and anti-government protesters marching with Russian and Ukrainian flags. According to official police reports, the anti-war march in Moscow gathered some 5,000 protesters. The organizers and independent observers asses the number to have been some five to ten times larger—more or less the same as during the massive protest rallies and marches in 2011 and 2012 (Interfax, September 21). The relatively large numbers of pro-Ukrainian, anti-war and anti-Putin protesters demonstrating in central Moscow does not fit well with the overall propaganda viewpoint projected by the Russian state-controlled media. Daily, the Russian news spreads hateful stories about "bloody Ukrainian fascists," supported and guided by their Washington masters, massacring innocent civilians in Donbas, while the entire Russian nation rallies around Putin against the vile West. Thus, Russian state-controlled media dismissed the Sunday protest march as an event organized by agents of the United States. The Russian news proclaimed that "traitors" had managed to rally only a handful of misguided citizens, who were lamenting the absence of French cheese and Norwegian salmon in Moscow's supermarkets—shortages caused by a Kremlin-imposed food import ban, designed as a reply to Western sanctions, which were punishing Russia for its involvement in the Ukrainian crisis (vesti.ru, September 21).
The Duma is now rushing though a Kremlin-sponsored bill to curtail foreign-connected ownership of any media outlets in Russia. The bill is planned to be fully approved Friday, September 26, less than two weeks after it was introduced (see EDM, September 18). The new regulations will punish foreign-owned entertainment TV and mass circulated, Russian-language adaptations of glossy publications like Playboy, Vogue, GQ, Glamour, Tatler, Cosmopolitan, Harper's Bazaar, Men's Health and others. According to the Finnish-owned Sanoma Independent Media publishing house—which prints in Russia magazines such as Cosmopolitan in addition to The Moscow Times and Vedomosti newspapers—thousands of journalists and other Russian workers will be out of a job, if the law is approved in its present form. In the Duma, such arguments do not carry weight: It was announced that "glossies undermine the Russian Federation," and the vote to approve the law was almost unanimous. Apparently, the authorities believe the foreign-controlled entertainment media may, in time of crisis, be suddenly transformed into a political, US-controlled tool of regime change (gazeta.ru, September 23).
The Interior Ministry Special Separate Motor-Rifle division (OMSDON) has been officially returned its honorary name of "Felix Dzerzhinsky"—a Polish-born Bolshevik and founder of the Russian secret police, the KGB—just as it was called in Soviet times. The OMSDON or "Dzerzhinsky division" is based in the Moscow suburbs and its main mission is the armed suppression of any possible enemies of the Kremlin in the Moscow region—internal or external. After the collapse of the Soviet Union, the OMSDON lost the name of Dzerzhinsky, a historical figure considered by many in Russia to have been a mass murderer. But this week, the OMSDON again became the "Dzerzhinsky division," despite protests by human rights activists (Ehko Moskvy, September 22).
To prepare to meet the external US-led threat, the Russian military is currently carrying out the unprecedentedly massive military exercise Vostok 2014, involving 155,000 men as well as thousands of tanks, jets, naval ships and other heavy equipment. Thousands of reservists were called up. According to Russia's defense minister, Army-General Sergei Shoigu, Vostok 2014 is the biggest war exercises in the country's history, larger in size than any war games during the Cold War. The defense of the Russian Arctic was also practiced, according to Shoigu, as Russian forces on a newly established military base on the New Siberian Islands fired anti-aircraft and anti-ship missiles. Paratroopers and marines were deployed to the Arctic island of Wrangel and on the Chukotka shore to prepare to repel an enemy invasion (kremlin.ru, September 23).
Arguably, Vostok 2014 was exclusively a preparation for war with the US. The Vostok 2014 scenario reportedly involved a foreign power called "Missouria" (a stand in for the US) provoking a clash between Russia and an unnamed Asian nation (Japan) over a territorial dispute (the South Kuril Islands). In the scenario being practiced, "Missouria," with allied support, was using this conflict as a pretext to begin a full-scale invasion of Russia. The Russian Armed Forces taking part in Vostok 2014 were thus tasked with defending against "Missourian" (US) air force and navy attacks and invasions from the Arctic to Vladivostok in the south. In the scenario, enemy marines and army units also landed in Chukotka, Kamchatka, the Kurils, Sakhalin and other outlying regions. During the exercise, Russia is forced to mobilize all the forces and resources at its disposal to counter this treacherous air-sea-land invasion (Vzglad, September 23).
Anti-Western and anti-American rhetoric continues to dominate Russian TV channels and other state-controlled media. And this rhetoric is followed up with action to prepare to fight US-led external enemies that are presumed to be preparing to attack Russia and its interests on different fronts. Simultaneously, however, Moscow believes it must deal with an internal foe: Western agents and traitors who are preparing diversions and regime change from within. Apparently, the ceasefire in Donbas is seen in the Kremlin as a temporary armistice—essentially one between Moscow and Washington, which are both fighting a war by proxy within Ukraine, as during the Cold War in Vietnam or Afghanistan. This ceasefire is shaky and may collapse, possibly followed by further escalation and the conflict spreading, involving the entire globe.