RUSSIA REINFORCES RESTRICTIONS ON OSCE/ODIHR AHEAD OF PRESIDENTIAL ELECTION
Publication: Eurasia Daily Monitor Volume: 5 Issue: 19
By: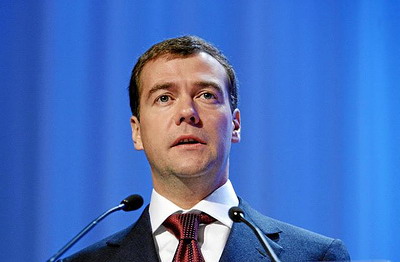 Vladimir Putin's handpicked successor, Dmitry Medvedev, is set to become president of Russia without a properly monitored election. Although the March 2 election's landslide denouement cannot be doubted, Russia is set to demonstrate conclusively that it can force the OSCE out of the election-observation business. Russia began this demonstration with its December 2 parliamentary elections, when it froze out OSCE's election-monitoring agency, the Office of Democratic Institutions and Human Rights (ODIHR)
Observing elections and assisting in the development of electoral systems has become the OSCE's core business, following Russia's earlier success in discrediting this organization as a European security actor. Consequently, disabling the OSCE from meaningful election-monitoring and post-election assistance in Russia and allied non-democratic countries could deeply erode the organization's raisons d'etre.
On January 28 Central Electoral Commission (CEC) chairman Vladimir Churov announced that Russia would only accredit 400 observers from international organizations to monitor the election. Two days later, the CEC reduced even that number to 350. Of this number, Russia would accredit only 70 observers for the OSCE/ODIHR mission. The CIS Executive Committee's observation mission — a novelty under that aegis — would receive equal treatment with 70 observers. The joint mission of the OSCE Parliamentary Assembly and Parliamentary Assembly of the Council of Europe (PACE) would get 30 slots; and the CIS Parliamentary Assembly and the Shanghai Cooperation Organization 30 slots each.
Thus, Kremlin-indulgent observers from non-Western countries and organizations would form a majority among the observers, allowing the Russian authorities to play up the positive assessments against the negative ones. Moreover, the observers would only be allowed into Russia three days ahead of the March 2 balloting day, thereby eliminating at one stroke any long-term observation of the electoral campaign in the country. Long-term observation (usually starting about six weeks ahead of the voting day) is OSCE/ODIHR's distinctive institutional capability.
Churov theatrically signed the invitations to international organizations in front of television cameras during his January 28 news conference. But he did not mention that the invitations contain major restrictions on the observers' freedom to monitor the voting and issue the initial post-election assessments while in Russia. Those restrictions are spelled out at least in the invitation to OSCE/ODIHR.
On January 29 the ODIHR director, Austrian diplomat Christian Strohal, responded in a letter to Russia's CEC that those numerical and operational restrictions do not allow meaningful observation of the presidential election. ODIHR requests accreditation of more observers, removal of the restrictions on observer activity, consent of the Russian authorities to a long-term observation mission, and immediate issuance of visas for ODIHR's long-term observers. ODIHR representatives have told the media that the Office would decline to observe the election, rather than being forced to accept such conditions.
These limitations on the number of observers and the time frame for their deployment illustrate the continuing deterioration of Russia's performance in this regard. Russia had accredited 800 international observers, including 387 from OSCE/ODIHR, for the March 2004 presidential election. A parallel regress can be observed in the parliamentary elections. In December 2003, Russia had accredited 1,165 international observers, including 450 from OSCE/ODIHR, and sent the invitations to international organizations in mid-September that year, almost three months ahead of the December 9, 2003, balloting. However, in the December 2007 parliamentary elections it accredited only 350 international observers, including a mere 70 from the OSCE; and it sent the invitations on October 30 to international organizations, making it impossible for OSCE/ODIHR to perform its normal long-term observation function ahead of the voting.
Churov and the second most senior CEC official, Igor Borisov, are citing a set of excuses for imposing growing restrictions on election observation. The pretexts include: "Some foreign observers are prejudiced"; "some observers are notorious for their non-acceptance of our state"; "they treat us with disrespect"; and, in any case, "We shall never accept an appraisal of our political system [as such]" as part of international observation of Russian elections. They also fault OSCE/ODIHR for not devoting greater attention to elections in Western countries and criticize those countries themselves for not inviting international observers to elections as a matter of legal obligation.
Minister of Foreign Affairs Sergei Lavrov criticized the OSCE — during a January 29 news conference in Minsk of all places — for not taking Russia's and other CIS countries' "positive experience" into account, regarding electoral systems and elections. Lavrov restated one of Moscow's key demands to the OSCE: working out single standards and a common methodology by OSCE/ODIHR and Russia/CIS for the evaluation of electoral systems and elections. Moscow is well aware that adoption of such "consensus rules" by the OSCE regarding election assessments would paralyze the organization to the same extent as the OSCE's "consensus" rules on European security.
(Interfax, Itar-Tass, RIA-Novosti, January 28-30)