Russia Uses Denial-of-Access Tactics Against Belarus Oil Supply diversification
Publication: Eurasia Daily Monitor Volume: 7 Issue: 226
By: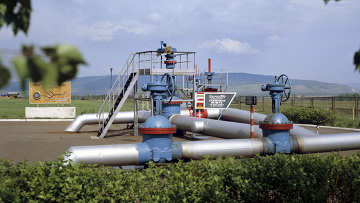 Belarus seeks to reduce its near total dependence on Russian oil by diversifying the range of supplier countries and import routes. Belarus' massive oil-processing industry is largely export-oriented and a top currency earner for the national economy. It processes some 22 million tons of crude oil annually, almost all of it imported from Russia via the Druzhba pipeline, for the refineries at Mazyr and Navapolatsk in Belarus. Those imports are subject to the vagaries of Russian taxation and customs regimes, as well as the Russian government's political objectives vis-à-vis Belarus.
The government in Minsk has launched in 2010 for the first time a systematic effort to reduce dependence on Russian oil supplies. Landlocked Belarus seeks to import oil from Venezuela and Azerbaijan, with delivery through Black Sea and Baltic ports by overland routes to Belarus. The Russian government seeks to obstruct Minsk's diversification efforts by using denial-of-access tactics on the relevant pipelines.
Belarus has negotiated in recent months for using oil terminals in the ports of Klaipeda in Lithuania, Ventspils in Latvia, and Muuga in Estonia to import Venezuelan oil. Klaipeda and Ventspils are, each, connected with Belarus's Navapolatsk refinery through a spur of the Druzhba pipeline system. Those spurs used to carry Russian oil to Latvia and Lithuania, respectively. However, the Russian government shut down those pipeline spurs in 2004 and 2006, respectively, so as to strangle Latvia's Ventspils oil export terminal and Lithuania's Mazeikiai refinery. Russian companies had bid unsuccessfully to take over those assets and the Russian government was backing those takeover bids by cutting off the oil supplies. Since that time, the two pipeline spurs connecting Belarus with Latvia and Lithuania have not been used. Belarus now proposes to use that route in reverse, for oil supplies via the Klaipeda or Ventspils port terminal and the pipeline to the Navapolatsk refinery in Belarus.
In late November, however, Russia's state pipeline monopoly Transneft announced that it would remove the "buffer oil" that had been left inside the pipeline spur on Latvian territory (slightly upstream of the spur's bifurcation into Lithuanian territory, thus affecting that connection also). Transneft cited "risks of accident," although such risks had not seemed to preoccupy Moscow ever since the 2004 and 2006 pipeline shutdowns, with 150,000 tons of buffer oil remaining inside. Removal of the "buffer" or "technical" oil would make it impossible to re-start using the pipeline for oil transportation.
The mixed Russian-Latvian company, LatRosTrans, owns and operates this pipeline on Latvian territory. LatRosTrans describes itself as the biggest company with joint Russian and local capital in the Baltic region. Russian Transneft's fully owned subsidiary, Transnefteprodukt, together with a Cyprus-registered company, hold a majority of shares in LatRosTrans. These two shareholders are apparently prevailing over the Latvian interests in the pipeline and the Ventspils terminal, depriving these of the business of transiting oil to Belarus. In late November, LatRosTrans started pumping the buffer oil out of the pipeline.
Belarus has responded by turning to Latvian courts. Belnaftakhim-Druzhba, operator of the pipeline in Belarus from Navapolatsk to the Latvian border, has obtained a temporary injunction from the relevant territorial Latvian court in Daugavpils to stop the removal of buffer oil, pending a legal decision. Belnaftakhim argues that the Transneft-initiated move contravenes the policies and business interests of Latvia and Belarus regarding oil transit (Belapan, December 1, 7, 13; BNN, December 14).
The holding BelNaftakhim has also been in talks with Lithuania's Klaipedos Nafta for possible transit of Venezuelan oil, also involving reverse-use of the pipeline to Belarus. That route is also potentially affected by the Russian denial-of-access move in neighboring Latvia.
In Estonia meanwhile, the port of Muuga has been taking delivery of tankers with Venezuelan oil for Belarus. Those oil consignments then move by railroad from Estonia via Latvia to Belarus for processing there.
Belarus plans to supply its other major refinery, Mazyr, with Venezuelan and Azerbaijani oil via the Ukrainian port of Odessa and the Odessa-Brody pipeline. That pipeline has been used by Russian companies since 2004 in the reverse mode, carrying Russian oil to Odessa for export, instead of Caspian oil into Central Europe as had been originally intended. That reversal was another example of Russian denial-of-access tactics for the last six years. During 2010, however, Russian companies (mainly TNK-BP) have left the Odessa-Brody pipeline dry; and have also started shifting some oil transit volumes from the Ukrainian Druzhba pipeline to other directions.
The Odessa-Brody pipeline is now available for oil transportation northward into Ukraine and Belarus. The port of Odessa has already taken delivery of Venezuelan oil cargoes in 80,000 ton tankers. Those consignments currently move via Ukraine by railroad (an overly expensive mode of transportation) to Belarus' Mozyr refinery. In late November and early December, the oil transport companies of Ukraine and Belarus have successfully conducted experimental pumping of oil from Odessa to Brody and onward through the Druzhba pipeline from Brody to Mazyr (Interfax-Ukraine, UNIAN, Belapan, December 1-10).
This route involves using the Druzhba pipeline between Brody and Mazyr in reverse, eastward instead of westward. This has become possible as Russia is currently using only one half of that pipeline section's capacity. However, Belarus is facing Russian denial-of-access tactics there also. That section consists of two parallel lines, with an annual capacity of 16 million tons each. For 2011, Transneft has announced booking 17 million tons of capacity in the originally intended direction, westward. This implies full use of one line while using the parallel line at a fraction of its capacity, for merely 1 million tons, only to block the flow of alternative oil supplies into Belarus. The government in Minsk, however, does not regard this announcement as Moscow's last word on the issue.