Russian Cossacks and the Continuation of the War in Ukraine
Publication: Eurasia Daily Monitor Volume: 19 Issue: 44
By: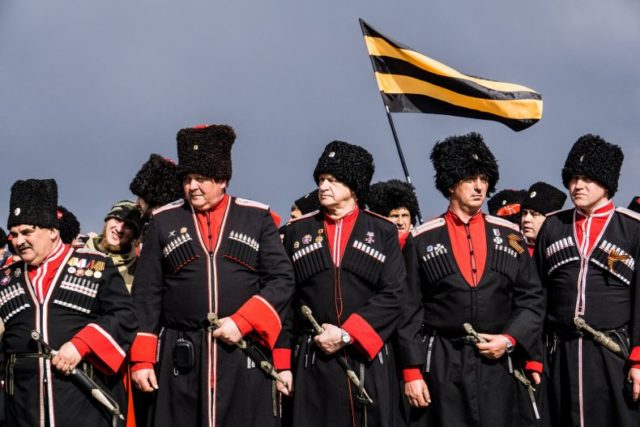 As the Kremlin's unprovoked large-scale war against Ukraine continues, the Russian Armed Forces are reportedly experiencing chronic supply and troop shortages. And now, evidence is growing that the military has been turning to Russia's registered Cossack movement to provide more men for the fight as a well as a morale boost for the population.
Coffins are being returned to Cossack stanitsas (communities, settlements). For example, the body of captain Vyacheslav Maklagin arrived at the village of Novoshakatinskaya, Rostov Oblast, following his death, on February 28, in what Russian President Vladimir Putin euphemistically calls the "special military operation" in Ukraine. Maklagin was a graduate of the Ataman Platov Southern State Polytechnic University, where he acquired technical skills and also become a member of the Platov Cossack Hundred. Since its inception in 2015, Platov University has produced 172 alumni who have gone on to become officers in the Russian army. After leaving the university, he decided to dedicate his life to the Russian Armed Forces and saw combat in Syria. He was posthumously awarded a medal for fighting "Nazism" in Donbas (Vsko.ru, March 24; Npi-tu.ru, March 10). Likewise, on March 4, Artem Teplov of the Rostov settlement of Novoskhaktinsk was killed. Teplov served in the Novoshaktinsk Cossack druzhini (patrol), and the Cossacks of his settlement vowed to take part in mourning for him (Don Cossack news, March 11). News of such deaths confirm that Cossack reserves are actively being called up.
Indeed, reporting from "Orthodox oligarch" Konstantin Malofeev's Tsargrad TV network suggests that entire Russian Cossack battalions are already fighting in Ukraine. In particular, a video from war correspondent Evgeny Lisitsyn ostensibly shows a Cossack battalion receiving coordinates of Ukrainian troops and then operating in a combined-arms operation to neutralize them. The Cossacks, the exposé says, are waiting "until the victory parade in Kyiv, when all the Nazis are destroyed" (Tsargrad TV, March 14). This information is difficult to verify independently, but it being disinformation seems unlikely. After all, the Cossack units are supposed to be reserve forces; their large-scale use in combat at this point, therefore, implicitly undermines the Kremlin's messaging that the war is still going well. And so it seems unlikely that Malofeev—someone with particularly close connections to the Kremlin—would be permitted to broadcast such potentially politically damaging information unless true. Clearly, the propaganda value of broad and enthusiastic Cossack mobilization is meant to trump worries about manning shortages.
News accounts also claim that Cossack groups created in Sevastopol and Crimea (Black Sea Host) are being called up for the war. These Cossacks were actively involved in the annexation of Crimea in 2014, where some sources accused them of torturing pro-Ukrainian activists (Telegraf.ua, March 22). Given the reported shortages of active Russian military troops involved in the conflict (see EDM, March 16, 28, 28, 29), it is not surprising that Russia is mobilizing its latent reserves, including the Cossacks.
Ukrainian sources, meanwhile, are reporting that the Russian Cossacks are committing war crimes in the occupied territories. Statistics purporting to show the "rocket artillery battalion of the 205th Separate Motorized Rifle Cossack Brigade (military unit 74814) directly destroying civilians and cities of Ukraine" are available on the Ukrainian Ministry of Defense website (Gur.gov.ua, March 21). For the previous eight years, stories periodically trickled out of Russian Cossacks who were operating in the occupied territories of Luhansk engaging in "looting, robbery and murder." In the settlement of Krasny Luch, in 2014, Ataman (chief) Sergei Kosogor oversaw a "one-man dictatorship" and a "parallel" power structure in the war-torn province until his arrest in 2015. After Kosogor's removal, a brief but violent power struggle ensued. Such recent history demonstrates what "the arrival of the Russian world [Russkiy mir] looks like," Ukrainian journalist Denis Kazansky wrote in 2018 (Antikor, October 31, 2018).
Finally, Russia's Cossacks have been playing a supporting role in boosting Russian morale for the invasion of Ukraine. Primarily, this entails popularizing the "Z" campaign orchestrated by the Russian government. The Don Cossacks, for instance, created a page on their website featuring nothing but pastiche images of the Don insignia intertwined with the letter "Z" (Don-kazak.ru, March 4). In Pyatigorsk, the celebration of the eighth anniversary of the "reunification" of Crimea with Russia was marked by a concert called "Russia, Crimea, Donbas," where one of the headline acts was the appearance of the Terek Cossack ataman (Terkv.ru, March 18). Moreover, Cossacks in the Crimean region of Feodosia participated in "a large-scale rally" where "the cars were decorated with the flags of Russia and the republic of Crimea, as well as the letters 'Z' and 'ZA.' " The Black Sea Cossacks throughout occupied Crimea lent their support by holding parallel actions in their villages. In front of the walls of the ancient Kafa fortress on Karantine, Cossacks and their cadets launched a supposedly spontaneous "flashmob," which involved them creating an enormous letter "Z" with their bodies (Vsko.ru, March 10). With the war in Ukraine not going according to plan, the regime's purpose in boosting the Cossack movement has become clearer: drawing on a pool of military reservists, maintaining combat readiness, and ideologically indoctrinating Russian youth.
Yet the impression that Cossack opinion unanimously stands behind Moscow probably diverges from the truth. While many of the main Cossack websites, including that of the "free" (that is, not officially recognized or sanctioned by the Russian government) Union of Cossacks, are united in support of the war, some sources on the ground suggest a different picture. For instance, there have been unconfirmed reports of a rally of free Cossacks in Orenburg to collect volunteers to go to the warzone and defend Ukraine against Russia. Such rumors are lent credibility by context. Whereas the slogan of the state-organized Cossacks in Russia is "For faith, Tsar and fatherland," that of free Cossack groups in both Russia and Ukraine pointedly remains "For faith, free will and fatherland" (Allcossacks.ru, accessed March 27). Similarly, some Ukrainian words survive in the vernacular of free Cossack groups as well as Cossack nationalists (see EDM, October 7, 2015); and Cossack nationalist groups have repeatedly shown in the past that they have a will of their own, often at odds with the centralizing interests of the Kremlin (see EDM, September 17, 2018). Their willingness to stand up against the invasion of "fraternal" Ukraine might grow as news increasingly reaches them of Russia's battlefield fortunes flagging or collapsing entirely. Calling up registered Cossack reserves to fight in Putin's illegal and punitive war could, thus, still prove counterproductive for Moscow in the end.